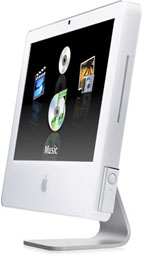 Innovation has come back to the iMac. Just as the original iMac introduced USB to the Macintosh and eliminated the floppy drive, the October 2005 iMac G5 introduces the PCI-Express bus for video, DDR2 memory, and an integrated iSight webcam while eliminating the internal modem.
Apple took the popular iMac G5, built in iSight, made it thinner and lighter, boosted speed by 100 MHz, put a SuperDrive in the entry level model, and gave it a remote control. Throw in ATI Radeon X600 graphics on a PCI-Express bus and Apple's Mighty Mouse, and you've got the Late 2005 iMac G5.
As with the May 2005 revision, Bluetooth and AirPort Extreme are standard features. There is no internal modem; it has been replaced by an optional external USB modem.
Who would have expected so many changes in the five months since the last revision?
Is there anything to be disappointed about? The only thing that seems to be missing is FireWire 800, which Apple still reserves for its "pro" models.
Details
introduced 2005.10.12 at US$1,299 (17″ 1.9 GHz) and US$1,699 (20″ 2.1 GHz); 20″ reduced to US$1,499 2006.01.31; replaced by Intel Core Duo-based iMac 2006.01.10
requires Mac OS X 10.4.2 Tiger through 10.5 Leopard
CPU: 1.9/2.1 GHz G5
Bus: 633/700 MHz
Performance:

Geekbench 2 (Leopard): 1112 (2.1 GHz), 1009 (1.9 GHz)
Geekbench 2 (Tiger): 1233 (2.1 GHz), 1137 (1.9 GHz)

RAM: 512 MB, expandable to 2.5 GB using a single PC2-4200 DDR2 SDRAM
Graphics: ATI Radeon X600 Pro (17″) or XT (20″) with PCI-Express support
VRAM: 128 MB DDR SDRAM
Display:

17″ 1440 x 900 flat panel display
20″ 1680 x 1050 flat panel display

Video out: VGA, S-video (requires adapter)
L2 cache: 512 KB on CPU
Hard drive bus: 1.5 Mbps SATA I
Hard drive: 160/250 GB 7200 rpm SATA drive
Optical drive bus: UltraATA
SuperDrive: writes DVD±R discs at up to 8x speed, dual layer at up to 2.4x; DVD±RW at up to 4x; reads DVDs at up to 8x, writes CD-R discs at up to 24x, writes CD-RW discs at up to 8x, reads CDs at up to 24x
USB: 3 USB 2.0 ports
FireWire 400: 2 ports
Modem: optional 56 kbps USB modem supports v.92
Ethernet: 10/100/gigabit
WiFi: 802.11g AirPort Extreme included
Bluetooth: included
IR receiver: supports Apple Remote (included)
Microphone: internal
Power supply: 180W
H x W x D (17″): 16.9 x 16.8 x 6.8 in/43 x 42.6 x 17.3 cm
H x W x D (20″): 18.6 x 19.4 x 7.4 in/47.2 x 49.3 x 18.9 cm
weight (17″): 15.5 lb/7 kg
weight (20″): 22 lb/10 kg
Part no.: MA063 (17″), MA064 (20″)
Model identifier: PowerMac12,1
CPU Upgrades
Online Resources
keyword: imacisight