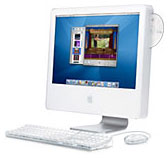 The May 2005 revision of the iMac G5 got a 200 MHz speed boost, bringing it to 1.8 GHz and 2.0 GHz. Other improvements include an 8x dual-layer SuperDrive, better video, gigabit ethernet, and an ambient light sensor (ALS).
512 MB of RAM is now standard across the line, making the entry-level model more responsive and possibly saving many users the expense of a memory upgrade. The 17″ models ship with a 160 GB hard drive, and the 20″ iMac now has a 250 GB drive.
Apple has replaced the Nvidia graphics of the original iMac G5 and adopted the ATI Radeon 9600, which includes 128 MB of video memory (twice as much as in the 2004 model).
Bluetooth and AirPort Extreme are standard features on the Mid 2005 iMac G5.
With the 2004 iMac, models sold in North America and Japan were single voltage, while those sold in the rest of the world supported both 110 and 220 volt current. Based on published specs, this seems not to be the case with the 2005 iMac.
The 2005 iMac ships with Mac OS X 10.4 Tiger.
Details
introduced 2005.05.03 at US$1,299 (17″ 1.8 GHz Combo), $1,499 (17″ 2.0 GHz SuperDrive), and US$1,799 (20″ 2.0 GHz SuperDrive), replaced by 17″ 1.9 GHz and 20″ 2.1 GHz iSight models 2005.10.12.
Requires Mac OS X 10.4 through 10.5 Leopard
CPU: 1.8/2.0 GHz G5
Bus: 600/667 MHz
Performance:

Geekbench 2 (Leopard): 985 (2.0 GHz), 882 (1.8 GHz)
Geekbench 2 (Tiger): 1176 (2.0 GHz), 1070 (1.8 GHz)

RAM: 512 MB, expandable to 2 GB using PC3200 (400 MHz) DDR SDRAM
Graphics: ATI Radeon 9600 with AGP 8x support
VRAM: 128 MB DDR SDRAM
Display:

17″ 1440 x 900 flat panel display
20″ 1680 x 1050 flat panel display

Video out: VGA, S-video (requires adapter)
L2 cache: 512 KB on CPU
Hard drive bus: 1.5 Mbps SATA I
Hard drive: 160/250 GB 7200 rpm SATA drive
Optical drive bus: UltraATA
Combo Drive: reads DVDs at up to 8x speed, writes CD-R discs at up to 24x, writes CD-RW discs at up to 8x, reads CDs at up to 24x
SuperDrive: writes DVD±R discs at up to 8x speed, dual layer at up to 2.4x; DVD±RW at up to 4x; reads DVDs at up to 8x, writes CD-R discs at up to 24x, writes CD-RW discs at up to 8x, reads CDs at up to 24x
USB: 3 USB 2.0 ports
FireWire 400: 2 ports
Modem: built-in 56 kbps modem supports v.92 standard
Ethernet: 10/100/gigabit
WiFi: 802.11g AirPort Extreme included
Bluetooth: included
Microphone: internal
Power supply: 130W
H x W x D (17″): 16.9 x 16.8 x 6.8 in/43 x 42.6 x 17.3 cm
H x W x D (20″): 18.6 x 19.4 x 7.4 in/47.2 x 49.3 x 18.9 cm
weight (17″): 18.5 lb/8.4 kg
weight (20″): 25.2 lb/11.4 kg
Part no.: M9843 (17″ 1.8 GHz), M9844 (17″ 2.0 GHz), M9845 (20″)
Model identifier: PowerMac8,2
CPU Upgrades
Online Resources