PowerBook, iBook, iPod, and other portable computing is covered in The 'Book Review. General Apple and Mac desktop news is covered in The Mac News Review. News about Apple's transition to Intel CPUs and other Intel developments is covered in The Macintel Report.
All prices are in US dollars unless otherwise noted.
News and Comment
Advice
Products and Services
News and Comment
Apple to Refund iPod Levies in Canada
The Canadian Press wire service reports:
"People who bought iPods when levies were being imposed on digital music players will soon be able to get their money back, Apple Canada said Monday.
"'Apple is pleased that the Supreme Court of Canada let stand a lower court ruling that blank media levies on iPods are invalid, and will shortly announce a claims process so consumers can request a refund for the levies they paid,' the statement from Apple said.
"Late last month, the Supreme Court of Canada backed the Federal Court of Canada decision quashing the levy on iPods and other digital music players."
Apple Set to Pay Out Levies on iPods
Apple is pleased that the Supreme Court of Canada let stand a lower court ruling that blank media levies on iPods are invalid, and will shortly announce a claims process so customers can request a refund for the levies they paid.
iTunes Incompatible CDs Sell Well
Reuters' Sue Zeidler reports:
"Recent CDs by Foo Fighters and Dave Matthews Band containing new anti-piracy technology are selling well despite a backlash among some fans angry that the discs are incompatible with iPods, experts said on Thursday.
"Aiming to curb piracy, labels like Sony BMG, which released both records, are rolling out copy-protected albums in the United States, which let users make three exact duplicates of a CD, and store files on a PC in Microsoft Corp.'s Windows Media format.
"But the copy-protection bars users from importing music onto iPods since Apple's Fairplay software is incompatible with Windows."
Drivers Want to Listen to iPod While Driving
macnewsworld.com's Tom Murphy reports:
"Most young people listen to their iPods with headphones, but the auto industry recognizes the 'killer ap' is to have a simple connector in the instrument panel so an iPod can be plugged in to the car's audio system.
"Because great ideas deserve great technology. When you're bringing ideas to life, your desktops, notebooks and servers should work with you, not against you. So why wait? Get new systems today and start creating tomorrow.
"Every kid in America wants one. In 2005, the Apple iPod is to music what the transistor radio was in the 1960s.
"So it is only natural that auto makers, suppliers, dealers and independent audio retailers see dollar signs from a massive market emerging for personalized audio systems."
Drivers Saying: 'I Want iPod!'
Apple Teams Up with Car Companies to Deliver Seamless iPod Experience
Apple has announced that Nissan, Mazda, and Daihatsu in Japan have joined BMW, MINI, smart, and Alfa Romeo in Japan to deliver iPod integration with their car stereos for 2006 model lines. Seamless integration of iPods in cars allows music lovers to enjoy high-quality sound through their car's stereo system, easily access their entire music library, and take their music with them everywhere they go.
"We're delighted to have such a wide variety of car companies in Japan offering iPod integration," said Greg Joswiak, Apple's vice president of Worldwide iPod Product Marketing. "iPod is the number one digital music player in Japan and more music lovers than ever can now enjoy a seamless iPod music experience in their car."
In addition, an array of after-market solutions are available from Alpine, Clarion, Kenwood, and Pioneer for cars that currently do not offer iPod integration.
iPods a Security Threat
The Guardian's Dave Birch says:
"Although I'm a huge fan of the iPod and iTunes combination, I often think 'that's it: nothing interesting left to say about them'. Yet there's always something in the news that compels me to look at it again – this time it was the news that fraudsters could use iPods to steal company information….
"It looks as if the iPod is the latest TTCAWKI (threat to civilisation as we know it). Last year, I remember a similar headline, then caused by the Ministry of Defence, which was reported to have banned the iPod from sensitive areas because it can be used to copy and hide large amounts of data.
"If Apple had merely put out some advertisements mentioning that the iPod is a handy portable 60 GB Firewire hard disk as well as a music player, who (apart from nerds like me) would care? The article went on with a 'warning' from an expert that it's incredibly easy to download large amounts of data to an iPod. So not only is it convenient and portable but it's easy to use as well!"
The Globalized iPod
Andrew Leonard says:
"The microchip that runs Apple's popular music player is made in India, Taiwan, China and Silicon Valley. Is this an example of how globalization works to everyone's benefit – or a sign that the world economy is about to roll over America?….
"Crack open an iPod and what do you see? Laid out in silicon is a road map for the world economy: globalized, outsourced, offshored, interconnected and complex. Take a look at the components: the hard drive, circuit board, click wheel, battery pack and all the rest. The iPod is a striking Apple success story, but the first thing worth noting is that Apple doesn't 'make' it. Steve Jobs and Co. led the overall design, but the pieces get put together in China by a pair of Taiwanese firms."
iPod Has Been Very Good to Dennis Lloyd
The Orange County Register's Tamara Chuang reports:
"One glimpse of the sleek, snow-white digital music player and Dennis Lloyd got giddy…
"Two weeks later, the first iPod went on sale from Apple Computer Inc. And iLounge.com made its debut (although at the time it was known as ipodlounge.com).
"Little did he know that the iPod would become a sensation, selling 15 million stylish portable music players in three years. An industry larger than the iPod also has sprouted, offering new accessories daily and launching fads like podcasts, a term that didn't exist a year ago but is something even Disneyland is doing today. The iPod craze created ideal conditions for an all-things-iPod site to thrive.
"'We're No. 2 on Google (for iPod), right under Apple,' said Lloyd…. What started as a hobby is now Lloyd's full-time job. The 37-year-old South Korean native used his design skills and love of modern aesthetics to create a site that Apple would be proud of (Jobs has even called to gush)."
Everyone Wants an iPod, Right? So What Gives?
iPod Garage's Zach Littleman says:
"Everyone wants an iPod, right? As you assume, if they really want it, they will get one somehow, someway.
"Most of my friends in the last year have at least all gotten an ipod. Some sooner than others. Some actually use it daily/weekly and others just have an ipod rotting on the shelf but still somehow still love it. They are all windows users except for one or two of them. Those one or two friends have never asked a question about their ipod problem wise, but all the windows users have. That is off topic but hey, just shows that Apple products are the best.
"What I am trying to say through all of this is some of my friends fall in love with the ipod and do anything to get one, some take a day or two while others take a couple months, but they will get an ipod. Then there is that 'other generation' that is anyone from 18 to 25 where they want an ipod, have a chance to get an ipod but don't. For some reason they want to stay with the cds"
Advice
Checking the iPod shuffle's Battery Charge
An updated Apple Knowledge Base article says:
"You can check how much battery life remains in your iPod shuffle by pressing the button on the back and noting the color of the LED.
"Here's what the battery indicator colors mean when you press the button:
Green = good charge.
Amber = low charge (also indicates "charging" when connected to USB)
Red = very low charge
No light = no charge "
Link: iPod shuffle: Checking the Battery Charge
iPod shuffle May Not Fit in All USB Ports
An updated Apple Knowledge Base article says:
"Because of iPod shuffle's width, you may not be able to connect it to certain USB ports on your computer. If that's the case, you can use the iPod shuffle Dock or a third-party USB extension cable to make the connection. These items are available at the Apple Store under iPod Accessories.
This issue could occur with any computer, display, or USB hub with recessed or closely spaced USB ports. This includes the following Apple products:
eMac
iMac G3
the original iBook and iBook (FireWire)
Apple Studio Display 17 (ADC)
Power Mac G4 (Digital Audio)
Power Mac G4 (Quicksilver)
Certain Xserve configurations.
Link: iPod shuffle May Not Fit in All USB Ports
Importing Contacts and Appointments
An updated Apple Knowledge Base article says:
"Learn how to import contacts and calendar events to iPod manually."
What Does This Picture on My iPod Mean?
An updated Apple Knowledge Base article says:
"See an icon on your iPod and don't know what it means or what you should do?"
iPod Software 1.2 for iPod with Color Display: Accessing and Changing Settings
A new Apple Knowledge Base article says:
"iPod Software 1.2 for iPod with color display includes many different settings options. This article will discuss these settings and how to change them. Please note that other versions of iPod Software may have different features and default settings.
"You can change settings on an iPod with iPod Software 1.2 for iPod with color display in three different locations. You can access various settings in the Settings menu (in the main menu), in Photos > Slideshow Settings, and in Extras > Clock."
Products and Services
Marc Ecko Case Targets Breast Cancer
[PR] Adorn your iPod with an attractive leather case designed by Marc Ecko, and help Monster fight breast cancer. All net proceeds from "A Case For A Cause" will go to benefit Fashion Targets Breast Cancer, a nonprofit organization devoted to raising awareness and funding research. Protect your iPod from scratches, fasten it to anything with the sturdy metal clip, and help us defeat a worldwide endemic that affects millions of women. The all-leather case is as useful as it is striking, and it's emblazoned with the symbol created by the organizations founder, Ralph Lauren.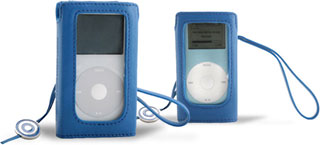 All net proceeds go to benefit Fashion Targets Breast Cancer.
Features and Dimensions:
Fashionable blue leather case looks great while protecting your iPod.
Includes a metal belt clip and decorative tussle with a bulls&emdash;eye emblem.
Removable wrist strap.
iPod mini iSportCase dimensions: 54.5mm x 14.5mm x 95.87mm.
Small iSportCase dimensions: 65.4mm x 17.11mm x 107.1mm.
iPod mini iSportCase dimensions: 65.6mm x 19.91mm x 107.4mm.
Prices:
iPod Case for Breast Cancer Awareness – $29.95 ea.
iPod Case for Breast Cancer Awareness – Mini – $29.95 ea.
iPod Case for Breast Cancer Awareness – Small – $29.95 ea.
Link: Marc Ecko Case for a Cause by Monster
Flexible Pedestal for iPod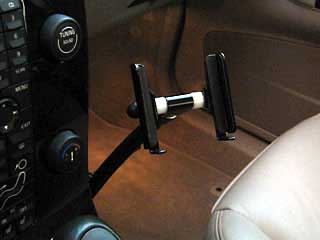 [PR] FlexPed will offer the flexible mounting and positioning of the ever popular THOUGHT OUT designed PedHead. The new FlexPed will cradle portable devices virtually anywhere including cars, boats, and walls etc. The product will be available in September for under $50.00. For more information see http://www.thoughtout.biz (in a few days).
The PedHead mechanism that can also be found on the Ped2 which allows setup adjustability for virtually all devices including the design inspired iPod with or without cases or skins.
HouseParty Turns Your iPod Into a Mini Stereo System
[PR] The PodGear HouseParty turns your iPod into a mini stereo system, pumping out 2x6W of crisp stereo sound.
Beautifully designed & compact, HouseParty is equally at home in the livingroom, kitchen, bedroom or by your computer.
HouseParty offers a total solution for any recent iPod. As well as great sound, it will charge your iPod, iPod mini or iPod Shuffle, and even enables synchronisation with your computer over USB.
Features:
High quality 2.0 stereo speaker system
USB port for syncing your iPod with your computer
Charges iPod and iPod Shuffle
Auxiliary line in port
Feather touch volume controls
Funky blue LEDs light up your iPod
Link: PodGear HouseParty Turns Your iPod Into a Mini Stereo System
Logitech Adds High-End Portable System for iPod
[PR] Logitech has expanded its mobile music product offering with the introduction of two new speaker systems designed specifically for portable music players. The Logitech mm50 portable speakers for iPod(R) and the Logitech(R) mm28 portable speakers provide people with the high-quality sound that Logitech speakers are known for, and also solve key problems with portable speakers by offering extended battery life and extremely portable form factors.
"Many people want to share their digital music with friends, or listen to tunes out loud," said Ray Weikel, director of product marketing for Logitech's Audio Business Unit. "And, to do this, they want portable speakers that are easy to transport, include high-end features, and most importantly, deliver rich, clean sound. Logitech's two new portable speakers – the mm50 and mm28 – will be a welcome addition to the portable speaker lineup."
Logitech has developed products that target two different markets – one is designed specifically for the iPod, and one works with any MP3 player.
Logitech mm50 Portable Speakers for iPod
The new performance mobile music speaker system, the Logitech mm50 portable speakers for iPod, offers customized iPod features, superb sound quality, and a built-in rechargeable lithium-ion battery. The speakers simultaneously recharge the iPod battery as well as the speaker battery when powered by the included AC adapter. The speaker battery lasts up to 10 hours per charge. And, the mm50 includes a wireless remote control, allowing people to adjust the volume, track forward, track back, play and pause the music without touching the speaker system or the iPod.
By using Max-X high-excursion drivers, which include neodymium magnets, as well as three inch pressure drivers, Logitech enables people to hear fully balanced audio, maximum bass response and minimal distortion. And, when used, the added 3D Stereo technology dramatically widens the stereo image, enhancing the audio experience these portable speakers deliver. Overall, the listener will receive superior sound and bass performance from the Logitech mm50 portable speakers for iPod.
The Logitech mm50 portable speakers for iPod are included in Apple's "Made for iPod" program. "Made for iPod" means that an electronic accessory has been designed specifically to connect to the iPod and has been certified by the developer to meet Apple performance standards.
The mm50 portable speakers for iPod will work with any iPod with a dock connector on its base, which includes nearly all models sold in the past two years. The speakers also come with a protective travel case. The Logitech mm50 portable speakers for iPod will be available in September in the U.S. and in Europe for a suggested retail price in the U.S. of $149.99.
Logitech mm28 Portable Speakers
The Logitech mm28 portable speakers offer an ultra-thin solution that not only sounds great, but provides tremendous battery life. These speakers can be used with any MP3 or CD player that has a standard 3.5mm audio jack. The mm28 speakers use stereo NXT flat-panel technology, which significantly enhances the bass performance, while still enabling Logitech to offer a truly portable form factor. The mm28 portable speakers are less than 1.25 inches thin. The speakers include an integrated speaker cover that rotates to become the speaker foot – so no carrying case is required. And, the input cable fits into a recessed area on the back panel, providing a truly portable one-piece speaker system.
The speakers can be powered by either the included AC adapter or by four AA batteries – the speakers can last up to 45 hours on a single set of batteries. The Logitech mm28 portable speakers will be available in September in the U.S. and in Europe for a suggested retail price in the U.S. of $79.99.
iPod Deals
For current iPod prices from a variety of sources, see our Best iPod Deals.