When most MP3 players were based on flash memory, Apple built the original iPod around a tiny 1.8″ hard drive. And on January 11, 2005, Apple introduced the first iPod built using flash memory, the original iPod shuffle.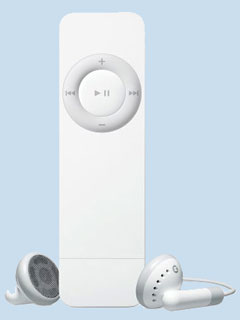 Unlike competing flash-based MP3 players, the Shuffle has no menu system. You load it with the songs you want to hear, and it takes over from there. You can skip to the next song, but you can't select it.
Apple saw this as a feature, using the slogans Life Is Random and Give Chance a Chance to market the smallest, lightest, lowest cost, and most rugged iPod to date.
The iPod shuffle has controls similar to those of hard drive iPods, but slightly different. There are the previous and next song buttons and the play/pause button, but at the top is + to increase volume and – to decrease it. Another controller on the back of the iPod lets the user choose to play music in playlist order, shuffle tracks, or turn off the Shuffle. (For more details on how Shuffle works, see Shuffle in iTunes and iPods Is Not as Random as You'd Think.)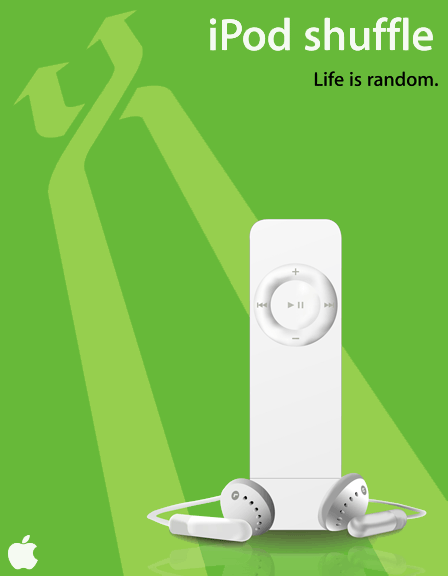 With its flash drive and small size, the Shuffle was the perfect iPod for runners and others on the go who didn't want to risk damaging a more expensive MP3 player.
Unlike any other iPod, the original iPod shuffle plugs directly into a USB port, and because of its size, sometimes it doesn't fit in tight quarters, making it necessary to use a small USB male-to-female cable.
The first iPod shuffle came in two capacities: 512 MB with "up to 120 songs" and 1 GB with "up to 240 songs" – assuming an average song length of 4 minutes and 128 kbps encoding. The Shuffle can only play MP3 and AAC files; it cannot play Apple Lossless or AIFF encoded files.
The Shuffle uses a SigmaTel D-Major STMP3550 processor, which some regard as providing the best sounding audio of any iPod.
Unlike competing devices that used MP3 file compression, the iPod with iTunes was designed to use the superior AAC (Advanced Audio Coding) audio format in addition to MP3. AAC generally provides superior sound quality over MP3 at the same bit rate, especially at 96 kbps and lower sampling rates, as well as more efficient encoding, which means smaller files.
Hardware Overview
Models
Announced: 2005.01.11 at US$99 (512 MB) and $149 (1 GB)
Included accessories: earbuds, lanyard, USB cap
Code name: Shuffle
Model number: A1112
Product numbers:

M9724, 512 MB
M9725, 1 GB
Technology
CPUs: 75 MHz SigmaTel D-Major STMP3550
Audio chip: SigmaTel D-Major STMP3550
Display: none
Battery: lithium ion
Charge time: 4 hours max. (2 hour fast charge to 80% capacity)
Play time: 12 hours
Compatibility
Original OS: iPod shuffle OS 1.0
Maximum OS: iPod shuffle OS 1.1.5
iTunes Versions: iTunes 4.7.1 and later.
Mac OS Required: OS X 10.2.8 or 10.3.4 or later (10.3.6 or later recommended for use with low-power USB ports)
Windows Versions Supported: 2000 SP4, XP Home or Professional SP2
Dimensions and Weight
Dimensions: 3.3″ x 0.98″ x 0.33″
Weight: 0.78 oz.
Further Reading
Keywords: #ipodshuffle #1gipodshuffle
Short link: http://goo.gl/Ni9cEi
searchwords: 1gipodshuffle