2005 – One thing that's hard to find these days is a good Web browser for old Macs, whether it's for 68k or PowerPC ones.
I've tried several, including Internet Explorer and Netscape Navigator, but my absolute favorite is one called iCab. It doesn't take up much space on your old Mac's hard drive, it's light on RAM usage, and it's very fast. There's even a version for Mac OS X, although I haven't tried it. Everyone I know who has tried it likes it a lot.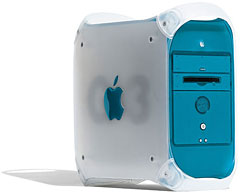 There are versions of iCab available for 68k and PowerPC Macs, System 7.1 through OS 9. It's a great browser for old Macs, but it's also good for somewhat newer ones. I used it on my G3 All-in-One for several years before I upgraded to a Blue and White G3 with OS X.
Some sites don't seem to work correctly with iCab – usually ones that are designed for Windows – but iCab's developers say that will be fixed soon. Meanwhile I just use Safari on a newer Mac when this is the case.
If your Mac is a bit newer, another great browser is Mozilla. Not Mozilla FireFox like you've seen for OS X, just regular Mozilla. It's compatible with Mac OS 9.0 and newer only, so it's the browser that I use on most of my Macs still running that system, such as tray-loading iMacs and Blue and White G3s.
There are only a couple of early versions of Mozilla that are compatible with non-OS X computers. Mozilla says this was because of lack of interest. The ones that are available are called "Developer Releases" or something like that, so on a bad day it's not always incredibly stable.
I think the speed, simple design, and lack of popup ads are well worth it. Assuming you have the right software, hardware, and Internet connection, browsing on older Macs can be really fun and interesting.
Mozilla (Mozilla 1.0.2 and earlier available for classic Mac OS)