In September 2006, Apple replaced the year-old plastic 1G iPod nano with a new aluminum bodied version virtually the same size and just a tiny bit lighter. The low-end model now came with 2 GB of storage, there was a 4 GB model in the middle, and the top-end Nano had 8 GB.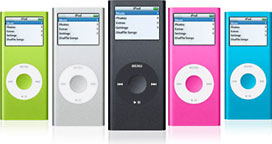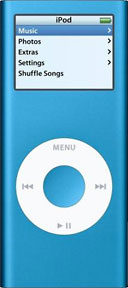 The low-end 2 GB version was available only in silver, and the 4 GB in silver, blue, green, and pink. The 8 GB 2G iPod nano came in black. These matched the colors of the 2G iPod mini.
The display is 40% brighter, and battery life jumped from 14 hours to 24 hours. This was the first Nano to ship with gapless playback.
Hardware Overview
Models
Announced 2006.09.07 at US$149 (2 GB), $199 (4 GB), and $249 (8 GB). 4 GB Product (RED) edition released 2006.10.16 and 8 GB on 2006.11.xx.
Included accessories: earbuds, USB 2.0 30-pin dock cable, dock adapter
Code name:
Model number: A1199
Product numbers:
Technology
CPUs: 2 ARM 7TDMI-derived CPUs running at variable speeds up to 80 MHz
Audio chip: Wolfson WM8975G
Display: 1.5″ 176 x 132 pixel 16-bit LED-backlit color LCD.
Battery: lithium ion
Charge time: about 3 hours max. (1.5 hour fast charge to 80% capacity)
Play time: 24 hours for audio, 4 hours for slideshow
Compatibility
Original OS: iPod nano 2G OS 1.0
Maximum OS: iPod nano 2G OS 1.1.3
iTunes Versions: iTunes 7.0 and later.
Mac OS Required: OS X 10.3.9 or later.
Windows Versions Supported: 2000 SP4, XP Home or Professional SP2
Dimensions and Weight
Dimensions: 3.5″ x 1.6″ x 0.26″ / 89 x 41 x 6.9 mm
Weight: 1.41 oz. / 42.5 g
Further Reading
Keywords: #ipodnano #2gipodnano
Short link: http://goo.gl/m9ZJgP
searchwords: ipodnano, 2gipodnano