2006 – I've been tracking Disco since Austin Sarner began development with Jasper Hauser. Disco is a simple but effective disc burning utility for Mac OS X. It includes basic features that you would expect from this type of application, such as burning blank discs, disc imaging, copying, adding sessions to discs, and so on.
On the plus side, Disco has a beautiful user interface that could easily be mistaken for a genuine Apple theme, even though it was designed by Jasper Hauser. Whether or not you buy* Disco over a more fully equipped application purely based on its interface is entirely up to you.
The creators of Disco decided to go one step further by adding a serious eye candy feature. Serious in the terms of the system requirements it demands! The "Smoke" feature, which is optional, will only work on a graphics card that has floating point texture support. It won't function for those with a Mac featuring integrated graphics.
The Smoke feature is cute (but unnecessary), and it quickly gets boring. Who really wants to sit at their computer watching a window smoke while stuff gets copied to your disc? I know I don't!
Currently, Disco is incapable of burning audio discs, and it doesn't allow the user to choose a write speed.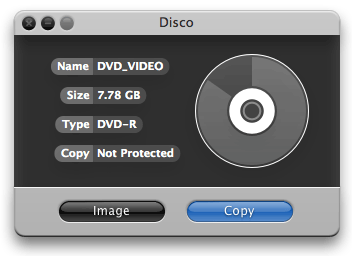 Disco's one annoyance, besides its lack of certain features: The main window cannot be resized by grabbing the corner and dragging; instead you're stuck with an unusually small window. I personally find this quite irritating, since I have a 1440 x 900 resolution display.
Before writing this review, I tried to get opinions from others. It's apparent that Disco isn't as stable as expected for a public beta. One user reports: "It was trying to read a DVD-DL-R and the [Mac's] fans went nuts, next this really high humming sound started to come from the drive and the app crashed!"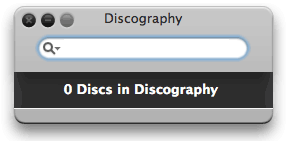 Disco does include an interesting and unique feature called "Discography". It can keep track of every file on every disc that you burn, and you can instantly search through thousands of recorded files. This is useful for those who lose track of what they burned on which disc. It's also a feature not available in any other disc burner on the market for the Mac.
System requirements: Mac OS X 10.4.3 or later, PPC or Intel-based Mac. Disco is shareware, and you can use the software for three burns. You can register for a special introductory price of $14.95.*
Rating: 2 out of 4
* Development of Disco has been discontinued since July 2011. You can still download the project, and a free registration code is available on its website.