2006: Classic Mac audio software: Free and low-cost ways for vintage and classic Macs to perform in the studio.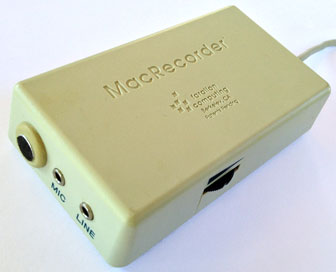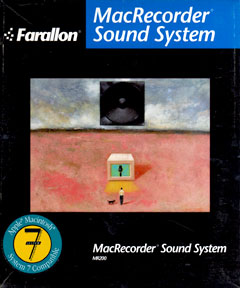 Macintosh computers have been involved in music and audio since their introduction. The creation of Farallon MacRecorder Iin 1987 brought recording to mainstream users, and the Macintosh never looked back.
Early Power Macs have ample speed and quality sound I/O built-in, and 680×0-based Macs can join in with DigiDesign (now Avid) NuBus expansion cards. Here's some quality free and low-cost software choices to make these Macs useful again. This list is not exhaustive, but it is a good starting point for putting these classic Macs back into use.
I'll use italics to indicate software that requires a newer, PowerPC based Macintosh. Green titles represent freeware and shareware. Red is for commercial software; you'll need to purchase a license.
Multitrack Audio
ProTools v3.4
ProTools v3.4 supports up to 16 tracks on Power Macs and works great on 680×0 Macs that have DigiDesign NuBus cards. ProTools 3.4's functionality is very basic. MIDI can be incorporated but requires an external sequencer application. No realtime or offline effects are available without DigiDesign TDM hardware.
While feature-poor compared to the competition, ProTools 3.4 is a reliable way to replace that awful 4-track cassette machine with 16 tracks of Macintosh goodness. For more information and to download the software, see Adam Rosen's article Using ProTools Free 3.4 with Older Macs.
ProTools Free
ProTools Free is also a great choice for users with newer Power Macs running Mac OS 8.6 and up. While it supports only 8 tracks of audio, it features an integrated MIDI sequencer and better compatibility with newer ProTools versions. It also supports a limited number of real-time audio effects plug-ins.
Deck II
Deck II offers more features than ProTools without extra NuBus or PCI cards. 680×0 Macs with CD-quality audio I/O (such as the Quadra 660av and 840av) are supported, as well as most Power Macs. (Most Power Macs come with CD-quality sound built in)
Quadra 840AV users can expect 8 tracks of audio, PowerBook 5300 users get only 2 to 4, and my powerful Power Mac 8100-based system can handle 24+. I'm sure a dual-processor or G3/G4 upgraded 8500 could provide 32 or more. All systems support synchronized MIDI; OSC Metro is the optimal sequencer to use with Deck, but any MIDI application will work.
Included are several real-time effects for Power Mac users: Parametric EQ, Graphic EQ, Chorus, Delay, and Multitap.
Versions between 2.5 and 2.6.1 were produced by Macromedia and are good choices for 680×0 Macs and NuBus Power Macs. System 7.1+ is required, and Adobe Premier-format plug-ins are supported.
Versions 2.6.3 thru 3.5 are produced by BIAS. Version 3.0 and above support VST plug-ins in realtime and require a Power Mac and Mac OS 8.6+. The current version, 3.5, is still available from BIAS. It's a good choice for PCI Power Mac users.
Cubase
Cubase provides an integrated multitrack audio and MIDI environment. MIDI editing is accomplished using a built-in MIDI sequencer. As inventor of the VST and ASIO plugin standards, Steinberg has included strong support for these technologies in Cubase.
Cubase has been around since the early 1990s, so there are many versions to choose from. Earlier versions support 680×0-based Macs but predate VST plugin technology and so do not support realtime audio effects. Newer versions support much the same feature set as Deck/Metro on Power Macintosh computers.
The current version is available and popular for use on Mac OS X and the newest Macintosh computers. You're sure to be able to find a version to suit your hardware and software requirements.
Check out the official forums and the unofficial forums for more current and historical information.
Stereo Effects / Sample Editing
Sound Designer II
Sound Designer II is the grand dame of all the Macintosh sound editing software packages. The last version, 2.8.3, supports older 680×0-based Macintoshes as well as PowerPC Macs running up to Mac OS 8.6. Unfortunately, it requires DigiDesign hardware and an authorizer diskette. The upside of all this is that if you register your DigiDesign hardware, you're entitled to the software for free. Make sure to follow the directions at http://www.digidesign.com/support/cs/reg/
Link: Benjamin Rogalsky's Guide to Sound Designer II
SoundEdit 16
SoundEdit 16 by Macromedia is practically a legend. Its first version was bundled with MacRecorder. The last version, SoundEdit 16 version 2, is fairly easy to find on the used market; not only was it sold alone, but it was included in the Macromedia Director Multimedia Bundle.
SoundEdit 16 supports most 680×0 and all PowerPC Macs. I have personally used it on System Software 7.1, 7.5.5, and 9.2.2 with all the basic functionality you'd expect from a stereo sound editor: cut/copy/paste, waveform enveloping, and many built-in special effects. If you can locate a copy, you will not be disappointed.
SonicWorx PowerBundle
SonicWorx PowerBundle is highly advanced neural processing stereo sound editing and effects software. It comes with a slew of built-in special effects – many more and more exotic than any other software I've seen.
It also supports industry-standard VST plug-ins, such as the famous (free) MDA series. SonicWorx also supports all the basic operations such as cut/copy/paste and waveform enveloping. Highly recommended! Check out http://www.prosoniq.com/html/freebies.html for more information
Sound Effects
Sound Effects by Alberto Ricci is the only stereo sound editor for 680×0 Macs that is freely available and doesn't require special hardware. Like the others, it supports all basic editing functions. At $15, it's a steal.
SoundHack
SoundHack's name describes it perfectly: It's more a sound deformation tool than an editor. SoundHack gladly exposes all the mathematical details of the various effects. This is an extremely powerful tool for audio manipulation, but there are no buttons, sliders, or presets to make it understandable to an average musician. A great program to play around with during idle moments; save your various "discoveries" for later, practical use.
MIDI
MIDIGraphy
MIDIGraphy is the most well-known freely available MIDI sequencer. It's shareware, but the author has disappeared, making registration impossible. Supposedly, no features are disabled in the unregistered version.
MIDIGraphy has an intuitive interface that makes editing multiple channels of MIDI a snap. Requires System 7.0 or higher and probably needs at least a 68020. MIDIGraphy's (dead) homepage was http://member.nifty.ne.jp/mmaeda/e/macos.html. [Update: Looks like you can download it from Tucows.]
ProTools Free
ProTools Free (now ProTools First) has a built-in multitrack MIDI sequencer. Read more about it above.
Performer
Performer is the ancestor of today's Mark of the Unicorn Digital Performer software. This sequencer is still well-known, and if you can find a copy for sale, it makes a good investment. Older versions supporting back to the Mac Plus are available.
Cubase
Cubase was another excellent commercial-software MIDI sequencer for Macs back to the Plus. It has since evolved into Cubase VST, Nuendo, and other Steinberg products. If a used copy is available that supports your vintage Mac, Cubase is an excellent choice.
Super Studio Session
Super Studio Session is an 8-voice sample-based music tracking package. I'll quote HitSquad.com's excellent description: "Super Studio Session provides an application program, a collection of sample songs, a comprehensive phrase library excerpted from those songs for use in your own compositions, nearly 100 digitized instruments and sounds, and the [famous] dancing notes animation." A fun toy, and useful software for avant-garde experimentation. It may actually be useful as a MIDI tracker, too – see Footnote 1.
MusicWorks MIDI
MusicWorks MIDI is a truly ancient music application for Macs – even the original Macintosh computer. It supports 4 voices and can play back through the Mac's speaker or an external MIDI device. It worked for me with System 7.0.1 on a Mac Plus, but it crashed on an SE/30 with 7.5.5. I would guess it is probably compatible with System Software up to 7.1.1.
Utilities
Open Music System
Open Music System is an excellent set of MIDI driver software components and the de facto standard MIDI system for the classic Mac OS. The author, Opcode Systems, has gone belly-up. The software is available for download from Presonus. OMS requires at least System 7.0 and might need a 68020. It's worth a shot on 68000 Macs such as the Plus, SE, and PowerBook 100. Install this first to ease your MIDI setup woes.
MIDI Interface Plans
Can't find a Mac compatible serial MIDI interface? Try building one. With the plans available from John's Port-Powered Midi Interface for Older Macintosh Computers with RS422 Ports you'll be able to build an OMS-compatible MIDI interface from scratch. Exciting!
Sound Input Device
Early Macs (such as the IIci and SE/30) lack sound recording hardware. Buying a Farallon MacRecorder is the obvious solution, but that might be easier said than done. It might be fun to try to build your own by downloading these plans (sound-input-device.hqx). The SID-II is compatible with the downloadable MacRecorder driver.
Conclusion
There are many ways for vintage Macs to help record, edit, and produce music. A Macintosh SE with Performer makes a great MIDI controller. A Blue & White G3 running ProTools Free and SonicWorx PowerBundle is practically a whole studio in a box.
The entire range of Macs can find a good, useful home for years to come. You can have more fun and save money by putting these classics to work. Try it!
Keywords:#protools #macrecorder #cubase #midi
Short link: http://goo.gl/RKHxVl
searchword: macrecordingstudio