We've been predicting it for weeks, and Apple updated both the iMac and the Mac mini today. Because the iMac has a bigger change in features, size, and performance, we're looking at it today. Come back tomorrow when we'll look at the updated Mac mini.
What's New?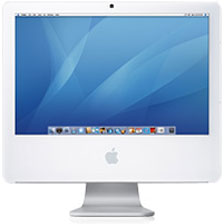 The biggest difference in the iMac line is Apple's switch from the Core Duo CPU to Intel's newer Core 2 Duo, the same CPU used in the Mac Pro. Core 2 is a more efficient CPU with 64-bit support that's said to provide up to 50% more processing power than the older 32-bit-only Core Duo.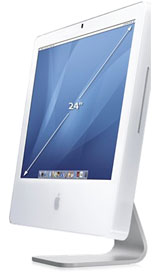 In addition to a new CPU, Apple has introduced the biggest iMac ever, a 24″ behemoth with a 1920 x 1280 display. Lustworthy!
There are four basic configurations of the Core 2 Duo iMac (for lack of a better name to differentiate it from every computer Apple has ever called an iMac):
The New Entry Level
Remember the education-only iMac introduced in July? It's back with a Core 2 Duo CPU and available to all comers. The only other significant difference is inclusion of a 160 GB hard drive instead of the undersized 80 GB found in the edu-iMac.
You've got the more efficient Core 2 CPU, a bigger drive, and the same Intel GMA 950 graphics processor, which is this model's only weakness. It eats up 64-80 MB of RAM, and it's not nearly as good for 3D gaming as the Radeon and GeForce video in the more costly models.
Then again, this model is meant for the entry level, not for the high-end gamer. For a US$999 price, this is a lot of computer. Our only advice is to spend the extra US$75 (Apple's build-to-order price) and get this with 1 GB of RAM installed. Between what you lose for graphics and the overhead of Rosetta for running PowerPC software, you won't regret it. (You might also want to add US$29 for the remote control, which is included with the other iMacs.)
Stepping Up
The 17″ 2.0 GHz and 20″ 2.0 GHz models are more similar than different. They both have 250 GB hard drives, 1 GB of RAM, an 8x dual-layer SuperDrive, and Radeon X1600 graphics with 128 MB of video memory. They add Bluetooth 2.0 to the entry-level iMac and also include Apple's wireless Mighty Mouse and keyboard instead of their wired equivalents.
As for value, you gain the $29 wireless remote, the SuperDrive (about $50 in additional value), the bigger hard drive (probably worth $50 more as well), dedicated video, and about 10% more processing power on the 17″ 2.0 GHz model. I'd say that's worth the extra US$200 to anyone who isn't on the tightest budget. At US$1,199 ($100 less than its predecessor), it's a real value.
You paid a $400 premium for the 20″ iMac when it was introduced in January. The new 20″ iMac is only $300 more than the 17″ model, which is itself $100 less costly than its ancestor. In short, Apple has trimmed $200 from the price while switching to a Core 2 CPU.
Again, the 20″ iMac runs one notch (167 MHz) faster than the 17″ model. Between the 8% extra power and the bigger display, the price difference is a fair one.
Options
You can order the 17″ iMac with a 2.16 GHz processor for US$100 more (8-9% more money for 8% more horsepower), a good value.
The 20″ iMac is available at 2.33 GHz, and the $250 premium (16% more money for 8% more speed) is hard to justify except for power users. You can also upgrade video RAM to 256 MB for $75, which may be valuable to hard core gamers.
Big Bertha
Remember when the iMac had a G4 CPU and that original 15″ flat panel display? Or when iMac went G5 with 17″ and 20″ displays? Kid's stuff compared to the new top-end iMac with its 24″ 1920 x 1280 display. In addition to all the features the other iMacs have, this one has Nvidia GeForce 7300GT graphics with 128 MB of memory (GeForce 7600GT with 256 MB optional) and is the first iMac with a FireWire 800 port.
That's the only place there's a downgrade – the 24″ iMac has just one FireWire 400 port, not two like the other iMacs. That said, with the right cable you can plug a FW400 drive into a FW800 port.
As for price, Big Bertha tips the scales at US$1,999. If you need an absolutely huge display, you can probably justify the price.
Options
Not fast enough? Well, Apple offers the same $250 upgrade to a 2.33 GHz CPU, but you're spending 12.5% more money while only gaining 8% more processing power. It'll give you bragging rights, but unless you do a lot of intensive work, it's hard to justify.
The same goes for the $125 premium price for the GeForce 7600GT with 256 MB of dedicated video RAM. Serious gamers will probably go there, but for a production machine it would be hard to justify.
The Value Equation
The best value of the bunch is probably the 17″ 2.0 GHz model, because for the small difference in price over the entry-level model you gain a SuperDrive, twice the RAM, 50% more hard drive space, dedicated video memory, and the wireless remote. And if you want a little more horsepower, $100 more for the 2.16 GHz CPU is a good value.
If your needs are a bit more limited, the entry-level US$999 17″ 1.83 GHz model offers a lot for the money. Definitely bump the RAM, making this a $1,074 computer. But if you're thinking of adding the $29 remote as well, you're within $100 of the price of the 2.0 GHz model.
If a 1440 x 900 display just isn't enough for you, look at the 20″ iMac with its 1680 x 1050 display. $300 more for a bigger display and a bit more power isn't unreasonable.
Want bigger? You'll pay a hefty $500 premium for the 24″ iMac with its 1920 x 1280 display – and you'll probably never regret it. This is one totally lustworthy machine you'll be showing off for months, but I hope you choose it because you'll benefit from the huge display, not just for bragging rights.
Unless you do a lot of processor intensive work, we recommend against the $250 upgrade to a 2.33 GHz Core 2 Duo CPU.
What About Refurbs?
I'm sure we'll see decent price cuts on remaining inventory of the Core Duo iMacs, but the real value is Apple refurbished product, which comes with Apple's full one-year warranty.
Realistically, although Core 2 is up to 50% more powerful than "Core1″, for most applications it's probably only going to be 20-30% more efficient. Nothing to sneeze at, but a small enough difference to keep the Core1 models competitive values.
The 17″ 1.83 GHz Core Duo iMac is available refurbished for US$949. That includes the wireless remote, dual-layer SuperDrive, Bluetooth 2.0, and dedicated graphics processor and memory missing in the new entry-level iMac. You lose the additional efficiency of the Core 2 CPU and 64-bit addressing, but for my money I'd pick this over the new 17″ 1.83 GHz Core 2 iMac.
Apple has the 20″ 2.0 GHz Core Duo iMac for $1,199. Where it loses out to the Core 2 model is a slightly slower, slightly less efficient CPU and half the RAM. Apple doesn't seem to allow you to build-to-order refurbs, but you can add 512 MB for under US$50.
With the $250 difference in price, it probably balances out in value when you consider the differences in speed and CPU. The refurb is a good value, but I suspect I'd lean toward the brand new model if I were buying a 20″ iMac.
In brief, all four new iMacs are good values, and refurbished prices on the Core Duo models are right where they should be. If I were looking for a desktop Mac, the only one that wouldn't tempt me is the 24" iMac – and only because I can't imagine having any practical use for that much screen space.