The June 2007 17″ MacBook Pro is the first Apple notebook to offer an even higher resolution 17″ display. If 1680 x 1050 isn't enough for you, you can upgrade to a 1920 x 1200 screen for just US$100 more.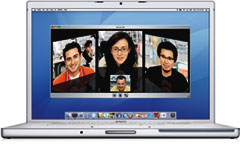 The big changes are under the hood. The Mid 2007 MacBook Pro models use Intel's new Santa Rosa chipset with the Merom CPU on an 800 MHz system bus (which can be dynamically adjusted to save power), up from 667 MHz on last year's model. The included Nvidia GeForce 8600M GT graphics, an improvement over the ATI Mobility Radeon X1600. 2 GB of RAM is standard, with a 6 GB ceiling (up from 3 GB). And they run their CPUs a tiny bit faster.
Note that the built-in display is only capable of 18-bit color, not the full 24-bit color you might expect.
This model includes built-in dual-DVI support for Apple's 30″ Cinema Display and an ExpressCard/34 slot (replacing the older PC Card). It has 3 USB 2.0 ports, one more than the 15″ MBP offers.
Mid 2007 models shipped with OS X 10.4.9 Tiger and will support OS X 10.9 Mavericks when it ships.
Unlike earlier models, where every USB port could provide 500 mA of power, only a single high-powered device can be attached to the USB ports, and software will enable one of its downstream ports to supply 500 mA of power. If a second high-powered device is attached, it will behave like a normal bus-powered hub and only provide 100 mA per downstream port.
Closed Lid Mode: All Intel 'Books support "lid closed" (or clamshell) mode, which leaves the built-in display off and dedicates all video RAM to an external display. To used closed lid mode, your 'Book must be plugged into the AC adapter and connected to an external display and a USB or Bluetooth mouse and keyboard (you might also want to consider external speakers). Power up your 'Book until the desktop appears on the external display and then close the lid. Your 'Book will go to sleep, but you can wake it by moving the mouse or using the keyboard. The built-in display will remain off, and the external monitor will become your only display. Since all video RAM is now dedicated to the external monitor, you may have more colors available at higher resolutions.
To resume use of the internal display, you need to disconnect the external display, put the computer to sleep, and then open the lid. This will wake up your 'Book and restore use of the built-in display.
Intel-based Macs use a partitioning scheme known as GPT. Only Macintel models can boot from GPT hard drives. Both PowerPC and Intel Macs can boot from APM (Apple's old partitioning scheme) hard drives, which is the format you must use to create a universal boot drive in Leopard. Power PC Macs running any version of the Mac OS prior to 10.4.2 cannot mount GPT volumes. PowerPC Macs won't let you install OS X to a USB drive or choose it as your startup volume, although there is a work around for that.
Battery life is comparable to the 17″ PowerBook G4.
Details
introduced 2007.06.05 at US$2,799; 2.6 GHz build-to-order option added 2007.10.31; replaced by faster model 2008.02.26.
Part no.: MA897
Mac OS
Requires Mac OS X 10.4.9 Tiger or later
Mac OS X 10.6 Snow Leopard compatibility

Grand Central Dispatch is supported.
64-bit operation is supported.
OpenCL is supported.

OS X 10.8 Mountain Lion compatibility

AirPlay Mirroring is not supported.
AirDrop is not supported.
Power Nap is not supported.
Core System
CPU: 2.4 GHz Intel Core 2 Duo (2nd generation Merom), soldered in place, no upgrade options
Level 2 cache: 4 MB shared cache on CPU
Bus: 800 MHz
RAM: 2 GB, expandable to 6 GB using PC2-5300 DDR2 RAM
Performance:

Geekbench 2 (Leopard): 3296 (2.6 GHz), 3003 (2.4 GHz)
Geekbench 2 (Tiger): 3119 (2.4 GHz)
Video
GPU: Nvidia GeForce 8600M GT on PCI Express with dual-link DVI support, faster GPU speed than Core Duo model
VRAM: 256 MB
Video out: DVI connector (VGA supported with included adapter; S-video and composite video supported with optional adapters)
display: 17″ (43 cm) 18-bit 1680 x 1050 117 ppi color active matrix
optional display: 17″ (43 cm) 18-bit 1920 x 1200 color active matrix
supports 1680 x 1050, 1280 x 800, 1152 x 720, 1024 x 768, 1024 x 640, 800 x 600, 720 x 480, and 640 x 480 pixels at 5:4 aspect ratio; 1024 x 768, 800 x 600, and 640 x 480 pixels at 4:3 aspect ratio; 720 x 480 at 3:2 aspect ratio
allows mirroring to external display or extended desktop mode
Drives
Hard drive: 160 GB 5400 rpm SATA; optional 160 GB 7200 rpm and 250 GB 4200 rpm drives
optical drive: 8x dual-layer SuperDrive writes DVD±R at up to 8x, DVD±RW at up to 4x; reads DVDs at 8x (double-layer at 6x), writes CD-R at 24x, writes CD-RW at 10x, reads CDs at 24x
floppy drive: external USB only
Expansion
USB 3.0 ports: 3, only 1 high-powered device device allowed
FireWire 400 ports: 1
FireWire 800 ports: 1
Ethernet: 10/100/gigabit
WiFi: 802.11n AirPort Extreme built in
Modem: optional v.92 56k external USB modem
Bluetooth: BT 2.0 built in
IR receiver: supports Apple Remote
ExpressCard/34: 1 slot
expansions bays: none
Physical
size: 10.4 x 15.4 x 1.0″ (265 x 392 x 25.9 mm)
Weight: 6.8 pounds (3.08 kg)
Online Resources
Short link:
searchword: mbp17mid2007