Bong! . . . :-) . . . Welcome to Macintosh!
All Hallows Eve has crept up on us yet again, and for me it means getting my Classic Macs ready for the occasion.
What exactly do I do with them? Load them up with the After Dark screen saver, of course! Here's a little something to get you started in the right direction.
Get a Classic Mac – or a Few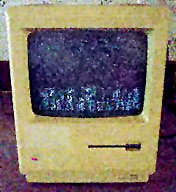 Your first step is to get a Classic Mac. I tend to favor the compact Macs for many things, but especially for Halloween. They're easier to tote and easier to place wherever you want in your house. I have five as of now, so that oughta be enough.
If you have a 128K, 512K, or Mac Plus, bring them in on the fun! Even the oldest compact Macs can join the party. The only potential downside is if you don't have an external hard drive for them. But even if they're only floppy-driven, you can load up the After Dark screen saver with at least one module.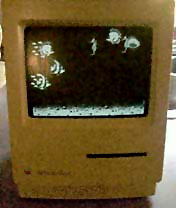 You will almost certainly have to trim down the boot disk on a 128K or 512K due to the fact they use 400K disks. I know on the Plus I have (a 512K converted to a Plus), I had to trim down the System Folder (running System 6.0.8) somewhat to make After Dark 2.0 fit, and that's with only the default Starry Night module running.
After Dark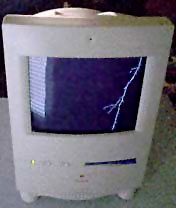 Next up, try to find After Dark. After Dark 2.0 works best for this spookification, as later versions tended to take on a more comical note with their modules and, as such, lost a lot of the "darkness" that drew people in. After Dark has many modules that work well with a Halloween theme: Warp, Zot, Nocturns, Starry Night, even those lovable Flying Toasters could strike fear in the hearts of many.
If you set up the compacts just right, you won't have to hook up keyboards to all of them, just mice (in order to shut them down safely). Set them up to blank to the creepy module of your choice in 1 minute. You can even set them up to run the Randomizer, creating even more dastardly Halloween fun to the mix!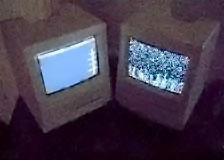 If you can't find any version of After Dark, Dark Side of the Mac makes for a great second choice. It's setup is a lot like After Dark.
In the pictures accompanying this article, you'll see my Mac Plus running Starry Night, the Classic running Aquatic Realm, the Color Classic running Zot, and – last but not least – an uncooperative SE that refuses to blank with a Classic II running Starry Night.
If you want to see more ways to dress up your Mac for Halloween, check out my Halloween article from last year, Prep Your Classic Mac for a Spooktacular Halloween – guaranteed to frighten the jeebies out of ya!
More Halloween Fun
Here's a cool story I ran across on TUAW of a guy who painted his Compact Macs orange for Halloween! Cool, huh?
Do you get your Macs ready for Halloween or for any other holiday? Send your stories to thomas(at)lowendmac(dot)com.
Have a happy and safe Halloween!
Keywords: #halloween
Short link: http://goo.gl/OEXCT4
searchwords: classicmachalloween, compactmachalloween