Many of the greatest legends of our time have at one point or another brought their artistic abilities and creative genius back to the forefront of society.
What does this have to do with After Dark, you ask? Simply this: I've received many emails from Low End Mac readers clamoring for a new version of After Dark. As the #1 fan of After Dark, I agree wholeheartedly with this. I say it's time a petition got started asking Jack Eastman and Patrick Beard to come together once again with their creative genius for a reunion. I propose a name for this new version: After Dark Reborn: Flying High 20 Years Later. (Admittedly, this might be a problem, as Infinisys owns the After Dark name.)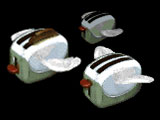 For many Flying Toaster fans out there, for far too long we've lied in wait, dreaming of a day when that magical squadron would take to the big screen once again. As fans we have dreamed of a day when Starry Night would light up our screens once again. We've dreamed of a day when Aquatic Realm would flood our monitors again.
The bottom line: We've waited for far, far too long. I say it's time we take back our screens! It's time to bring the Dark back to light!
We're ready for a rebirth of After Dark, with old favorites and new favorites to capture our imaginations – and to bring starry eyed-ness back to the forefront of our lives. Many youngsters have never had their eyes graced by the wonder After Dark brought us. It's time to bring in new legions of After Dark fans, the way Johnny Cash brought in new legions of fans.
I fully intend to keep the torch going in the hopes that After Dark will once again rise up stronger than ever!
I propose an email petition from all LEM readers and from everyone around the world get started. This petition will include names, email addresses, and the stories of how After Dark captured their imaginations – how it changed their lives.
I ask all who read this to spread this petition like wildfire. If you miss the magic, the wonder, and the spirit of After Dark, please sign this petition by emailing me your response at thomas (at) lowendmac (dot) com – and forward the petition to as many people as you know who love and miss After Dark.
I'll pass all responses to Jack and Patrick every week. This petition will continue indefinitely – for as long as it takes to convince them that After Dark deserves to rise again. The goodness shouldn't be limited to the Mac; we can even include our brethren on the Windows side and bring our fellow penguins (Linux) in on the fun!
I'd like to issue a challenge to both Jack and Patrick (along with Bill Stewart): I and many others realize that your time is valuable and that you may feel the time for creativity and After Dark in general has passed, but we beg to differ. There's still much creativity to be brought to light.
Just think of the endless possibilities. Apple reinvented the computer industry in 1984 with the Macintosh, then reinvented the MP3 player market with the iPod in 2001. Now Apple is poised to reinvent the cell phone market with the iPhone.
My point? Screen savers have become a commodity, but there's no longer any real creativity behind them. They're more or less reruns of some of the brilliant ideas found in After Dark. Who better to reinvent the screen saver than the people who invented After Dark and brought it to us in the first place?
Even iconic rock bands of generations past gets together for a reunion at least once. It's time to bring the imagination and creativity back to the countless people who have never forgotten After Dark – along with the many who have never been blessed to have seen it.
On the OS X side, I'm not forgetting about After Dark X + Fish, and I say you could bring the real, true After Dark spirit to After Dark X + Fish.
And what better time? Next year marks the 20th anniversary of After Dark. What say you, gentlemen?
Send along an email with your name and After Dark story. Spread the word to After Dark fans around the world. We shall not rest until the squadron flies high on each and every computer screen once again! I close with a quote found in the After Dark 2.0 manual that sums it all up perfectly:
Sweet Phosphor bring the day;
Light will repay
The wrongs of night;
Sweet Phosphor, bring the day
  – Francis Quarles (1592-1644)
Until then, here are three places to get a dose of After Dark goodness for your Macs:
Go to the After Dark Interviews index.
Keywords: #afterdarkrebirth
Short link: http://goo.gl/KMj93M
searchword: afterdarkreborn