In this modern age of computing, it's easy to become overwhelmed. There are so many things you can do on a computer that you can easily become lost for focus. I spoke of this very thing in an early Welcome to Macintosh article, The Good Old Days of Computing.
Something as simple as the joy of writing can be hindered on a modern computer because of distractions, such as the Internet and instant messages. Granted, you don't have to be on the Internet or log into your messenger of choice, but it's still there, and it can tempt you.
There's one gem in the Apple world I hadn't previously seen or experienced. I admit that I had little interest in PDAs, mainly because I didn't see the point. I had tried using a Palm and a WinCE device, but I thoroughly hated using them.
Hello, Newton
I had vaguely heard about the long lost Newton, but I never looked into it. One day I stumbled across a machine called the eMate 300. I had never seen one, let alone knew what it was.
From the first time I saw a picture of it, something about it intrigued me. It screamed "simple".
The eMate 300 is a hybrid, a cross between a PDA and a laptop – something that really caught my attention. Due to the kindness of Landon Rogers (who also was kind enough to send me a PowerBook Duo 230 earlier on) of Raleigh, North Carolina, I finally had my hands on an eMate.
First, a little background on this marvel of technology: The eMate 300 was introduced on my 15th birthday – March 7, 1997. It was marketed as a low-cost laptop for the education market. $800 was the asking price, and in comparison to laptops of the time, it didn't seem that expensive. Sadly, it saw its demise along with the entire Newton line less than a year later when Steve Jobs scrubbed the entire Newton division on February 27, 1998.
You can find out all the juicy specs on the eMate by checking out The Apple Museum.
Apple Innovation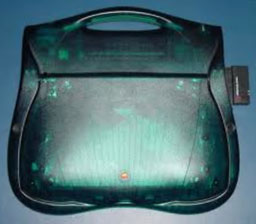 The look of the eMate in and of itself can be quite the topic of conversation. It was the first Apple product to make use of translucent plastics (sorry, iMac, you were a little late to the game). It comes in a black and green translucent case that is seriously durable. It has a monochrome screen, but it's not a show stopper.
While it doesn't have a full-sized keyboard, it's more than adequate. It has three stylus holders, one of which lays down right above the keyboard. The other two holders are strategically placed on either side of the keyboard, which allow you to place the stylus in a vertical position.
No hard drive on this puppy! It runs off flash memory. Yes, flash memory. Quite shocking, given the fact this is a 1997 vintage machine. Instant-on as soon as you open the lid; no waiting for booting, so if you have the urge to write down that latest dream you had (where you thought you were being attacked by bad news selling freaky blues) in the middle of the night, chances are you'll still have it fresh in your mind when you grab your eMate.
Warnings and Advice
Two notable things about the eMate for those who are as intrigued as I am and want one of their own.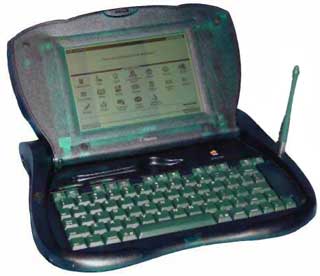 Every eMate eventually suffers from hinge syndrome. The short of it is that the spring on the hinge will come loose from the shaft and puncture the display cable, rendering the eMate useless. There's a valuable page that shows how to disassemble the eMate and repair the hinges. Be sure to do this first thing. My eMate had the hinge repair already done, so no worries there.
If your display cable has already been punctured, fear not: You can buy a new display cable and replace it yourself. You can find a new replacement cable at newtonsales.com.
The second thing to note is that the batteries may need to be replaced. The eMate uses 4 AA NiMH rechargeable batteries. You can have them recelled, or you can perform a hack that lets you use a battery holder for easier replacement of future batteries.
A couple other things to keep in mind: Some eMate's found on eBay don't include the original eMate stylus. The original stylus is hard to come by nowadays. The good news is that your average, run-of-the-mill stylus will work.
Also, I've heard it's better to have the original AC adapter or an adapter from a different model Newton vs. your standard, generic AC adapter. Your mileage may vary. There have been horror stories of people using a generic AC adapter, and it killing their eMate. Whether your flavor is original or generic, you'll need an AC adapter to charge the batteries.
Using the eMate
So what does this little blob of translucent green actually do? Well, for one thing, it makes a great word processor! The eMate comes loaded in ROM with NewtonWorks. It combines word processing, spreadsheet, database, and the kitchen sink.
Since the eMate has no floppy drive, you have a few options in regards to getting data off the eMate. You can either use the serial port (it's just like the serial port on older Macs – and if you have a modern Mac that doesn't have Apple's old serial ports, check out the Newton USB dongle from Notwhen), the Newton Interconnect Port, or you can even beam the info over (how Star Trekkish!) using the eMate's built-in IR transceiver.
You can transfer data to and from your computer and to and from your eMate using the Newton Connection Utilities 1.0 that was put out by Apple. You can use it on System 7.1 all the way up to 9.2. Or, if you reside on the OS X side of the fence, check out NewTen. Windows users can get in on all the goodness too, as NCU was made for Windows as well. With NCU, you can import and export documents to and from NewtonWorks. You can either import or export them in RTF or Text format.
Add-ons
You can even browse the Web (primitively I should add) as well as email – even wirelessly! Sadly, I don't yet have a WiFi card to test this out with, but I have heard lots of success stories about it. The eMate has a standard PCMCIA slot that can accommodate a number of WiFi cards as well as other PCMCIA cards.
There are upgrades for this little green beastie: There are 4 MB memory cards you can get that will boost the RAM and flash storage space, as well as doubling the data throughput (in laymen's terms, it makes it giddy-up and go) from 16-bit to 32-bit. Don't expect to find these cards in vast quantities, however. They are somewhat rare.
You can also add storage cards via the aforementioned PCMCIA slot. With a PCMCIA to Compact Flash adapter, you can use the more readily available (as well as much cheaper) Compact Flash cards.
Newton Resources
I should also mention two invaluable sources of information on the eMate, as well as the other Newton models: Newtontalk.net and UNNA.org.
Newtontalk.net is the place to ask questions and get help on all things Newton. They have archives dating back to 1999 – and searchable to boot!
UNNA.org is the undisputed champ in regards to finding software for your Newton. Odds are, if UNNA.org doesn't have it, you don't need it.
One thing that I found appealing about the eMate 300 that other articles and reviews have failed to mention: The eMate has that same inviting atmosphere in the sounds and icons it uses that Apple's former online service eWorld had. Some may not see the resemblance, but for those of you who used eWorld, stop and think about it if you have a chance to use an eMate, and you'll see.
RetroMacCast featured the eMate 300 in the Collection Spotlight in their fifth episode. (You can subscribe to their podcast using iTunes.)
I'm sure I've left out some things this wonder of technology can do. If I have, or if you want to share memories of the eMate 300 or any other Newton, feel free to let me know by emailing me at thomas (at) lowendmac (dot) com. Tell me what you do with your eMate or Newton.
If anyone has any eMate's or accessories they no longer need, don't throw them out, give them to someone who can put them to use – and if you can't find someone, drop me an email and let me know.
I wrote this entire article on my "new" eMate. It's the most fun I've ever had writing an article.
It's such a shame the eMate faded into obscurity. This little gem had the opportunity to change the world. It has found at least one fan in South Carolina, as I have grown quite fond of the eMate. It has become my new writing platform of choice.
Keywords: #newtonemate #emate300
Short link: http://goo.gl/c6QavR
searchword: emate300