Everyone seems to want portable computing, but are laptops now considered too big? Could a smartphone be a suitable replacement for a laptop?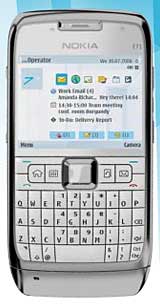 I'm not sure. I love keeping in touch wherever I am, and as mobile phones progressed, I found myself wanting more and more features – to the point of now owning a Symbian based Nokia E71.
It's a narrow and ultra-thin device with a full QWERTY keyboard, WiFi, hi-speed 3G, Bluetooth, an email client, a web browser, a still and video camera, and a whole bunch of other goodies – and you can make calls on it.
While I'm out I can check my email, browse the Web, and can even read and write Microsoft Office documents with the QuickOffice suite that comes standard. In fact, I am writing this article on it.
The small, thumb-sized QWERTY keyboard takes very little time to get used to. While it's not as quick as typing on a full-size keyboard, it is by no means slow. (If that bothers you, you can also use a Bluetooth keyboard.)
Apple's smallest laptop was the 12″ PowerBook G4, and while it was small and compact, you still know you're carrying it with you. I love my Apple laptops and just bought a Pismo PowerBook G3, but I can't take it to the supermarket and check my email while mulling over which pizza to pick up.
The iPhone has brought proper Internet access to a mobile device, and others will follow.
Computer manufacturers know that people's need for small portables is growing. In the early 90s, Toshiba brought out the Libretto range of "laptop" computers the size of video cassettes. More recently, Asus introduced the Eee PC, and Carphone Warehouse brought out the WebBook, but none of these run Mac OS X (officially anyway).
Small portables are definitely the way forward, but we're not there just yet. My Nokia E71 is fantastic, but it isn't quite there as a full-fledged portable replacement.
There are loads of Symbian, iPhone, Windows Mobile, RIM, Palm, and Linux devices. They feature 300 MHz to 600 MHz ARM and Intel processors, and with minimal OS footprints and enough RAM these are pretty nippy devices.
We need an Apple laptop capable of running Leopard that's half the size of today's 13.3″ MacBook, without a built in optical drive, and with a 9″ to 11″ screen.
---
Follow Simon Royal on Twitter or send him an Email.
Like what you have read? Send Simon a donation via Tip Jar.
---
keywords: #smartphone #replace #laptop #techspectrum #simonroyal
short link: http://goo.gl/5RVhnB

searchword: smartphonereplacelaptop