One of the biggest complaints about the original iPhone was that it didn't use 3G for wireless data, instead depending on the far slower – average data speeds between 75-135 Kbps – EDGE protocol. Another complaint was the lack of third-party apps. The iPhone 3G addressed both of these.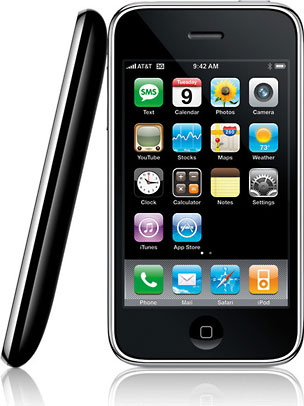 The iPhone 3G is very similar to the original iPhone except for the addition of 3G networking, with typical speeds in the 400-700 Kbps range, so about 5x as fast as EDGE, and a real GPS chip. The CPU is clocked to the same speed. It has the same 2 MP fixed focus camera. And it has a less powerful battery.
The other big improvement was iPhone OS 2.0, which for the first time supported third-party software on the iPhone using the App Store.
The 3G was also the first iPhone available in white.
The iPhone 3GS replaced the 3G as Apple's top-end model in June 2009. The 8 GB iPhone 3G remained in the line until June 7, 2010.
Hardware Overview
Models
Announced: 2008.07.11 at $199 (8 GB) and $299 (16 GB) with a two-year AT&T Wireless contract, $599 and $699 respectively without contract.
Included accessories: earbuds, USB 2.0 30-pin dock cable
Code names: N82
Identifier: iPhone1,2
Model number: A1241, A1324 (China only)
Product numbers: MB046 (8 GB), MBo48 (16 GB black), MB499 (16 GB white)
Technology
CPU: 620 MHz Samsung ARM 1176JF(F)-S clocked at 412 MHz
RAM: 128 MB
Architecture: 32-bit
Graphics engine: PowerVR MBX Lite
Display: 3.5″ 320 x 480 pixel 18-bit multitouch screen @ 163 ppi
Camera: 2.0 MP fixed focus
Sensors: proximity, ambient light, accelerometer
Connectivity
I/O port: 30-pin dock connector
WiFi: 802.11b/g
Bluetooth: 2.0+EDR
Networks:

UMTS/HSDPA (850, 1900, 2100 MHz)
GSM/EDGE (850, 900, 1800, 1900 MHz)

Data: GPRS (max 56-115 kbps), EDGE (max 327 kbps)
GPS: Infineon PMB2525 assisted by EDGE, 3G, and WiFi
Power
Battery: 1150 mAh lithium ion
Charge time: about 4 hours (2 hour fast charge to 80% capacity)
Battery life:

Talk: up to 5 hours on 3G, 10 hours on 2G
Standby: up to 300 hours
Internet: up to 5 hours on 3G, 6 hours on 2G
Video: up to 7 hours
Audio: up to 24 hours
Compatibility
Original OS: iPhone OS 2.0
Maximum OS: iPhone OS 4.2.1
iTunes Versions: iTunes 7.7 and later.
Mac OS Required: OS X 10.4.10 or later
Windows Versions Supported: Vista, XP Home or Professional SP 2 or later
Dimensions and Weight
Dimensions: 4.5″ x 2.4″ x 0.48″ (115.5 x 62.1 x 12.3 mm)
Weight: 4.7 oz. (133 g)
Further Reading
Best iPhone Prices, best online deals on iPhones.
iPhone, Wikipedia
iPhone 3G, Wikipedia
iPhone 3G, apple-history.com
Unleash Your Original iPhone or 3G with Whited00r, Simon Royal, Low End Mac, 2011.05.27
Whited00r 6 Keeps 2007 and 2008 iPhones Feeling Current, Simon Royal, Low End Mac, 2012.12.14
Whited00r 7: iOS 7 Look & Features on Older iDevices, Simon Royal, Low End Mac, 2013.12.28
Keywords: #iphone3g
Short link: http://goo.gl/KtPwug
searchwords: iphone3g