It's been 17 months since Apple introduced the original Mac Pro, which shipped with two dual-core processors (an 8-core model with two quad-core CPUs was introduced in April 2007), and the new Mac Pro is a big step forward: every configuration uses quad-core Intel Xeon CPUs for even more power.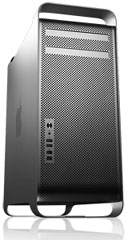 The new 45nm Harpertown CPU runs at either 2.8, 3.0, or 3.2 GHz and is designed to eventually reach 4.0 GHz; it includes 12 MB of level 2 cache per processor, and supports a very fast 1.6 GHz memory bus (vs. 1.33 GHz on the original Mac Pro). The Harpertown CPU supports lower power, cooler running 1.5V memory, which should help keep the insides of the computer cool, and Apple now uses ECC (Error Correction Code) RAM in the Mac Pro.
For graphics, ATI Radeon HD 2600 XT is the default, and you can add one, two, or three more video cards. Or you can choose an Nvidia GeForce 8800 GT or Nvidia's top-end Quadro FX 5600.
This model add SAS (Serial Attached SCSI) support, which gives it access to 15,000 rpm hard drives for maximum performance.
If one SuperDrive isn't enough, put in a second one for US$100 more. And you can upgrade from Apple's regular wired keyboard and Mighty Mouse to the wireless (Bluetooth) version.
Unlike the previous Mac Pro, Bluetooth is now standard, but 802.11n AirPort Extreme remains optional.
A headphone jack, two USB 2.0 ports, a FireWire 400 port, and a FireWire 800 port are located on the front of the Mac Pro for easy access.
Uninterruptible Power Supplies
The AC power coming into your home or office is a sine wave, but some UPSes generate a square wave when you are operating from battery power. This is not good for the Mac Pro. Be sure you only use a UPS with sine wave output to avoid reducing the life of your Mac Pro.
Unsupported macOS
Although it is not officially supported, the Early 2008 Mac Pro can run macOS Sierra using Colin Mistr's Sierra Patch Tool. However, WiFi is not supported on this device. See our macOS Sierra page for more details and a link.
Intel-based Macs use a partitioning scheme known as GPT. Only Macintel models can boot from GPT hard drives. Both PowerPC and Intel Macs can boot from APM (Apple's old partitioning scheme) hard drives, which is the format you must use to create a universal boot drive in Leopard. Power PC Macs running any version of the Mac OS prior to 10.4.2 cannot mount GPT volumes. PowerPC Macs won't let you install OS X to a USB drive or choose it as your startup volume, although there is a work around for that.
Details
announced 2008.01.08 at $2,199 with one 2.8 GHz quad-core CPU, 2 GB RAM, 320 GB hard drive, ATI Radeon HD 2600 XT; $2,799 with two 2.8 GHz quad-core CPUs; $3,599 at 3.0 GHz; $4,399 at 3.2 GHz; replaced by faster model 2009.03.03
requires Mac OS X 10.5.1 Leopard through 10.11 El Capitan, macOS Sierra via patch tool – see macOS Sierra on Low End Macs. Broadcom BCM4321 WiFi module, if present, is not supported by Sierra. macOS 10.14 Mojave and later are not supported.
Mac OS X 10.6 Snow Leopard compatibility

Grand Central Dispatch is supported.
64-bit operation is supported.
OpenCL is not supported except with the GeForce 8800 GT GPU.

OS X 10.8 Mountain Lion compatibility

AirPlay Mirroring is not supported.
AirDrop is not supported.
Power Nap is not supported.

CPUs: single 2.8 GHz quad-core Intel Xeon, dual 2.8, 3.0, or 3.2 GHz quad-core Intel Xeon
Bus: 1.6 GHz
Performance:

Geekbench 2 (Leopard): 8254 (3.2 GHz), 8088 (3.0 GHz), 7650 (2.8 GHz 8-core), 5359 (2.8 GHz 4-core)

RAM: 2 GB, expandable to 32 GB using pairs of 800MHz DDR2 ECC fully buffered DIMM (FB-DIMM) RAM in 8 slots
L2 cache: 12 MB on-chip shared cache per dual-core processor
L3 cache: none
Video GHz: ATI Radeon HD 2600 XT with 256 MB RAM in double-wide 16-lane PCIe slot

2, 3, or 4 Radeon 2600 optional (add $150 per card)
Nvidia GeForce 8800 GT with 512 MB RAM optional (add $200)
Nvidia Quadro FX 5600 with 1.5 GB RAM optional (add $2,850)

Hard drive bus: 3 Gbps SATA Rev. 2
Hard drive: 320 Serial ATA 7200 rpm standard – add $100 for 500 GB hard drive, $250 for 700 GB, or $400 for 1 TB instead
Optical drive bus: UltraATA
16x dual-layer SuperDrive standard, add second for $100
writes DVD-R at up to 16x, DVD+R DL at 6x, reads DVDs at 16x; writes CD-R and CD-RW at up to 24x, reads at 32x
PCI Express: 3 open full-length slots
SATA: 4 independent buses
optional external 56k v.92 USB modem
Microphone: standard 3.5mm minijack, compatible with line-level input, not compatible with Apple's PlainTalk microphone
FireWire: 2 FW400 ports (1 on front), 2 FW800 ports (1 on front)
USB: 5 USB 2.0 ports (2 on front)
Ethernet: 2 independent 10/100/gigabit ports
WiFi: optional 802.11n AirPort Extreme
Bluetooth: 2.0 with Enhanced Data Rate
size (HxWxD): 20.1″ x 8.1″ x 18.7″ (51.1 x 20.6 x 47.5 cm)
Weight: 42.4 lb. (19.2 kg)
Gestalt ID: n/a
PRAM battery: 3.6V half-AA
Part no.: MA970
Accelerators & Upgrades
CPU upgrades are possible
Online Resources
Keywords: #macpro #macproearly2008 #early2008macpro #2008macpro #unsupportedsierra
Short link: https://goo.gl/4PltFl
searchword: macpro2008