During the mid-90s, Mac users were prone to dealing with poorly trained and ill-maintained Mac sections in big box computer and electronics stores. These environments did not foster customer loyalty, nor did they help differentiate the Mac user-experience from Windows.
After Steve Jobs returned to Apple, he began a concerted campaign to help sales by improving the retail presentation of Macs. This campaign culminated with the introduction of the first retail Apple Stores on May 19, 2001.
The Problem
Apple was struggling in 1997. After Jobs had slashed budgets and blue sky research projects, Apple's stature improved among developers. The clearly defined operating system strategy for the company helped Jobs accomplish what Gil Amelio, his predecessor, was unable to. He cut a deal with Microsoft so Office development for the Mac would continue in exchange for Internet Explorer becoming the default browser on all Macs – and a $100 million nonvoting investment in Apple. Apple was now secure financially and already had major new products – the iMac and PowerBook G3 – in the pipeline.
Despite these positive changes, Apple was still stymied in the presentation of its products. The company had control over its new online store and through its catalog, but like most other consumer electronics companies (with the notable exception of Dell), it was reliant on big box retailers like CompUSA and Sears to sell the Mac.
Consumers were hard pressed to distinguish Macs from much less expensive PCs. Applications such as iMovie wouldn't impress a consumer if they were presented on a crowded sales floor without video samples or a camera. Without immersive demos or competent sales staff, the Mac would founder beside less expensive PC competitors.
Apple's Response
The crisis in presentation made comparisons between the PC and Mac a matter of comparing specifications, where the Mac was prone to fail (MovieShaker and iMovie 2 look identical on a spec sheet, but they're very different in user experience).
The response began in 1997, though it would be only partly successful. Steve Jobs had not even been installed as official CEO, but he had near total control over the company, especially after he purged the board of directors after his arrival in 1996. Jobs cut almost every big box retailer's ties to the company except for CompUSA. In exchange for retaining its Apple contract, CompUSA agreed to adopt Apple's "store within a store" concept.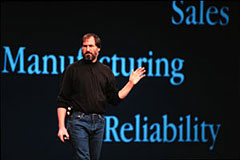 Approximately 15% of each CompUSA store would be set aside for Mac hardware and software (including non-Apple products) and would play host to a part-time Apple salesperson. The Apple areas featured displays designed by the same architectural firm Jobs used to create his SteveNote halls, Eight Inc. The concept distanced Apple products from ill-maintained displays and often "tragically-ill-informed" sales staff (subscription required) that actively steered consumers towards PCs because of its ignorance of Macs.
Apple's Store within a Store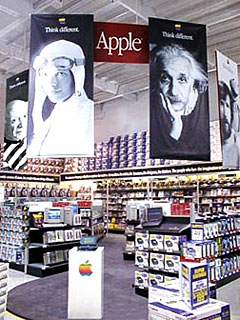 CompUSA president Jim Halpin said that Apple products would be his top priority, but less than a year later his staff was grumbling about Halpin's management abilities, and he was on his way out. Suzanne Kapner, a journalist with The Street, was told by one of his executives, "we often didn't have systems or infrastructure to get things done." Halpin was sacked, and Apple products languished, despite new gimmicks that increased staff commissions on products from the store within a store.
The sales failed to roll in. Jobs and his executives decided that they didn't have enough control over the presentation of Apple products. On top of that, the store within a store was located in the back of CompUSA stores, where foot traffic and sales were the lowest.
Building a Team
Other companies didn't have Apple's interests at heart, so Jobs began assembling a team to create an Apple retail store. This was happening at a time when Gateway was abandoning the mail order business, which had made it a preeminent computer manufacturer, in favor of Gateway Country stores, which spectacularly failed and nearly sank the company until it purchased eMachines (or, as a cynic might observe, eMachines executives replaced the Gateway people and axed the Gateway Country stores).
In 1999, Jobs personally recruited Mickey Drexler, who had been at the Gap since 1983, to join the board of directors. He became CEO of that company in 1995 and presided over the company as it experienced explosive growth largely due to its retailing environments and marketing rather than its products or competitive prices.
Jobs took an active role in the development of the retail strategy (not unprecedented in Apple and NeXT history) and made his next, and most important, hire himself, Ron Johnson. Ron Johnson had turned Target from an upscale K-Mart into a bastion of good design with the Michael Graves line of consumer products. Jobs led the committee that brought Graves to Target and, as retail officer, played a role in redefining the company's brand.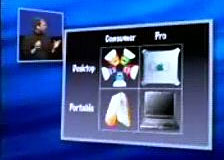 Johnson assembled a team of experienced people from the world of retail, from interior design to point-of-sale systems. On the advice of Drexler, he created a mockup in a warehouse near Apple's campus in Cupertino. The products were organized by the product matrix used almost exclusively by Apple and journalists.
Features and Software
In Jobs' words, "Oh, God, we're screwed!"
According to Jobs, the problem was that consumers didn't buy products based on their official designations. They bought them based on features and software. Sequestering the Macs away from the peripherals would cost Apple sales. That meant creating task areas with demonstration machines and, more importantly, tutorials and sample media so consumers could practice creating their own projects, whether downloading music to an (as of yet nonexistent) iPod or organizing clips of kids washing a dog in iMovie.
The redesign took six to nine months, and the result was very similar to the retail Apple Stores.
Flouting the standards set by big box retailers, Apple created a very positive user experience by investing very heavily into a space. Where CompUSA had row upon row of notebooks lined up on utilitarian shelving, Apple hired noted design firms and architects to make their space inviting and warm.
Designing the Apple Retail Store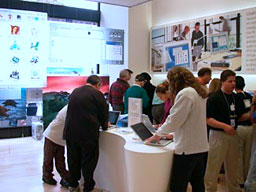 Perhaps the most unique choice in firms was that of Eight Inc. In CompUSA, Eight was constrained by space and budget, but in the mockup warehouse, there were no such limits. The first retail Apple Store, similar to the mockups, was awash with custom built lima-bean-shaped tables, high-end lighting, and hardwood flooring. They shared more than a passing resemblance to Gap stores, which are still characterized by their shopping experience. Eight, in addition to other consultants, would be awarded prizes for applying the Gap strategy to computer (or, more broadly, consumer electronics) retailing.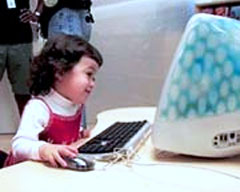 The layout was unique, but the product targeting was even more important. Acting on Jobs' vision, Macs were setup as task-oriented workstations. Each part of the store would be dedicated to different tasks. Kiosks would be set up for video editing, digital photography and music management. Game areas (originally using the Flower Power and Blue Dalmatian iMacs) were spread out on the sides of the store.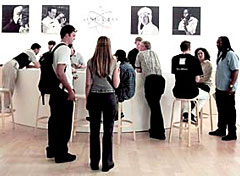 But not every space was dedicated to selling. In the back there was a Genius Bar, an area where Mac-heads could get their Macs diagnosed and fixed – or just hang out. In later stores, there were actually theaters and classrooms in the back for live Apple events and workshops.
The sales people were not pushy. Even if a customer was not going to buy a product that day, a sales person would help demonstrate the Mac or just leave the customer alone while he or she surfed the Internet or played Bugdom.
The first retail Apple store opened at Tysons Corner, a regional mall that serves the Washington-metro area, in Tysons, Virginia on May 19, 2001. The second store opened a few hours later on the west coast in Glendale Galleria, near Pasadena, California. Both stores were notable for their presence in high-end shopping centers, for their proximity to major metropolitan areas, and their small size – they were dwarfed by big box stores. The Tysons Corner store was only 8,000 square feet.
These stores served as a bellwether for Apple's retail strategy. If initial numbers are to believed, Apple had at least succeeded in creating a spectacle, since Mac-heads had camped out at the store the night before it opened.
Results
Several publications and analysts predicted the failure of Apple Stores, because they flouted computer retail practices. Retail space is evaluated by the amount of sales made per square foot. It was thought that because of the stores' diminutive size and non-aggressive sales team, Apple would succeed in presenting the Mac but fail in making a significant number of sales, despite the huge turnout for the Virginia store (7,700 in the first day purchases).
The critics were wrong. By 2007, Apple would become one of the most productive retailers in the world. It would not only dominate Best Buy, one of the companies Jobs had cut off in 1997, but it would top luxury retailers like Tiffany's. According to Fortune:
"And not just the architecture. Saks, whose flagship store is down the street, generates sales of $362 per square foot a year. Best Buy stores turn $930 – tops for electronics retailers – while Tiffany & Co. takes in $2,666. Audrey Hepburn liked Tiffany's for breakfast, but at $4,032 per square foot, Apple is eating everyone's lunch."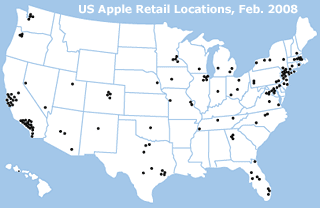 Acting on the initial statistics coming from the two locations, Apple expanded to 25 locations by the end of 2001 (using the same design language at every location) and expanded even further in later years, building several flagship stores in major cities.
Sources
NeXT, OpenStep, and the Triumphant Return of Steve Jobs, Tom Hormby, Low End Mac.
Desktop Critic: CompUSA: Apple's not-so-superstore, David Pogue, Macworld, March 1999.
Gateway to shutter stores, cut staff, Richard Shim, ZDNet.
Apple: America's best retailer, Jerry Useem, Fortune, 8 March 2007.
Apple store opens to large crowd in VA, Jim Dalrymple, Macworld, 22 October 1999.
Keywords: #appleretailstores
Short link: http://goo.gl/qwRzGG
searchword: appleretailstores