The 17″ and high-end 15″ aluminum PowerBooks, aside from their modest (by today's standards) 512 MB of standard RAM, are pretty lavishly equipped in standard trim. Even the "entry-level" 15-incher is no slouch. However, that doesn't mean these 'Books aren't candidates for a bit of upgrading – especially now that we're closing on three years into the Macintel era and their performance and specification has fallen well back of the cutting edge.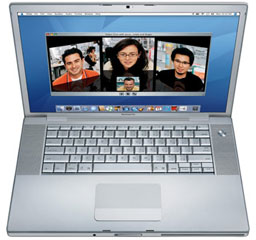 I'm still using a 17″ PowerBook as my main workhorse. and I love it, but aside from the RAM being upgraded to 1.5 GB, my 1.33 GHz model is box-stock in specification. My 1.33 GHz "BigAl", a model that debuted in September 2003, came with a very respectable Radeon 9600 graphics processor and 64 MB of video RAM, an 80 GB hard drive, a SuperDrive, gigabit ethernet, built-in Bluetooth, 802.11g wireless, FireWire 400 and 800, USB 2.0, and an internal modem (which is something you don't get in any Macintel 'Book).
The later 1.5 GHz and 1.67 GHz "AluBooks" have even more impressive standard equipment, all of which which somewhat attenuates the incentive to tinker and upgrade.
Also, prices of used and refurbished "AluBooks" are coming down, with most models now well below the $1,000 threshold. With some judicious hot rodding, they can still serve as moderately powerful and capable production tools or just nice personal-use laptops with what some of us still consider the substantial advantage of being able to support Classic Mode and the aforementioned internal modem.
However, here are some upgrade tweaks that can make them even more capable and useful.
Memory Upgrade
The first phase of any "AlBook" hot rodding project should definitely be a RAM upgrade, and I recommend maxing out at 2 GB from the get-go, especially if you plan on installing Mac OS X 10.5 Leopard, although that will involve removing and probably discarding the OEM 512 MB stick from one of the two memory slots.
I've personally had good luck with RAM upgrades from Other World Computing, which currently offers, for example:
1 GB (1024 MB) PC2700 DDR SO-DIMM 200 Pin Memory Module 128×64 CL 2.5 for PowerBook G4 'Aluminum' 12″, 15″ & 17″ – $42.99
1 GB Samsung Original PC2700 DDR SO-DIMM 333 MHz Cas 2.5 …
1 GB Samsung Original PC2700 DDR SO-DIMM 333 MHz Cas 2.5 200 Pin Memory Upgrade Module for all PowerBook G4 – $57.95
Faster, Higher Capacity Hard Drive
Most "AluBooks" came with 4,200 rpm ATA hard drives, although some of the later models had 5,400 rpm drives. Capacities ranged from 60 GB on the earlier models to 120 GB on the last ones, so a hard drive upgrade to a 120 GB, 160 GB, or even 250 GB unit rotating at 5,400 or 7,200 rpm can increase both your performance and data storage capacity.
As with RAM upgrades, various vendors offer hard drive upgrades for the 15″ and 17″ PowerBooks
Four examples are:
The downside is that getting at the "AluBooks"' hard drives (unlike G3 PowerBooks, in which it's an easy 10-15 minute job) involves substantial disassembly of the computer. If you think you have the skill and patience to tackle the job yourself or want more information to help determine whether you do or not, check out iFixIt.com's free illustrated teardown guide for the appropriate model PowerBook here:
iFixIt also has a selection of parts and upgrade items for the PowerBook.
SuperDrive Upgrade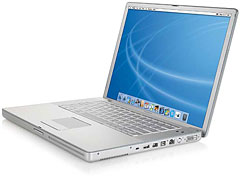 The very early 15″ "AluBooks" were sold with Combo CD-RW/DVD-ROM optical drives on the entry-level model and a variety of DVD-burning SuperDrives came with most of these machines. My 1.33 GHz unit, for example, has a 2x SuperDrive, which does the job but is a bit of a slug compared with the FastMac 8x Dual-Layer SuperDrive upgrade in my old Pismo PowerBook. The 1.67 GHz 15″ and 17″ "AluBooks" got 8x SuperDrives in January 2005 and dual-layer 8x drives in their final (November 2005) revision.
If you have one of the older models with a 2x or 4x SuperDrive (or a Combo drive), several vendors supply SuperDrive upgrades for the aluminum PowerBooks:
FastMac offers an 8x dual-layer unit for $149.95. I have FastMac SuperDrive upgrades in both of my Pismos, and they've been excellent performers.
MCE Technologies also offers 8x DVD±R/RW SuperDrive upgrades with both double layer and dual layer support for the PowerBook G4 that allows users to author professional-quality DVDs as well as create, store, and share their collections of videos, music and photography, priced at $149.
Other World Computing offers the 8x Mercury PB G4 SuperDrive Dual-Layer upgrade for all PowerBook 15″ and 17″ models for $97.99
Extended Life Battery
Another hot rodding tweak that should especially appeal if your 'Book's battery is getting more than a bit past its prime is a high-capacity battery replacement.
FastMac offers TruePower extended life batteries for the PowerBook G4 Aluminum 15 for $99, and for the PowerBook G4 Aluminum 17 at $99.95.
Newer Technologies also offers extended life batteries for the "AluBooks" – up to 16% more capacity on aluminum 15″ models with the Newer Technology NuPower 55.5 Watt-Hour Battery at $119.99, and up to 21% greater capacity for 17″ Aluminum Models at at $127.95 to $149.95
Newer Technology also offers an Intelligent Battery Charger/Conditioner for the PowerBook G4 15″ and 17″ at $149.95.
Compact Flash Memory Reader
As we noted, the aluminum PowerBooks came pretty comprehensively equipped, but one feature Apple has never offered on any of its notebooks is a built-in Compact Flash (CF) reader – this is available on many Windows laptops. Fortunately there are a variety of CF card readers available that interface through the PowerBook's CardBus slot.
The ultimate hot rod tweak for the 15″ and 17″ PowerBook used to be a processor upgrade, but Daystar Technology, which was the only processor upgrade vendor for the G4 Aluminum PowerBooks, has phased out the product.
Summary
There you have it. Whether you decide to just upgrade the RAM in your AluBook or go whole-hog, hot rodding can make an already very capable PowerBook even more of a performer – and extend its useful service life for possibly several years yet.
Keywords: #powerbookg4upgrades
Short link: http://goo.gl/jNH9he
searchword: powerbookg4upgrades