2009 – Despite my 867 MHz Titanium PowerBook G4 (TiBook) being introduced in November 2002, making it nearly seven years old, it is still an excellent machine. Being an 867 MHz model, it is the earliest Titanium model to officially support Mac OS X 10.5 Leopard, and it copes with it very well.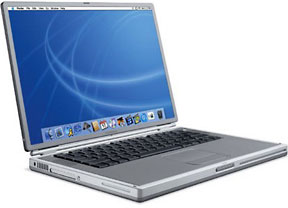 It has been upgraded slightly. It is maxed at 1 GB of RAM, and I installed a 5400 RPM 80 GB hard drive in place of the original drive. Leopard runs very well – better than you would think – and it is my main machine.
It has a CardBus slot, which adds some expandability. Currently it has an AirPort Extreme compatible card installed in the CardBus slot, giving me high speed 802.11g wireless speeds, as opposed to the limited original internal 802.11b AirPort Card.
Missing USB 2.0
However, there is one thing that lets it down, the lack of USB 2.0, which only became a standard PowerBook feature with the aluminum models introduced in 2003. The TiBook has two built in USB ports, but they are only USB 1.1. USB 1.1 is 1/40 as fast as USB 2.0, and this can make data transfer to USB drives very slow, so I wondered if it was possible to use the CardBus slot to add USB 2.0.
A few years ago I had a 400 MHz TiBook that I put a USB 2.0 card in under Mac OS X 10.4 Tiger. It worked, but I couldn't remember what make of card I had used.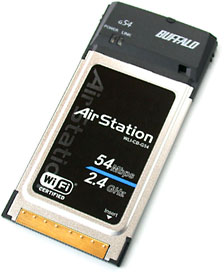 Macs are funny things. You can use a lot of "Windows only" peripherals in a Mac if they have the right chipset.
My Buffalo WLI-CB-54G wireless card uses the same chipset as Apple's AirPort Extreme cards, so my machine thinks it is an Apple card. My cheap USB Bluetooth adapter is "Windows only" (BT-ET06), but pop it in a Mac, and it is detected without the need for any drivers or setting up.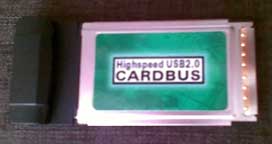 I looked for a cheap USB 2.0 card on eBay and went for a non-brand-name card. I popped it in and checked System Profiler – it detected two built-in USB 1.1 ports and two high speed USB 2.0 ports. The card specs in System Profiler said the Vendor ID is Cambridge Silicon Radio Ltd and the Version is 11.20. There are no identifying marks on the card and nothing else in System Profiler.
Now for the test.
I copied a 672 MB Ubuntu ISO to a 1 GB USB 2.0 flash drive. First I did it on a USB 1.1 port, and it took 33 minutes. I then copied it while it was plugged into the CardBus card, and it took 5 minutes – over six times faster. It definitely works.
There is very little information on the Web about using USB 2.0 on a Titanium PowerBook. Some have success; some don't. Some successfully use it with iPods and iPhones, and some don't. But it is possible, and it does mean you can squeeze a few extra miles out of your aging but lovely PowerBook.
I will try to do some more research into what cards work and if particular chipsets work and report back. But the short of it is, it is possible.
---
Follow Simon Royal on Twitter or send him an Email.
Like what you have read? Send Simon a donation via Tip Jar.
---
keywords: #usb2 #powerbook #powerbookg4 #titanium #tibook #techspectrum #simonroyal
short link: http://goo.gl/zDLp12

searchword:usb2tibook