Blu-ray has clearly emerged as the winner in the high definition optical disc war, but why is there still no support for commercial Blu-ray playback in Mac OS X? Is this something we can ever expect to see?

This has been a bit of frustration to those who own capable Macs and has led to many discussions around the Net – and various theories. It's strange that support for Blu-ray didn't come sooner, since Apple was one of the first companies that pledged support for the format. One would have thought that since Apple was among the first proponents for this technology, it would have been one of the first to incorporate the new tech in its products.
Why the Delay?
With the iTunes Store now selling 720p format movies for rent or purchase, with on-demand HD video becoming widely available through satellite and cable providers, and with services such as the Roku player from Netflix offering streaming HD content, the days of the optical drive seem to be numbered. With the economy still recovering, Apple likely strayed away from Blu-ray to keep hardware costs down until the pricing was right for them to place large orders to add Blu-ray drives as upgrades or include them as standard equipment.
Why would Apple want third parties to get all the action before it has a slice of the pie?
It shouldn't be too much longer until Blu-ray becomes standard. At that point, which is not far off, Apple would be compelled to add Blu-ray support for OS X. In fact, I would not be surprised if we saw Blu-ray playback enabled in a dot update to Mac OS X 10.6 Snow Leopard by the end of next year.
The Cost of Blu-ray

Besides Apple's own concerns of managing costs and maximizing profits (they are a business), everyone else is also trying to save a few bucks these days. Although Blu-ray is capable of high-quality 1080p video, a multitude of sound formats, and new interactive bonus materials (accessed through an Internet connection), let's face it – Blu-ray is still costly when compared to DVD and streaming HD content.
Internal Blu-ray drives aren't cheap enough yet to become a no-brainer upgrade (still about $200 and up). New release commercial Blu-ray films are sold at about twice the price of their DVD counterparts, and as a storage solution, Blu-ray discs are one of the costliest solutions per GB.
You also need newer hardware to even think about playing a Blu-ray disc through any PC or Mac, which is yet another factor. If you don't have the needed equipment, you will have to upgrade your current gear – or potentially purchase newer equipment.
Hardware Requirements
Unfortunately, Blu-ray will only work on Intel Macs, and since there is no Blu-ray codec yet for OS X, you have to boot into Windows. Obviously, using Windows to accomplish anything on a Mac is not an ideal situation, but it's currently the only option you have. You need the PC-only Cyberlink PowerDVD software and an HDMI compliant monitor in addition to a compatible Intel Mac with Windows (see the PowerDVD hardware requirements). As you can see, Blu-ray is quite demanding.
Blu-ray Not Possible on a G4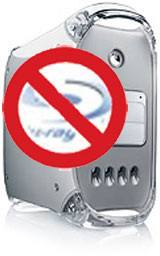 After viewing the hefty hardware demands (1.83 GHz Core Duo minimum plus a supported video card), it's easy to see why G4 users are feeling blue. Although the last G4s were discontinued in 2006, they were built on slightly older technology. Even at the summit of the G4 hardware mountain, these machines are limited to AGP 4x graphics and a 167 MHz system bus – not nearly enough to meet the demands of Blu-ray playback when compared to the requirements for Blu-ray playback for PowerDVD.
It's the same reason why you can't watch YouTube on most G3 and early G4 Macs without some difficulty – or some upgrades. The bandwidth and system throughput needed to enjoy streaming live standard definition video smoothly is more than most of these machines can handle.
Another example: You need a 1 GHz G4 and 32 MB of VRAM to watch video in iTunes.
Why Not on a G5?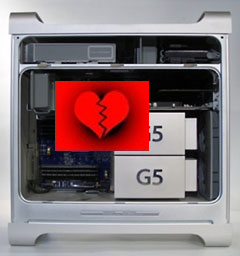 I don't own a Power Mac G5, but I would have been pretty upset after spending a truckload of cash to find that I would not be able to fully adopt the latest optical disc technology when it became available just a couple of years later! (Blu-ray debuted in 2006.) It just doesn't seem fair, but then again, having a faulty liquid cooling system and getting the OS door slammed shut four to six years after your purchase doesn't seem right either.
The G5 never got the love it deserved…
On the last two revisions of the Power Mac G5 (both released in 2005), the system bus runs as high as 1.35 GHz with RAM clocked at 533 MHz (as with all other G5s). The dual-core and quad-core October 2005 models even have PCI Express 16-lane graphics card slots, which also seems to be another factor for Blu-ray playback (see all the GPUs on the PowerDVD requirements again – all are PCI Express based). The G5s – at least the later dual- and quad-core ones – had the speed, power, and bandwidth to handle Blu-ray, but they never had supported graphics cards.
There are vendors that sell "flashed" graphics cards on eBay, such as the GeForce 7800 GTX 512 MB (reviewed by Bare Feats in 2006). This video card would theoretically make a dual-core or quad-core G5 capable of Blu-ray support, but without native support for Windows and no OS X codec, the G5 is still a couple cards short of a full deck.
Oh well, at least the GeForce 7800 GTX upgrade makes a G5 the ultimate PowerPC gaming rig….
The Good News
Although streaming video is going to replace most other formats eventually, there is a ray of hope (no pun intended) for those who purchase commercial Blu-ray discs but don't own hardware that supports the playback (other than a standalone Blu-ray player or PS3), adding considerable utility to your purchase. When a digital copy is included with the disc, it gives you the following options:
If you have a 1 GHz or better G4 with at least 32 MB of VRAM, you can view the digital copy with iTunes, and you can even transfer this to a supported iPod. This allows you to shift your experience in many ways!
If you own a PS3, you can also download the digital copy to the PS3 hard drive – and even transfer to a PSP.
Although Blu-ray digital copies are not in breathtaking 1080p, as the Blu-ray disc usually is, they still look good – 480p DVD quality in fact.
Another recent option: Some Blu-ray movies can be purchased with an included DVD.
Summary
Only recent hardware can play back Blu-ray, and your options are limited on a Mac, with the only playback options available in Windows. However, the concept of affordable commercial Blu-ray playback through any computer is rather new. In due time, it should become the optical drive standard (if optical drives continue to exist in the next couple of years).
It will also replace DVD as the disc of choice for consumers, although I can't see DVD disappearing any time soon. DVD should continue to coexist with Blu-ray for years to come, providing a cheaper alternative.
Publisher's note: Five years later, Apple has eliminated built-in optical drives, so it's unlikely we'll ever see a Mac with built-in Blu-ray. Since publishing this, Dan Bashur has looked at third-party Blu-ray options for OS X in Blu-ray No Longer a 'Bag of Hurt' for Macs, Mac Blu-ray Player Lets Macs Display Blu-ray Movies, and $90 USB 2.0 Blu-ray Drive Also Works Inside a Mac mini.
Keywords: #bluray #macbluray #blurayosx
searchword: blurayosx