As we should remember from earlier episodes, I received a first generation (1G) iPod touch from my beloved wife. At the time, the only bummer was the fact that the second generation (2G) touch had the ability to use a microphone.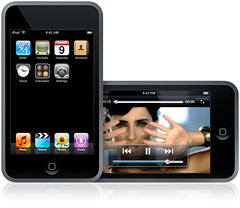 My dreams of using a WiFi phone to lower my cell phone bills would have to wait, as the 1G iPod touch has no microphone input jack.
Not so fast, pilgrim. Last night I talked to my brother (six states away) over Skype using my iPod touch. The conversation lasted over a half an hour.
It was not without flaws. I could hear him fine, but my low voice wasn't as audible to him. Due to some delay issues, we had to be careful not to talk over each other. But since the call was mucho, mucho less expensive than using a landline or cell connection, I can't complain much.
How did I set up my 1G touch for Internet phoning?
Bear in mind that I have had some teething problems that mysteriously appear and disappear. So, like the secretary in the old Mission Impossible TV series, I will disallow any problems you may encounter. I'm going to tell you what I did and inform you of the troubles that I encountered.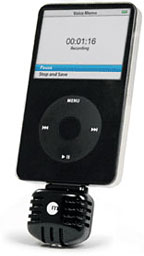 Here's what that you will need:
1G iPod touch with Apple's new 2.2 software installed. This software opens up the microphone. You have to have it.
Macally's iVoice lll microphone for the iPod. Yes, you could probably use Apple's new headset with a microphone, but the iVoice is cheaper. I picked up mine online for around $28.
Fring (download it from the iTunes App Store)
A Skype account.
Turn on the iPod and launch Fring. Tap the "More" button at the bottom. When the screen appears, tap the "Add-ons" button. Select "Skype" from the menu. Log into your Skype account. Attach the iVoice mic to the iPod. Plug in a set of headphones.
Now go to your Buddy List and place a Skype test call. I usually do this every time to test how the connection and voice quality are.
I can dial now, you say!
Not so fast. In order for Skype make a "Skype Out" call, your phone number has to have the following format – (+1##########).
When you add Skype onto Fring, it automatically loads your Skype Buddies into Fring's buddy list. Now, of course, you have duplicate names in the Buddy List, but the Skype Buddies are already formatted to make Skype calls. I would like to clean up my Buddy List, but I may have to contact Fring to figure out how to do that.
One other issue. I think that the combination of the browser and iVoice sucks a lot of power out of the battery, so keep your charger handy.
Keywords: #skype #ipodtouch #ivoice
Short link: http://goo.gl/xwAZuC
searchwords: ivoice, skype, ipodtouch