Apple has finally replaced the last 17″ iMac, a holdover white model that has only been available to the education market at the same US$899 price as this new model. At 2.0 GHz, the new education iMac is 25% slower than the low-end consumer model and comes with half the RAM (1 GB) and half as big a hard drive (160 GB). It has the same Nvidia GeForce 9400M graphics.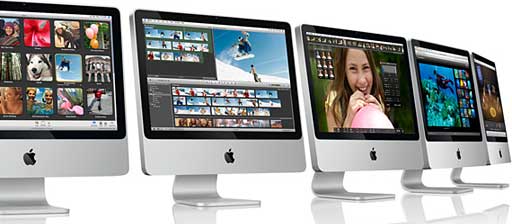 The Mid 2009 iMac has 4 USB 2.0 ports (one more than before), FireWire 800 (but not 400), gigabit ethernet, 802.11n WiFi, Bluetooth 2.1+EDR, and an 8x SuperDrive – as well as a slim keyboard with two USB 2.0 ports. It supports up to 8 GB of RAM.
The 20″ iMac ships with Apple's aluminum keyboard and Mighty Mouse. 256 MB of system RAM is dedicated to video. This 2.0 GHz iMac sells for US$250 less than the 2.66 GHz Early 2009 20″ model with 2 GB of RAM and a 320 GB hard drive.
This iMac shipped with OS X 10.5.6 Leopard, and it can run OS X 10.11 El Capitan.
Note that 20″ aluminum iMacs use an 18-bit LCD, which can only display 262,144 colors, not the "millions" all other iMacs can display. This should be good enough for most users.
Intel-based Macs use a partitioning scheme known as GPT. Only Macintel models can boot from GPT hard drives. Both PowerPC and Intel Macs can boot from APM (Apple's old partitioning scheme) hard drives, which is the format you must use to create a universal boot drive in Leopard. PowerPC Macs running any version of the Mac OS prior to 10.4.2 cannot mount GPT volumes. PowerPC Macs won't let you install OS X to a USB drive or choose it as your startup volume, although there is a work around for that.
Details
introduced 2009.04.13 at US$899 only to the education market.
Requires Mac OS X 10.5.6 through 10.11 El Capitan, macOS Sierra via patch tool – see macOS Sierra on Low End Macs. macOS 10.4 Mojave and later are not supported.
Mac OS X 10.6 Snow Leopard compatibility

Grand Central Dispatch is supported.
64-bit operation is supported.
OpenCL is supported.

OS X 10.8 Mountain Lion compatibility

AirPlay Mirroring is not supported.
AirDrop is supported.
Power Nap is not supported.

CPU: 2.0 GHz Intel Core 2 Duo
Bus: 1066 MHz
Performance: not yet benchmarked
RAM: 1 GB, expandable to 8 GB using two 1066 MHz DDR3 SDRAM
Graphics, 2.66 GH: Nvidia GeForce 9400M, used 256 MB of system RAM RAM, supports up to 1920 x 1200 external digital display, 2048 x 1536 analog display, and monitor spanning
Display: 20″ 1680 x 1050 flat panel display (18-bit LCD)
Video out: Mini DisplayPort, DVI and VGA with optional adapters
L2 cache: 6 MB shared cache on CPU
Hard drive bus: 3 Gbps SATA Rev. 2
Hard drive: 160 GB Serial ATA drive
SuperDrive: writes DVD±R, DVD+R, and DVD+RW discs at up to 8x speed, DVD-RW at up to 6x; dual layer at up to 4x; reads DVDs at up to 8x, writes CD-R discs at up to 24x, writes CD-RW discs at up to 16x, reads CDs at up to 24x
USB: 4 USB 2.0 ports
FireWire 400: none
FireWire 800: 1 port, 7 Watts
Modem: optional 56 kbps USB modem supports v.92
Ethernet: 10/100/gigabit
AirPort Extreme: 802.11n
Bluetooth 2.1: included
IR receiver: supports Apple Remote (not included)
Microphone: internal
Power supply: 200W
H x W x D: 18.5 x 19.1 x 7.4 in/46.9 x 48.5 x 18.9 cm
Weight: 20 lb/9.1 kg
Part no.: MC015
Model identifier: iMac9,1
CPU Upgrades
Online Resources
Keywords: #educationimac #mid2009imac #imacmid2009 #unsupportedsierra
Short link:  https://goo.gl/7m37XB
searchword: mid2009imac