The iPhone 3G had been a step forward in some areas – especially in adding 3G data support – but in other areas it was no better than the original iPhone. With the iPhone 3GS, Apple took a few more steps forward with a faster processor, a better camera, video capability, and a 32 GB option.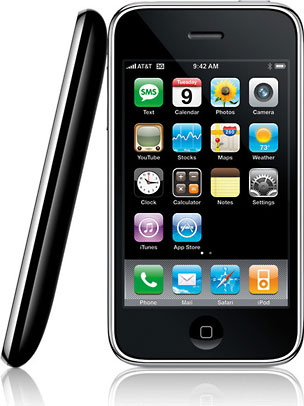 The iPhone 3GS looks very similar to the original iPhone, but with the same plastic back as the 3G. The more efficient CPU runs nearly 50% faster than in the previous model, doubling overall performance, and it has twice as much system memory to work with. It has a 3 MP autofocus camera and supports video for the first time – albeit only 640 x 480 VGA. It was also the first iPhone with a 24-bit color display.
Voice control was a big new feature and exclusive to the iPhone 3GS.
The 3GS was introduced in 16 GB and 32 GB versions, with the 8 GB model added in June 2010 when the iPhone 4 was introduced. The 8 GB iPhone 3GS remained in production until September 2012.
Over one-million units were sold over its first weekend on the market, and over 35 million were sold before it was discontinued.
The iPhone 4 replaced the 3GS as the top-end iPhone in June 2010. The 8 GB iPhone 3GS remained in the line until September 12, 2012.
Hardware Overview
Models
Announced: 2009.06.08, available 2009.06.19 at $199 (16 GB) and $299 (32 GB) with a two-year AT&T Wireless contract, $599 and $699 respectively without contract. 8 GB model added 2010.06 with introduction of iPhone 4, originally $99 with two-year contract.
Included accessories: earbuds, USB 2.0 30-pin dock cable
Code names: N88
Identifier: iPhone2,1
Model number: A1303 (A1325 in China)
Product numbers: MC555 (8 GB), MB715 (16 GB black), MB716 (16 GB white), MB717 (32 GB black), MB718 (32 GB white)
Technology
CPU: 833 MHz Samsung ARM Cortex-A8 clocked at 600 MHz
RAM: 256 MB
Architecture: 32-bit
Graphics engine: PowerVR SGX535
Display: 3.5″ 320 x 480 pixel 24-bit multitouch screen @ 163 ppi
Camera: 3.0 MP autofocus
Sensors: proximity, ambient light, accelerometer, assisted GPS, compass, Nike+iPod
Performance
Geekbench, single core: 150
Geekbench, multicore: 149
Connectivity
I/O port: 30-pin dock connector
WiFi: 802.11b/g
Bluetooth: 2.1+EDR
Networks:

UMTS/HSDPA (850, 1900, 2100 MHz)
GSM/EDGE (850, 900, 1800, 1900 MHz)

Data: GPRS (max 56-115 kbps), EDGE (max 327 kbps)
GPS: Infineon PMB2525 assisted by EDGE, 3G, and WiFi
Power
Battery: 1220 mAh lithium ion
Charge time: about 4 hours (2 hour fast charge to 80% capacity)
Battery life:

Talk: up to 5 hours on 3G, 12 hours on 2G
Standby: up to 300 hours
Internet: up to 5 hours on 3G, 9 hours on WiFi
Video: up to 10 hours
Audio: up to 30 hours
Compatibility
Original OS: iPhone OS 3.0
Maximum OS: iPhone OS 6.1.6
iTunes Versions: iTunes 8.2 and later.
Mac OS Required: OS X 10.4.11 or later
Windows Versions Supported: Vista, XP Home or Professional SP 3 or later
Dimensions and Weight
Dimensions: 4.5″ x 2.4″ x 0.48″ (115.5 x 62.1 x 12.3 mm)
Weight: 4.8 oz. (135 g)
Further Reading
Keywords: #iphone3gs
Short link: http://goo.gl/vqcSRq
searchwords: iphone3gs