As a follow up to my previous article, Digital Audio Output: Apple's DVD Player vs. VLC Player, I am taking things a step further. I thought about all the other PowerPC Macs out there, including various PowerBooks, iBooks, iMacs, eMacs, and earlier (New World ROM) Power Macs that lacked onboard digital audio (or, in the G4 Cube's case, any onboard audio at all). Can the roadblock of lacking optical digital audio output be easily circumvented?
It's strange that there were not too many digital audio options for Mac owners in the past (especially power users), considering that the majority of Mac users are creative types of some sort (or at least appreciative towards finer tech) who may want to readily utilize multichannel audio for various purposes. This obviously is not an issue these days, since all Intel Macs (aside from the MacBook Air) have built-in optical audio output.
Although the lack of optical audio output on aging PowerPC machines is a small concern in the grand scheme of things, having this ability on these machines could allow you to repurpose them within your home theater setup as a multimedia machine or add to your overall gaming experience.
Curiously, I did not find one – and I repeat, one – solution for an internal "consumer" PCI PowerPC-compatible 5.1 channel digital audio card (several professional cards exist). Visit M-Audio for a great selection of PCI sound cards; M-Audio internal and external sound cards are even compatible with Mac OS 9!
Creative Sound Blaster Extigy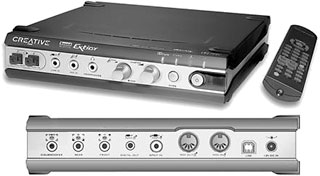 A couple other noteworthy digital audio solutions exist, but they have been discontinued. The Creative Sound Blaster Extigy was released in 2002 and is capable of passing digital audio from your Mac to optical audio output over USB. Although the drivers are made for Windows, the unit is plug-and-play and should work fine under Mac OS X 10.2.3 Jaguar and later.
Features
24-bit 96 kHz audio
24-bit/96kHz Analog-to-Digital Converter (ADC) for various analog inputs
24-bit/96kHz Digital-to-Analog Converter (DAC) for 6-channel analog speaker & headphone output
independent 24-bit Analog-to-Digital Converters for Line & Microphone input controls to provide recording & mixing flexibility
supports Sony/Philips Digital Interface (SPDIF) format input signal of up to 24-bit/96kHz quality
M-Audio Transit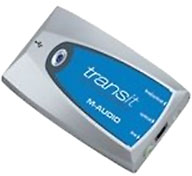 The next device is my personal choice for enabling digital sound on almost any Mac that lacks digital output: The M-Audio Transit is truly a great device for the low suggested price of $99. Unfortunately, I was not able to obtain a review unit, but I must say that the M-Audio Transit seems to deliver for those who own home theater receivers/amps with digital optical audio inputs. With support for Mac OS 9.2.2 and with processor requirements as low as a 500 MHz G3, this device could certainly be a candidate for a 500 MHz iMac or Pismo PowerBook. Talk about resurrecting and repurposing an older system!
Features
24-bit 96 kHz audio
TOSlink
stereo analog/optical digital input
stereo line/headphone output
supports self-powered stereo microphones
Griffin FireWave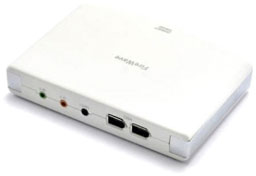 Although not digital, an honorable mention goes out to the Griffin FireWave. The FireWave has been available since 2006, receives its audio over FireWire, and can handle Dolby Digital and Dolby Pro Logic II sound formats. Although the FireWave is not capable of sending a digital signal to an amplifier, it could still be a viable option for Cube owners who must utilize a USB or FireWire solution for any sound, let alone multichannel sound.
Features
3 – 1/8″ (3.5mm) stereo minijacks (Left/Right, Center/Subwoofer, Left Surround/Right Surround)
2 FireWire ports
Dolby Digital, Dolby Pro Logic II
audio configurations supported through Mac OS X's Audio MIDI Setup utility
Hercules Muse Pocket LT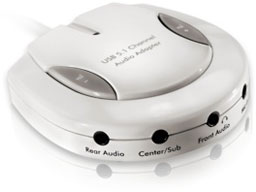 The Hercules Muse Pocket LT is similar to the FireWave in many ways, but it uses USB as its interface instead of FireWire.
Features
3 stereo outputs (Front/Headphones, Center, Rear) for 5.1 Surround Sound
1 line/MP3/iPod/audio source input
1 stereo microphone input
By using these devices (and others that may be lesser known), you can enable many Macs that lack digital audio to produce superior sound output and repurpose them as part of your home theater setup. Even with non-digital surround sound, you still gain something a bit better than traditional 2-channel stereo.
Keywords: #digitalaudiooutput #digitalaudio
Short link: http://goo.gl/zpe8mC
searchword: digitalaudiooutput