Recently, I was experimenting with one of the finer features of my Hi-Res 1.67 GHz PowerBook G4 – the ability to output digital optical audio. All that I needed was a 10′ optical mini-jack-to-Toslink cable found for very cheap on Amazon….
With optical mini-jack-to-Toslink Cable in hand, all I had to do was connect the mini-jack end to the headphone output on the PowerBook and hook the larger, more squared-off end (Toslink) up to my home theater setup.
My setup includes a bit older, but high quality, 2003 Sony STR-DE885 receiver that can output Dolby Digital/DTS sound to my Cerwin Vega AVS 5.1 channel home theater speakers.
I was already aware that iTunes video and digital copies added to iTunes will not play in true discrete digital sound (an unfortunate limitation), but I wanted to dig deeper to find out what was possible from the digital audio output.
For detailed technical information on which Macs are capable of digital audio output, I've always found it best to go straight to the source. Simply view Apple's Support pages and check the specifications for system specific audio output capabilities.
The beginning of support for optical audio output on "professional line" PowerPC portables began with the 17″ 1.67 GHz PowerBook G4 low-res (A1107, M9689LL/A), and it ended abruptly (since Apple then made the switch to Intel) with the October 2005 hi-res PowerBook G4 (both 15″ and 17″ – A1138, A1139; M9969LL/A, M9970LL/A respectively). As for desktops, every Power Mac since the 2001 Digital Audio G4, and every iMac since the first iMac G5 (2004) should support optical digital audio. Every other PowerPC Mac is limited to onboard analog audio output.
Every Intel Mac has support for optical digital audio output, except for the MacBook Air.
For all intents and the purposes of this article, I am using Mac OS X 10.5.8 Leopard on my hi-res 1.67 GHz PowerBook G4 with 1 GB of RAM installed to test optical audio output. The test DVD was Lord of The Rings: Fellowship of the Ring (Special Extended Edition with DTS-ES 6.1 soundtrack).
Ready To Go – or Not
With everything hooked up and all systems go, it seemed that all I had to do was insert the DVD, grab my Logitech diNovo Edge Keyboard for simple remote control of the PowerBook, and select the desired DTS-ES 6.1 soundtrack. Then I would be on my way to the couch and tray table with a snack and a huge drink ready for the three-and-a-half-hour epic.
Wrong! To my dismay, as soon as playback began, I was only getting PCM Audio. What gives???
At first, after getting that puzzled look on my face when something doesn't go as planned, I knew that it was an easy problem to solve, but the obvious answers are not always in obvious places, so I had to do some digging around to find out what the issue was.
After some poking around, I discovered that you have to tweak the settings within the Audio MIDI Setup Utility (in the Utilities folder within the Applications folder) and Apple's DVD Player Preferences in Leopard in order to gain true discrete sound. Here is the process to gain true digital output step by step: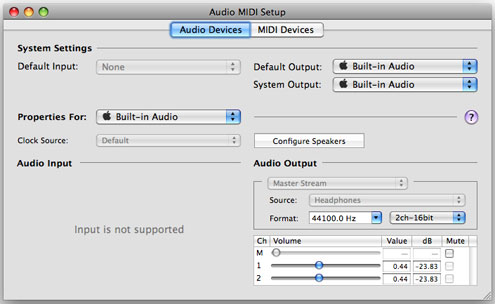 First you must make sure your equipment is connected to a Dolby Digital/DTS compliant receiver via optical audio cable (discussed above). Make sure that you don't have a DVD already running – if so eject it and quit DVD Player (and any other applications running that can utilize optical discs such as iTunes), before you continue to step 2.
Launch the Audio Midi Setup Utility and change the Digital Out Format to 48000.0 Hz, and select "Encoded Digital Audio" from the dropdown menus. Quit the Audio Midi Setup Utility and save any changes if prompted.
Insert your DVD of choice and stop playback.

Open the DVD Player Preferences from the menu within the application. Under Disc Setup (right), select the Digital Out from the dropdown menu, and select Built-In Audio. After resuming playback and selecting the desired soundtrack, you should be enjoying true discrete Dolby Digital or DTS sound!
These necessary steps that exist in order to obtain optimum audio playback are not likely to be well known to the average user and will definitely annoy the power user. I found it very irritating that Apple did not make enabling digital sound playback seamless within the audio menu of the DVD Player application itself. It leaves me wondering if this process has changed at all under Mac OS X 10.6 Snow Leopard (indeed I am behind the times and still haven't moved to an Intel Mac).
VLC Player, a Simpler Alternative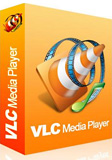 To avoid these configuration annoyances, enlist the help of VLC Player. I was able to simply select the multichannel sound settings under the VLC audio menu, and I was immediately enjoying my DVD in full DTS-ES 6.1 sound without any MIDI configuration or changing preferences.
Again, it baffles me why Apple couldn't have made this process as simple and automated, just like everything else it does? Compared to VLC Player, configuring Apple's DVD Player properly (including MIDI Setup) for digital audio output felt more like the exercise of unusual and unnecessary steps typically reserved for configuring most Windows applications.
At any rate, you can enjoy discrete digital sound sent from your Mac to your home theater equipment over optical audio cabling with ease if you configure the system settings and application correctly.
Final verdict: Although Apple's DVD Player has a sleeker interface, VLC Player gets the job done more easily with less configuration needed.
Stay tuned for info on digital audio for Macs that lack built-in optical audio.
Keywords: #digitalaudio #digitalaudiooutput #vlcplayer #dvdplayer
Short link: http://goo.gl/GFLdCe
searchword: digitalaudiooutput