It's been over 15 months since Apple rolled out the 2009 Mac Pro, and the 2010 Mac Pro is yet another big step forward: every configuration uses quad-core Intel Xeon Nehalem or quad-core and even hex-core Westmere CPUs for even more power. Each core has its own 256 KB Level 2 (L2) cache, each quad-core CPU has an 8 GB L3 cache, and the 6-core CPUs have 12 MB L3 caches.
The Mid 2012 Mac Pro is the same basic hardware but built around newer CPUs, including Bloomfield.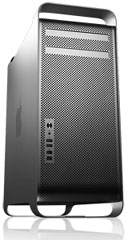 These CPUs support HyperThreading, which means a quad-core CPU can work like an 8-core CPU, and Turbo Boost technology allows CPUs to dynamically overclock themselves when called on – so long as they don't overheat.
All that power doesn't come cheap, and the least expensive Mac Pro configuration sells for $2,499.
There are two base 2010 models, a single-CPU Mac Pro that ships with 3 GB of RAM and supports up to 48 GB, and a dual-CPU Mac Pro that ships with 6 GB of RAM and supports up to 128 GB. For best performance, you should install memory in sets of three matching modules, as the CPU can access up to 3 channels of memory at once. With two or four modules installed, it falls back to 2 channel mode, which is less efficient. The single-CPU model is available at 2.8, 3.2, and 3.33 GHz, while the dual-CPU can be obtained at 2.4, 2.66, and 2.93 GHz.
ATI Radeon HD 5770 with 1 GB of video memory is the standard graphics card, and you can add up to three more video cards. ATI Radeon HD 5870 is available as a build-to-order option.
Oddly, no "cheese grater" Mac Pro used anything faster than 3.0 Gbps SATA Rev. 2, even though the Early 2011 MacBook Pro models and the Mid 2011 iMac and Mac mini all supported 6.0 Gbps SATA Rev. 3 – and the SATA Rev. 3.0 specification had been finalized in May 2009!
If one 18x SuperDrive (the fastest yet in a Mac) isn't enough, put in a second one for US$100 more. And you can upgrade from Apple's regular wired keyboard and Mighty Mouse to the wireless (Bluetooth) version.
Bluetooth 2.1+EDR is standard, but 802.11n AirPort Extreme remains optional.
A headphone jack, two USB 2.0 ports, and two FireWire 800 ports are located on the front of the Mac Pro for easy access, and there are more ports on the back. There are no FireWire 400 ports; FireWire 400 devices are supported using a FireWire 800-to-400 cable or adapter.
This is the first Mac Pro model to require Mac OS X 10.6 Snow Leopard.
This is the oldest Mac Pro to officially support macOS Sierra.
Uninterruptible Power Supplies
The AC power coming into your home or office is a sine wave, but some UPSes generate a square wave when you are operating from battery power. This is not good for the Mac Pro. Be sure you only use a UPS with sine wave output to avoid reducing the life of your Mac Pro.
GPT Partitioning
Intel-based Macs use a partitioning scheme known as GPT. Only Macintel models can boot from GPT hard drives. Both PowerPC and Intel Macs can boot from APM (Apple's old partitioning scheme) hard drives, which is the format you must use to create a universal boot drive in Leopard. Power PC Macs running any version of the Mac OS prior to 10.4.2 cannot mount GPT volumes. PowerPC Macs won't let you install OS X to a USB drive or choose it as your startup volume, although there is a work around for that.
Details
Mid 2010 model introduced 2010.07.27 at $2,499 with one 2.8 GHz CPU, $3,499 with two 2.4 GHz 4-core CPUs, and many build-to-order options
Mid 2012 model introduced 2012.06. at $2,499 with one 3.2 GHz CPU, $3,799 with two 2.4 GHz CPUs; replaced by Late 2013 Mac Pro
Requires Mac OS X 10.6.4 or later; macOS 10.14 Mojave supported with a Metal-compatible graphics card.
Mac OS X 10.6 Snow Leopard compatibility

Grand Central Dispatch is supported.
64-bit operation is supported.
OpenCL is supported.

Mac OS X 10.8 Mountain Lion compatibility

AirPlay Mirroring is not supported.
AirDrop is supported.
Power Nap is not supported.

CPUs: single CPU model uses 2.8 GHz Intel "Nehalem" Xeon 3530, 3.2 and 3.33 GHz options (at $400 and $1,200 additional, respectively); dual CPU model use 2.4 GHz "Westmere" Xeon 5620, 2.66 and 2.93 GHz 6-core options (at $1,400 and $2,600 additional, respectively)
Bus: 1.6 GHz
Performance:

Geekbench, 64-bit: 2.4 GHz 8-core, 14142; 3.33 GHz 6-core, 15510; 2.67 GHz 12-core, 22431; 2.93 GHz 12-core, 24273; 3.07 GHz 12-core, 25284
Geekbench, 32-bit: 2.4 GHz 8-core, 12539; 3.33 GHz 6-core, 13698; 2.67 GHz 12-core, 19441; 2.93 GHz 12-core, 21478; 3.07 GHz 12-core, 21976

RAM, single CPU: 3 GB, expandable to 48 GB (16 GB per Apple) using 1066 MHz DDR32 ECC SDRAM in 4 slots
RAM, dual CPU: 6 GB, expandable to 128 GB (32 GB per Apple) using 1333 MHz DDR32 ECC SDRAM in 8 slots
L2 cache: 256 KB per core
L3 cache: 8 MB per CPU (Nehalem); 12 MB per CPU (Westmere)
Video: ATI Radeon HD 5770 with 1 GB RAM
Hard drive bus: 3 Gbps SATA Rev. 2
Hard drive: 640 GB Serial ATA 7200 rpm standard; 1 TB and 2 TB optional
Optical drive bus: 3 Gbps SATA Rev. 2
18x dual-layer SuperDrive writes DVD-R at up to 18x, DVD+R DL at 8x, reads DVDs at 18x; writes CD-R and CD-RW at up to 32x, reads at 32x
PCI Express 2.0: 3 open full-length slots – one x16 slot, two x4 slots
SATA: 4 independent 3 Gb/s buses
optional external 56k v.92 USB modem
Microphone: standard 3.5mm minijack, compatible with line-level input, not compatible with Apple's PlainTalk microphone
FireWire 400: none
FireWire 800: 4 ports (2 on front, 2 on rear)
USB: 5 USB 2.0 ports (2 on front, 3 on rear)
Ethernet: 2 independent 10/100/gigabit ports
WiFi: optional 802.11n AirPort Extreme
Bluetooth: 2.0 with Enhanced Data Rate
size (HxWxD): 20.1″ x 8.1″ x 18.7″ (51.1 x 20.6 x 47.5 cm)
weight, single CPU: 39.9 lb. (18.1 kg)
weight, dual CPU: 41.2 lb. (18.7 kg)
Gestalt ID: n/a
PRAM battery: 3.6V half-AA
Part no.: unknown (single CPU), unknown (dual CPU)
Accelerators & Upgrades
CPU upgrades are a popular upgrade.
Online Resources
searchwords: macpro2010, macpro2012