The latest developments at Apple's rival OS distributor and software giant Microsoft have something in store for us: An update to the Mac version of Office, Microsoft Office: Mac 2011. A recent purchase of Office 2008 (between August 1, 2010 and November 30, 2010) grants eligibility for a free upgrade to the 2011 version, which was released today.

The biggest change that is occurring with Office for Mac is the shift from Entourage to Outlook as part of the standard Microsoft Office suite, allowing Mac users to enjoy full access to the same business connectivity tools that Windows user have had for years.
Full screen application display also becomes available, giving Office the same look and feel that other apps will enjoy with the forthcoming Mac OS X Lion. Another noted change is the "ribbon" appearance for all formatting options from Office 2007 for the PC.
What does this mean for the average Mac user? What does this mean to the business that is interested in shifting to a Mac environment but has been hesitant? These are questions that beg to be answered, and we won't have a final verdict on all the features included in Office 2011 for the Mac until Microsoft provides more information.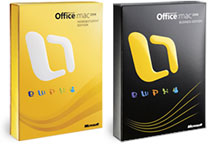 To decipher what is known for now, the average user will certainly enjoy a more robust and feature rich product with many new templates and ways to explore and develop professional looking documents for home, business, and educational purposes.
The switch from a windowed approach to the adopted "ribbon" look may be distracting at first and already has fueled the fire of iWork fans who strongly stand by Apple's simple and streamlined approach. You may love or hate the ribbon, but Office is what it is – a set of applications designed for the PC but translated for the Mac so that you can access the same tools and documents your PC friends can.
Perhaps different view options will be available for Mac users to keep the interface similar to prior versions.

For the average user, there are definitely arguments for both iWork and Office, and in the end perhaps the deciding factor will be price. Office 2008 for Mac: Home and Student edition is currently priced $149.99 and once includes free upgrade eligibility to the 2011 version if purchased within the time frame described above.
On the other hand, iWork '09 is currently available for the low, low price of just $79, so you can obtain the same results that Office can at a handsome $70 savings.
To the business user and power user, however, the Home and Business Edition for Office 2011 also includes Outlook, among many other useful features. This enables ease of accessibility to the same mail servers that Windows machines use, along with access to SharePoint, making document collaboration between the platforms seamless.
Another tool in the business world is the typical webinar with online PowerPoint presentations. Office 2011 for the Mac also includes this feature, and both PC and Mac users can get together on the same topic and review an important presentation. You don't even have to have a copy of PowerPoint installed on the other machine, since the online presentations are completely Web-based. Yet another useful feature only included in the business edition of Office is Remote Desktop, which allows you to view and control a Windows machine remotely from your Mac.
Office 2011 Home and Business Edition will surely be an indispensable tool for business owners and power users and will provide everything that you are accustomed to on a PC if you are not using Macs as part of your enterprise solution.
With the new features in Office 2011, it sounds like a great time to switch to a Mac if you currently own a business and have an interest in upgrading your current Windows PCs. With a fleet of Macs (regardless of type), there is no need to purchase new monitors, keyboards, and mice, although a shiny new Apple keyboard and Magic Mouse or Magic Trackpad would be much better than those old dusty USB input devices being used with most PCs.
There is also no need to purchase a new OS and reinvent your entire IT department. Keep Mac OS X running for usual day-to-day productivity tasks and install Parallels or VMware Fusion to enable using your existing copies of Windows on your Macs for easy integration of your existing Windows software.
It's obvious that Microsoft Office 2011 will open some doors for Mac users (and those considering switching), and pretty soon there will be one less reason to go climbing through Windows any longer.
It's always seemed ironic that the same manufacturer makes both the competing OS and the most widely used productivity suite (offered on Macs since 1998) has always had the last laugh by gaining the extra sales from a competing OS platform.
Purchase Links at Amazon.com
Prices are subject to change and include free Super Saver shipping. If you have 4-6 Macs at home and don't use Office on more than three Macs at the same time, the 2008 Home and Student version might be your best choice.
Keywords: #microsoftoffice #office2011 #officemac