With its color graphics, the Apple II had changed the world of personal computing. With its graphical interface and mouse, the Macintosh had further changed the computing world. With its massive storage and ease of use, the iPod had changed the MP3 market. With its touchscreen, the iPhone had changed the smartphone market. And then came the iPad.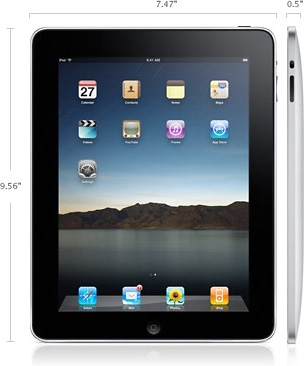 With its Newton MessagePad, Apple had already pioneered the PDA (personal digital assistant), but the iPad was going to be a huge leap forward from Newton, iPhone, and iPod touch. It's 9.7″ 1024 x 768 pixel display would make sure of that.
The iPad ran the same iOS version as the iPhone and iPod touch, and most iPhone apps ran just fine on the iPad, albeit in pixel-doubled mode, which looked primitive. This was mostly a stopgap until developers could update their apps to work with the iPad's much larger display.
In addition to the base iPad, there was a GSM "+3G" wireless version for an additional $130. The 1G iPad only came in black.
Apple sold over 15 million iPads before releasing the iPad 2 in 2011.
The original iPad is the only iPad with no camera and with no support for iOS 6 or newer. In fact, all other iPad models will support iOS 9 when it arrives in September or October 2015.
Hardware Overview
Models
Announced: 2010.01.27, on sale 2010.04.03 at $499 (16 GB, $599 (32 GB), and $699 (64 GB). $130 additional for 3G wireless version.
Included accessories: USB 2.0 30-pin dock cable, 10W 2A power adapter
Code name: K48
Identifier: iPad1,1
Model numbers:

WiFi only: A1219
GSM: A1337

Product numbers:

WiFi only: MB292 (16 GB), MB293 (32 GB), MB294 (64 GB)
GSM: MC349 (16 GB), MC496 (32 GB), MC497 (64 GB)
Technology
CPU: 1 GHz Apple A4
RAM: 256 MB
Architecture: 32-bit
Audio chip: Cirrus Logic CS4398
Graphics engine: PowerVR SGX535
Display: 9.7″ 1024 x 768 pixel multitouch screen
Camera: none
Sensors: accelerometer, ambient light, compass
Connectivity
I/O port: 30-pin dock connector
WiFi: 802.11a/b/g/n
Bluetooth: 2.1+EDR
Wireless data:

UTMS/HSDPA (850, 1900, 2100 MHz)
GSM/EDGE (850, 900, 1800, 1900 MHz)

GPS: WiFi-assisted GPS
Power
Battery: 25 Watt-hour lithium polymer
Charge time: about 4 hours (2 hour fast charge to 80% capacity)
Battery life: up to 10 hours
Compatibility
Original OS: iOS 3.2
Maximum OS: iOS 5.1.1
iTunes Versions: iTunes 9.1 and later.
Mac OS Required: OS X 10.5.8 or later
Windows Versions Supported: 7, Vista, XP Home or Professional SP 3 or later
Dimensions and Weight
Dimensions: 9.56″ x 7.47″ x 0.5″
Weight: 1.5 lb. (1.6 lb. for 3G version)
Further Reading
Keywords: #originalipad
Short link: http://goo.gl/e6k067
searchwords: originalipad