This is the first and only update to the white unibody MacBook. The CPU speed gets a bump from 2.26 GHz to 2.4 GHz, it now has the same Nvidia GeForce 320M GPU as the current 13″ MacBook Pro, and its rated battery life jumps from a very good 7 hours to an impressive 10 hours – all with no change in price.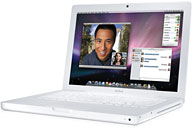 There's still no FireWire port or built-in SD Card reader; you'll need to go to the 13″ MacBook Pro model for those features at $200 more. A single audio port is used for both input and output, so you can't plug in analog speakers or headphones and a microphone at the same time.
The Mid 2010 MacBook is officially rated as supporting up to 4 GB of RAM. However, OWC has determined that it will work with up to 16 GB, more than any other version of the consumer MacBook.
Unlike early MacBooks, where every USB port could provide 500 mA of power, only one USB port provides full power – the port closer to the front. Like the Late 2009 MacBook, there is no IR receiver for Apple's remote.
Closed Lid Mode: All Intel 'Books support "lid closed" (or clamshell) mode, which leaves the built-in display off and dedicates all video RAM to an external display. To used closed lid mode, your 'Book must be plugged into the AC adapter and connected to an external display and a USB or Bluetooth mouse and keyboard (you might also want to consider external speakers). Power up your 'Book until the desktop appears on the external display and then close the lid. Your 'Book will go to sleep, but you can wake it by moving the mouse or using the keyboard. The built-in display will remain off, and the external monitor will become your only display. Since all video RAM is now dedicated to the external monitor, you may have more colors available at higher resolutions. The MacBook is designed to run safely in closed lid mode, but if yours runs hot (perhaps due to overclocking or high ambient temperatures), you may want to open the lid when in closed lid mode: The screen will remain off and the computer will more readily vent heat from the CPU. To resume use of the internal display, you need to disconnect the external display, put the computer to sleep, and then open the lid. This will wake up your 'Book and restore use of the built-in display.
Intel-based Macs use a partitioning scheme known as GPT. Only Macintel models can boot from GPT hard drives. Both PowerPC and Intel Macs can boot from APM (Apple's old partitioning scheme) hard drives, which is the format you must use to create a universal boot drive in Leopard. Power PC Macs running any version of the Mac OS prior to 10.4.2 cannot mount GPT volumes. PowerPC Macs won't let you install OS X to a USB drive or choose it as your startup volume, although there is a work around for that.
Details
introduced 2010.05.18 at US$999; discontinued 2011.07.20 in favor of the MacBook Air
Part no.: A1342
ID: MacBook7,1
Mac OS
requires Mac OS X 10.6.3 Snow Leopard or later. macOS 10.4 Mojave and later are not supported.
Mac OS X 10.6 Snow Leopard compatibility

Grand Central Dispatch is supported.
32-bit booting only; cannot boot 64-bit OS.
64-bit software is supported.
OpenCL is supported.

Mac OS X 10.8 Mountain Lion compatibility

AirPlay Mirroring is not supported.
AirDrop is supported.
Power Nap is not supported
Core System
CPU: 2.4 GHz Intel Core 2 Duo, soldered in place, no upgrade options
Level 2 cache: 3 MB shared cache
Bus: 1066 MHz
RAM: 2 GB (using matched modules), expandable to 16 GB using 1066 MHz DDR3 RAM
Performance, Speedmark 6.5: 99
Performance: Geekbench 3:

32-bit single core: 1311
32-bit multicore: 2261
64-bit single core: 1419
64-bit multicore: 2490
Graphics
GPU: Nvidia GeForce 320M with resolution to 2560 x 1600 on external display (Mini DisplayPort), supports extended desktop.
VRAM: uses 256 MB of system memory
Video out: Mini DisplayPort; DVI, VGA, and S-video with optional adapter
display: 13.3″ glossy 1280 x 800 18-bit 113 ppi LED backlit color active matrix
supports 1280 x 800, 1152 x 720, 1024 x 768, 1024 x 640, and 800 x 500 pixels at 16:10 aspect ratio; 1024 x 768, 800 x 600, and 640 x 480
Drives
Hard drive: 250 GB 5400 rpm SATA
SuperDrive: writes DVD±R at up to 8x, DVD±RW and DVD+R DL at 4x, reads DVDs at 8x, writes CD-R at 24x, writes CD-RW at 10x, reads CDs at 24x
Expansion
USB: 2 USB 2.0 ports, only 1 high-powered device device allowed
FireWire 400: none
FireWire 800: none
Ethernet: 10/100/gigabit
WiFi: 802.11n AirPort Extreme built in
Bluetooth: BT 2.1+EDR
IR receiver: none
Modem: No longer offered by Apple
ExpressCard/34 slots: 0
SD Card slots: none
Physical
size: 9.12 x 13.0 x 1.08″ (232 x 330 x 27.4 mm)
Weight: 4.7 pounds (2.13 kg)
battery: built-in 63.5 Watt-hour
AC adapter: 60W MagSafe
Online Resources
Keywords: #macbookmid2010 #mid2010macbook Short link: http://goo.gl/COjt2F searchwords: mid2010macbook, macbookmid2010