"Make every night movie night with the Discovery Expedition Wonderwall Entertainment Projector. The Wonderwall – which connects to your TV, DVD, camcorder, or video game console – projects an image up to 7.5 feet wide on any wall in your home, even the ceiling. As a result, you can catch up on your favorite cable series, watch the latest Hollywood blockbuster, or go for the head shot in Call of Duty on a surface that's far larger than most TVs."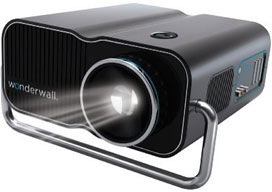 With prices as low as $70 (and probably even better for Black Friday), who wouldn't want the Discovery Expedition Wonderwall Entertainment Projector?
Anyone interested in a decent quality image.
Users complain about poor color, "a sharp white glow on people's faces", a grainy or blurry image, poor sound, a loud fan, and a projector so dim that you need an almost completely dark room to use it.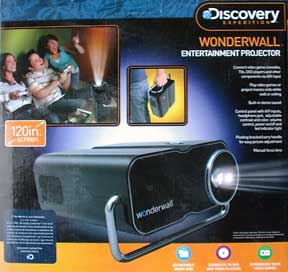 It doesn't ship with a VGA cable for connecting it to your desktop or notebook computer, but Amazon.com notes that a VGA adapter is the most popular accessory.
Amazon.com customers who rated the product give it an average rating of 3 out of 5. At Overstock.com, it rates a bit more poorly at 2.5 out of 5. Kohl's customers gave it the same score. The packaging promises a wonderful video experience, but the hardware seems to underdeliver on that promise.
This projector appears to be made with the blessing of Discovery Channel, which doesn't even offer it on its own online store. That seems odd.
People buy this with low expectations – and many still report being disappointed. The resolution is a very low 480 x 240 – two-thirds that of an iPhone 3GS and 37.5% that of the original 640 x 480 VGA and SD digital television resolution (also the maximum resolution of the original Sony PlayStation and the minimum resolution of the original Xbox).
We're not telling you not to buy the Discovery Expedition Wonderwall Entertainment Projector. We just want you to be aware that while the Black Friday pricing may be incredibly attractive, you get what you pay for, which seems to be the most common online comment from users. Younger children will probably love it for movie night or playing video games, but anyone expecting a relatively decent 7.5′ wide image are bound to be disappointed.
Then again, good luck finding any type of digital projector for anywhere near this price that isn't also a toy. Keep your expectations low, and you might find happiness.
Digital projectors just aren't terribly affordable for home use, but the Discovery Expedition Wonderwall Entertainment Projector is about one-third the cost of the more highly rated Digital Galaxy DG-737 projector, which accepts HDMI digital input and VGA computer input in addition to the more common video inputs and provides a brighter, higher resolution (full 640 x 480 VGA) image. It's not home theater quality, but it's a lot sharper and makes a lot more users happy (4 out of 5 rating at Amazon.com) than the oh-so-tempting Discovery.
Keywords: #wonderwall #discoverywonderwall
Short link: http://goo.gl/f38D1E
searchword: wonderwall