When the Aluminum Unibody MacBook was unveiled in October 2008, its memory support ceiling specified by Apple was 4 GB. That was enough for most users at the time, and it was later discovered that these machines could happily support up to 6 GB of RAM – but while 8 GB could be installed, independent testing found that if an application running on one of these machines attempted to address more than 6 GB of memory, the system would bog down significantly.
When the Unibody MacBook morphed into the 13″ MacBook Pro in mid 2009, the maximum memory support spec was bumped to 8 GB, but those of us who had bought that one, unique (at least so far) Aluminum MacBook model figured we would be limited to 6 GB in perpetuity.
However, it seems not so much.
Last week, OWC bloggers Grant and Chris S. revealed that the Late 2008 Aluminum MacBooks now support up to 8 GB of RAM, subject to a couple of qualifications. When reports of Late 2008 MacBooks successfully addressing 8 GB of memory recently surfaced in tweets from individual users, postings on Mac forums, and claims made by competing memory vendors, OWC's test lab took another look, once again trying 8 GB in Unibody MacBooks.
While they initially observed the same performance slowdown previously observed, further digging revealed that an EFI Firmware Update for the Late 2008 MacBook released in the fall of 2009, principally to address an issue with buzzing noises emitted by the laptop's optical drive, had evidently been updated again at some point, unheralded by Apple, and with no indication in Software Update that the re-revised firmware version is different from the initial release of the update.
The later revision to the firmware update incorporates a side-benefit of upgraded memory addressing, and with it installed, the Unibody MacBook can address a full 8 GB – provided it's running OS X 10.6.6 Snow Leopard or later.
In summary, if you're an early adopter who installed the EFI Firmware Update when it first came out, like OWC's labs had, you would have gotten the original version, which means your computer will only address 6 GB properly, but laggards who didn't upgrade until after Apple revised the updater got the newer firmware, which allows proper address of 8 GB of RAM.
OWC confirmed that by manually installing the updated version of the EFI Firmware Update in their test machines, the Late 2008 MacBooks and MacBook Pros were all able to address 8 GB normally without the slowdowns previously noted.
Cool.
So, how do you ensure that your Late 2008 Unibody MacBook or 15″ MacBook Pro can address 8 GB of RAM? According to OWC, the affected models include:
13.3″ Unibody MacBook, 2.0 and 2.4 GHz
None of the polycarbonate MacBooks or 17″ MacBook Pro models are affected, nor are any 15″ MacBook Pros except for the Late 2008 revision.
The OWC team further directs:
Check the Boot ROM Version in your System Profiler.
MacBook Pros with a Model ID of MacBookPro 5,1 should have a Boot ROM Version of MBP51.007E.B05
Aluminum MacBooks with a Model ID of MacBook 5,1 should have a Boot ROM version of MB51.007D.B03
Machines with other Model IDs are not affected and don't need an update.
If your Boot ROM version does not match the numbers above, download the appropriate firmware updater for your model machine and install according to the instructions:
Once you've ensured that your machine's Boot ROM is the correct version, also make sure you've upgraded your operating system to OS X 10.6.6, since you must be running this version of Snow Leopard or newer to address 8 GB on these systems. OWC's testing was done with 10.6.6, which is the only version for which they're currently supporting 8 GB.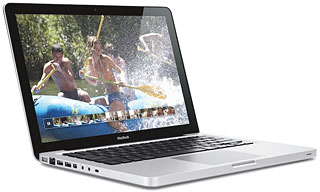 As a Late 2008 Unibody MacBook owner, this news is of more than academic interest to me, although at present I'm getting along just fine with the OWC 4 GB memory upgrade I installed in mid-2009. I'll probably upgrade to a new system before I identify a need for more RAM, and I'm pretty sure that the maximum support for 6 GB I had previously assumed would see me out for a long time to come, but upgrade flexibility is always a plus, and being able to support 8 GB may loom larger when OS X 10.7 Lion is released in the summer, possibly increasing memory overhead. It also enhances the potential useful service life and thus the residual value of my system hardware, and my machine's consequent resale value on the used market should I decide to sell it (although I probably won't).
So why didn't Apple inform users of the Late 2008 Unibody MacBook and 15″ MacBook Pros of this updated memory support capacity? The cynic in me whispers that it's not in Apple's interest to extend the useful service life of its machines, thus perhaps causing potential system upgraders to hold off for another year or two rather than opting to buy a new Apple notebook. It reminds me that, according to Apple, my old PowerBook 2000 FireWire Pismos only support up to 512 MB of RAM, but the two 10-year-old Pismos I still have in active service are successfully running 768 MB and 1 GB of memory.
Personally, this newly revealed RAM support enhancement will not affect my own system upgrade roadmap, since I'm just beginning to notice that my current machine's 2 GHz of Core 2 Duo processing power and Nvidia GeForce 9400M integrated graphics muscle is beginning to labor a bit running some of the latest software. I expect that by my late 2011/early 2012 projected target for replacing my number one workhorse Mac, these performance shortcomings will be even more pronounced. I understand why Apple is cutting OS X 10.7 support for the Core Solo and Core Duo Intel Macs, which support less RAM and don't support 64-bit operation, although my Core 2 Duo MacBook will be supported by Lion.
But it's still great to know that I have more upgrade wiggle-room.
Keywords: #aluminummacbook #macbookprolate2008 #firmwareupdate
Short link: http://goo.gl/HZQWUU
searchwords: aluminummacbook, macbookprolate2008