A bit smaller, one-third thinner, and a little lighter than the original iPad, the iPad 2 also moved the iPad line to Apple's dual-core A5 processor. It was also the first iPad available in white or black.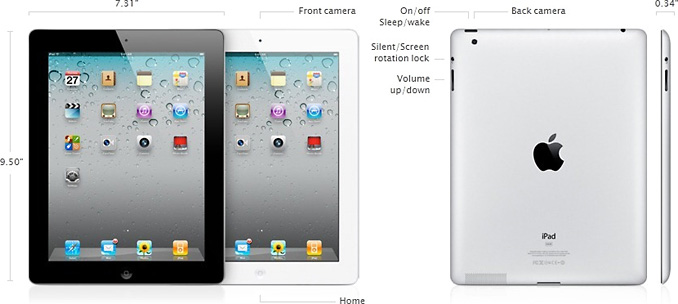 Perhaps the most important new feature is the addition of  rear- and front-facing FaceTime cameras, making this the first iPad able to connect to iPhones, iPod touches, and Macs that support FaceTime.
For the first time, the iPad was also available in a CDMA "+3G" wireless version for use with Verizon and other CDMA carriers – for an additional $130.
Apple sold over 1 million units the weekend the iPad 2 first went on sale. A slightly revised version of the iPad 2 arrived in Early 2012 with a more energy efficient processor.
iOS 9.3.5 was the last version supported on the iPad 2.
Hardware Overview
Models
Announced: 2011.03.02, on sale 2011.03.11 at $499 (16 GB), $599 (32 GB), and $699 (64 GB). $130 additional for 3G wireless version.
Included accessories: USB 2.0 30-pin dock connector, 10W 2A power adapter
Code name: K48
Identifiers:

WiFi only: iPad2,1 or iPad 2,4
GSM: iPad2,2
CDMA: iPad2,3

Model numbers:

WiFi only: A1219
GSM: A1396
CDMA: A1397

Product numbers:

WiFi only: MC769, MC954 (16 GB black), MC 979, MC989 (16 GB white), MC770 (32 GB black), MC980 (32 GB white), MC916 (64 GB black), MC981 (64 GB white)
GSM version: MC773, MC957 (16 GB black), MC983, MC992 (16 GB white), MC774 (32 GB black), MC983 (32 GB white), MC775 (64 GB black), MC984 (64 GB black)
CDMA version: MC755 (16 GB black), MC985 (16 GB white), MC763 (32 GB black), MC986 (32 GB white), MC764 (64 GB black), MC987 (64 GB white)
Technology
CPU: 1 GHz dual-core Apple A5
RAM: 512 MB
Architecture: 32-bit
Audio chip: Cirrus Logic CS4398
Graphics engine: dual-core PowerVR SGX543MP2
Display: 9.7″ 1024 x 768 pixel multitouch screen
Cameras

rear: 720p
front: 640 x 480 FaceTime

Sensors: accelerometer, ambient light, compass, 3-axis gyroscope
Performance
Geekbench, single core: 260
Geekbench, multicore: 490
Connectivity
I/O port: 30-pin dock connector
WiFi: 802.11a/b/g/n
Bluetooth: 2.1+EDR
Wireless data:

GSM: UTMS/HSDPA (850, 1900, 2100 MHz), GSM/EDGE (850, 900, 1800, 1900 MHz)
CDMA: CDMA EV-DO Rev. A (800, 1900 MHz)

GPS: WiFi-assisted GPS
Power
Battery: 25 Watt-hour lithium polymer
Charge time: about 4 hours (2 hour fast charge to 80% capacity)
Battery life: up to 10 hours
Compatibility
Original OS: iOS 4.2.1
Maximum OS: iOS 9.3.5
iTunes Versions: iTunes 10.2 and later.
Mac OS Required: OS X 10.5.8 or later
Windows Versions Supported: 7, Vista, XP Home or Professional SP 3 or later
Dimensions and Weight
Dimensions: 9.5″ x 7.31″ x 0.33″
Weight: 1.33 lb. (1.34 lb. for CDMA version, 1.35 lb. for GSM version)
Further Reading
Best iPad Prices, best online deals on iPads.
iPad, Wikipedia
iPad 2, Wikipedia
iPad 2, apple-history.com
Keywords: #ipad2
Short link: http://goo.gl/A878Bx
searchwords: ipad2