I've long been something of a Google loyalist. I have to say that in general, Google's more freewheeling, Internet-based philosophy of providing high-quality free content (albeit ad-based, which doesn't offend me) suits my taste much better than Apple's more buttoned-down, app-oriented "walled garden" approach. Also, on substance, Google's applications, whether they be freestanding like the Chrome browser, or Web-based like Google Docs, appeal to me more than Apple's Safari and Pages, for example.
Consequently, Google has been my search engine of choice pretty much to the exclusion of all others since I first discovered it in the late 90s. I've also had several Gmail accounts since that email service was by invitation or referral only beta development, and Chrome is one of the core, non-optional elements in my suite of production applications. I find Google Translate the best, fastest, slickest, and most convenient machine translation engine (especially when used with Chrome), and Google Maps is likewise the class of the field in its category.
Giving Bing a Try
However, last Fall I finally overcame my reflexive inclination to shun Microsoft products and got around to trying out Microsoft's Bing search engine in the interest of research. To my surprise, I discovered that Bing is actually pretty good. I kept waiting for some angularity or annoyance to send me scurrying back to the reliability and speed of Google, but none ever turned up. Bing was fast and reliable too, and it seemed just as efficient as Google in finding whatever I'm looking for. Indeed – could it be possible? – at times Bing seemed even faster and capable of yielding more useful results than Google. Consequently, I kept using it.
After nearly a year, Bing now has a permanent place in my workflow toolkit – always open in a browser tab. I still use Google, and since I usually have three or four different web browsers up and running, it's easy to keep more than one search engine ready in open tabs for quick reference.
I really wouldn't want to be obliged to choose between the two. However, one place where Google still has the edge is in suggesting useful results from misspelled search criteria – and even helpfully offering corrections. Bing still has some work to do there. Also, something I miss in Bing is Google's search-engine-as-handy-calculator function, which lets you type math calculations into the search field and brings up the solution without having to go to a calculator app.
On the other hand, Bing has an edge when used on older, slower Macs like my old G4-upgraded Pismo PowerBooks in the context of search keyword autofill. Both search engines support autofill, but I find that Google's tends to be slower on the old G4s down more than Bing's, for whatever reason.
Bing is the latest iteration of Microsoft's Internet search engine -previously known as Live Search, Windows Live Search, and MSN Search. Announced on May 28, 2009, it went fully live a few days later on June 3. Shortly thereafter, Microsoft and Yahoo! announced that Bing would also power Yahoo! Search, with the transition to be completed by early 2012.
Since it's 2009 rollout, Bing has steadily been gaining market share, which I find unsurprising given how good it is. According to Experian Hitwise metrics, Bing increased its chunk of the US search engine pie from 23.64% to 30% during the six months between Sept. 2010 and March 2011, after picking up 29% more searches in calendar 2010 than it had in 2009 and surpassed partner Yahoo! for the first time in February 2011.
Overall, Bing's market share has nearly doubled from 8.4% to 14.7% since its launch a little over two years ago, but that hasn't been enough to stance a hemorrhage of losses. According to CNN Money, Bing and Microsoft Online Services are losing a staggering $1 billion per quarter, which breaks down to more than $11 million per day and $462,962 per hour.
Bing's market share improvement has also not been at Google's expense, but rather came by eating up shares of smaller players, including Yahoo! and others.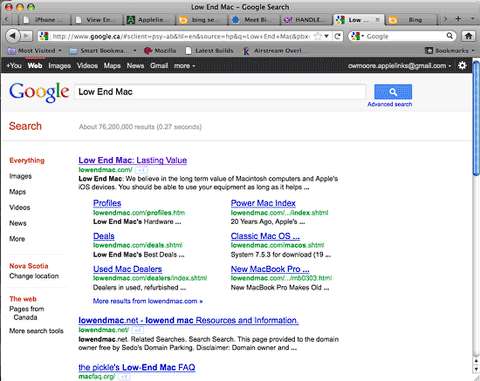 Bing's user interface is clean, but not as Spartan as Google's. An attractive background picture changes daily, although I rarely see it since I keep Bing up and running all the time and usually displaying the last search results. Bing also features integration with both Microsoft's Hotmail email service and with Facebook. Bing's search results can display one's Facebook friends when a Facebook account is linked with Bing via Facebook Connect. Not biggies for me in either case, but probably of interest if you use those services.
However, these days, I find that I use Bing as much as – and likely more than – Google, especially, as noted, on my older Macs.
Publisher's note: Stats for Low End Mac show that 67.63% of the past month's traffic came via Google and just 1.24% via Bing (with Yahoo barely behind that at 1.23%). Google brings in 27.4 times as much site traffic as Bing and Yahoo combined. Whatever the reason, Low End Mac users strongly prefer Google for their searches.
Keywords: #bing #google
Short link: http://goo.gl/r3gK3A
searchword: bingvsgoogle