The traditional way of moving files to the iPad is to use the syncing function of iTunes. Music, videos, apps, notes, and bookmarks can all be moved from your Mac OS X desktop or laptop to the iPad. But what if you just want to move one file? You probably don't want to fire up your "mothership" computer to load just one file.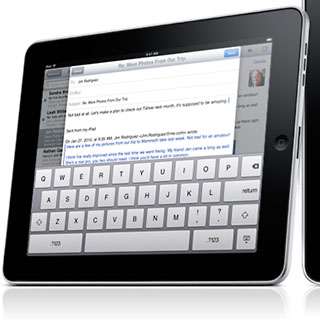 I loaded up FileApp, an application in the App Store, and followed the directions to download Cyberduck onto my PowerBook G4 and then, using Bonjour, I was able to take a file from my PowerBook and put it on my iPad. Wow! And fun!
What FileApp does is turn the iPad into a FTP server and then, using Bonjour on your Mac OS X computer, you can throw files at the FileApp application on your iPad. You can also use a USB cable to between computer and iDevice as well. (You first have to install DiskAid on your computer.) This is reassuring, as it will give me the ability to move files without have to use iTunes and sync the iPad to my computer.
One of the things that I want to do with the iPad is link it with a camera and use it to view my images and possibly tweak them a little before emailing them. The iPad Camera Connection Kit used my digital point-and-shoot camera well enough, but I am worried about an old Canon that I have with no USB cable. It uses Compact Flash cards, and because of Evil Apple, my card reader at work doesn't work with it.
Evil Apple
What is Evil Apple? It is the Practical Joke Department at Apple, and from time to time it does something truly crazy and/or stupid.
At one point in time, iOS provided 100 mA (milliamps) to the USB adapter. But then Evil Apple released the iOS 4.2 update and dialed the output down to 20 mA.* Bad Evil Apple! I have heard that a powered USB hub is a workaround, but so far my hub at school is not helping. I will see if there is some other workaround, but Evil Apple may have won this round.
Let's talk about something that won't raise my blood pressure.
Where the iPad Excels
The iPad is the device to use for mobile video viewing. It just blows my iPod touch out of the water! If I am sitting around and want to view a movie or TV show from my iTunes library, it is the way to go.
It's the same with cruising the Web or reading a book. It is just the right size to sit in your lap and amuse you. The iPad is perfect for lying in bed and viewing visual media – it also does a reasonable job of streaming old episodes of Big Bang Theory from the CBS website.
The iPad is not perfect, but it is the device that I will throw into my field bag when I go on vacation. I can read, write, listen to music, and watch a video. And it's in a compact form!
* The USB 2.0 specification requires that a port provide a minimum of 100 mA.
Keywords: #ipad #ftp #filesharing
Short link: http://goo.gl/Yk0pTY
keywords: filesharing