I am a low-end user mainly due to financial constraints, and therefore I am always on the look out for inexpensive accessories and cables.
One of my favourite haunts is my local Poundland. People in the UK know what this is, a chain of stores where every item is £1. I am sure folks in the US/Canada also have similar chains. £1 is around the same as $1.60 US or $1.50 Canadian, so it's a very cheap shopping experience.
I have purchased many items from these stores, mainly with good results, such as FireWire iPod cables, iPhone cases, screen protectors, and charging cables, as well as packs of blank CDs and DVDs.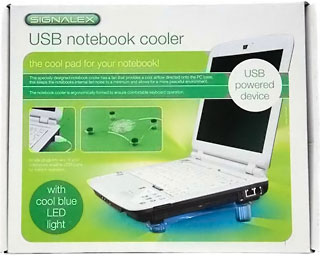 My latest find impressed me so much I thought I would share it. With my recent concerns about the heat from my Early 2009 MacBook – especially under heavy use – I stumbled across a Signalex USB Notebook Cooler. I had been looking a laptop coolers, either in the form of USB powered fan based or thermo-reductive heat dissipation pads, and not only can they be expensive, but their effectiveness varies – and not in the "the more expensive the better" theory either.
This Signalex is fairly small, made of sturdy transparent plastic with four thick legs, the two back ones taller than the front ones giving it a tilted angle when sitting on a desk. The bottom of the feet have rubber tips to stop it from slipping, Signalex USB Notebook Coolerand the top of the cooler also has rubber tips meaning your notebook won't slip either.
The rubber feet under your notebook gives it a 3mm (1/8″) gap between the cooler and the bottom of your notebook aiding air flow, and the legs give it a huge gap, aiding air flow ever more. The fan is 3″ (75mm) and spins very quietly, in fact it is quieter than the internal fans of my MacBook.
I should point out at this point I had one of these a few years ago for my Titanium PowerBook G4, and it really was too big for the cooler. A lot of online reviews complain that it doesn't work, the cord is too short, or the fan isn't powerful enough. It really is only for smaller notebooks or netbooks, 9″ to 13″ versions. It fits perfectly under my 13″ MacBook, but not my 15″ PowerBook. It would seems larger notebooks are too heavy and put too much weight on the fan, causing it to break, stop spinning, or spin noisily.
This isn't a £40 piece of kit, and if you can't get one from a nearby Poundland, you can get them online, delivered for less than £10/$10. You do have to bear this in mind when getting one.
I decided to put this cooler through its paces and find out it is any good. I decided to push my MacBook hard. I placed the cooler under my MacBook but didn't plug it in. I increased an image in Photoshop 6 Beta from 3 MB to 10 GB in size, that took some rendering time, whilst also importing/optimising an MOV into iMovie and watching a video DVD (from an disk image, not a physical disc). Within minutes I could see the temperature rising, the internal fans kicked in at about 60°C, and the heat continued to rise, but a lot slower.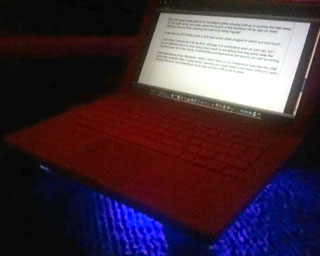 After about 10 minutes, everything was still rendering/importing/watching, and the MacBook was getting very hot as expected, reaching 75°C and still rising. I plugged in the USB lead to the cooler, and within minutes the temperature sensor showed a massive drop to around 60°C and still dropping.
Not only does it blow cold air on the bottom (either blowing cold air or sucking the heat away – I'm not quite sure), but it also raises the bottom of the MacBook off my legs (or desk), allowing more air flow, stopping the heat from being trapped.
It also has an LED that glows a nice blue colour when plugged in, which is a nice touch.
I don't think I would use it all the time, although it is comfortable even on your lap, but I would definitely use it if I was doing heavy work or something that was going keep the machine busy for a few hours. A worthwhile purchase – and at one pound you cant go wrong.
One neat feature of my MacBook, which I didn't have on my PowerBook, was that the USB ports stay powered when I close the lid or if the machine goes to sleep, meaning you can keep it cool without it being open or awake. (Closing the lid on my PowerBook would put the USB ports to sleep.)
For its price, it's great.
Publisher's note: Amazon UK has the Signalex USB Notebook Cooler for £4.05 shipped. No sign of this one on Amazon.com, but there is a Laptop Notebook Cooler Pad with 3 Fans with a 3-4 star rating that's nearly as affordable at $4.81 shipped. For smaller notebooks and netbooks only. dk

---
Follow Simon Royal on Twitter or send him an Email.
Like what you have read? Send Simon a donation via Tip Jar.
---
keywords: #signalex #usb #notebook #cooler #cheap #techspectrum #simonroyal
short link: http://goo.gl/hyZBaI

searchword: signalexusbcooler