Back in 1997, Apple was beleaguered, the World-Wide Web was just seven years old and only starting to be known outside of the geekiest tech circles, and online resources about older Macs were few and far between. I had this program called Claris Home Page on my Mac and my first real Internet account (as opposed to AOL dial-up service), and I wanted to learn about building webpages.
I worked for a local publishing house as a part-time book designer (interiors, not covers) and part-time IT guy supporting dozens and dozens of Macs of every vintage, including one 1986 Mac Plus and one 1987 Mac II. Other old Macs on our ethernet network* included a Mac IIcx (Early 1989), IIci (Late 1989), IIsi (1990), LC (1990), LC II (1992), LC III (1993), and quite a few newer 68040-based ("Quadra class") and PowerPC desktop Macs and PowerBooks.
There was quite a bit of information about then-contemporary Power Macs and PowerBooks on the fledgling Web, and there were a few pages dedicated to the earliest Macs, but there seemed to be a gaping hole between 1985 and 1995. And what few "spec sites" existed only provided technical specifications, not information on a model's place in Mac history, its quirks, its unique features, its unsupported upgrade options, and so on.
Around April 7, 1997, I added two dozen Macintosh computer profiles to my personal website, starting with the 1996 Mac Plus and going through the entire LC and Mac II families. You can see what it looked like here, but needless to say, it was functional but not pretty. Here's what it looked like back then: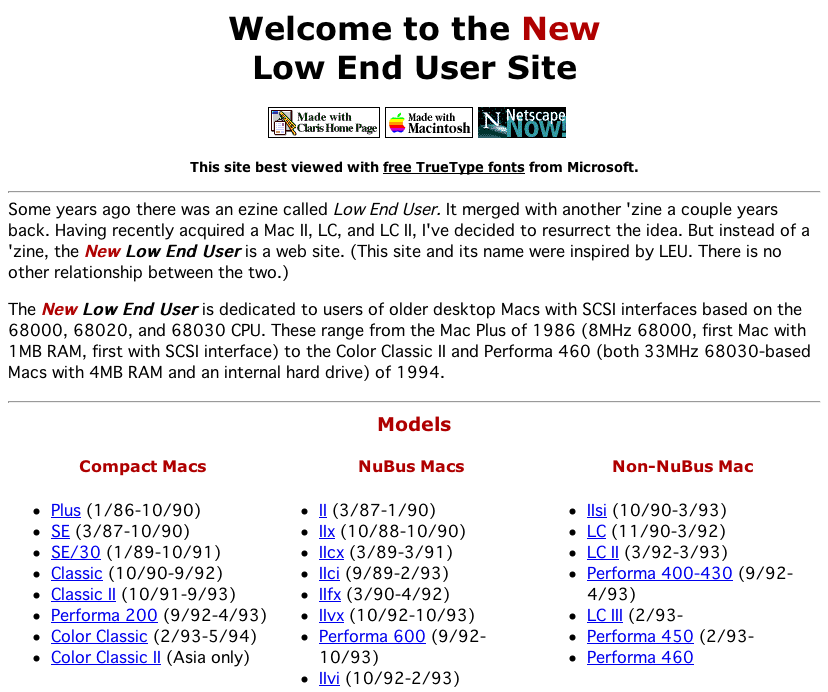 I started with the Mac Plus because I considered it to be the oldest Mac that was still practical for daily use, as it could run Microsoft Word 5.1a, ClarisWorks, FileMaker Pro, and quite a few other apps. It was also the only pre-1987 Mac designed to work with a hard drive, which was essential for System 7. Cutting things off at the 68030 CPU and leaving out PowerBooks were arbitrary decisions I would later address, but I had to start with a manageable number of Macs. And over time that number grew.
The name got shorter. I had been inspired by the Low End User ezine, which was all about getting the most out of older Macs, and the name – The New Low End User Site – was an homage to that virtually forgotten resource. It briefly expanded to The New Low End Mac User Site and was trimmed back to the pithy Low End Mac by the end of summer.
To put things in some perspective, Low End Mac was launched seven months before the first G3 Macs were announced, which are generally considered the lowest end of practical Mac usability nowadays. Where we consider G3s the bottom end of usable Internet machines, that level of power was not even available when Low End Mac began, and it was some time after their introduction before we would add profiles for G3 Macs. We kind of resisted profiling contemporary models until I came to the realization that sooner or later every Mac becomes low-end – a tagline we used for a while.
The Commercial Web
Low End Mac was a personal hobby, and I was surprised to get a phone call from Jason Pierce, the owner and publisher of the new MacTimes Network. He wanted to build a network of Mac websites that could all be marketed together to potential advertisers, and he wanted Low End Mac (LEM) as one of its key players. I brought LEM to MacTimes in November 1997, and we slowly grew from a part-time hobby website into something more commercial.
I can't say that my design sense improved. This image from June 1998 represents a high point in clutter and a low point in aesthetics: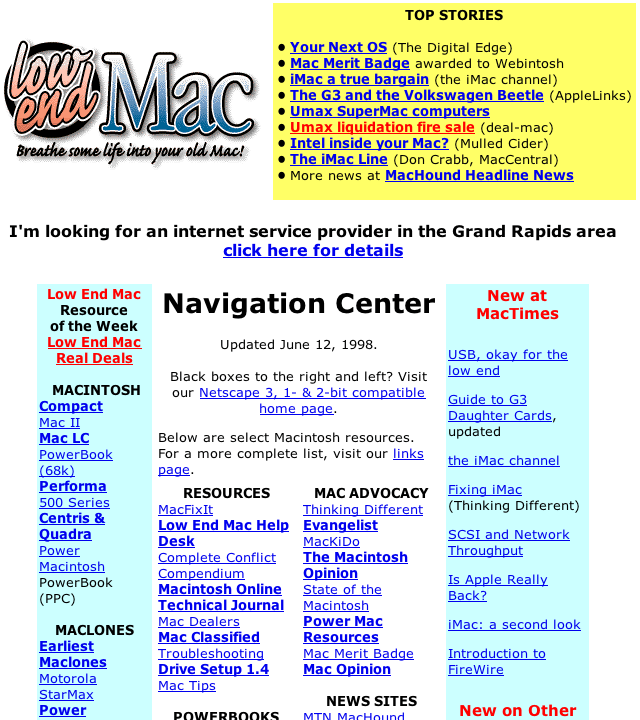 We moved to our own domain in March 1999 as the MacTimes Network disintegrated, having grown from 21,000 page views per month in October 1998 (the month before we joined MacTimes) to nearly 400,000 in January 1999, the month we started to prepare for our exodus.
By late 2000, we were serving 450-500,000 pages monthly, ad income was good, and I prepared to leave my IT job at Baker Publishing to do Low End Mac full-time. I took my family to San Francisco for the January 2001 Macworld Expo and gave my notice upon our return. Within a year we broke the million page mark for the first time, a level we didn't begin to achieve consistently until October 2005.
My timing in setting out on my own could not have been worse. Remember the dot-com bubble? It peaked in March 2000 and then burst, but it didn't impact ad revenues immediately. And January 2001 was the month that AOL took over (technically "merged with" Time-Warner), so the health of Internet-based businesses still looked good. Site income was about 10% below projections in 2001 – and less than half that in 2002. 2003 was a bit better than 2001, and income continued to improve through 2007, but in 2008 the economy collapsed once again.
Where I supplemented my income by working part-time in a local camera shop early in that decade, this time I had to find a second source of income that wouldn't interfere too much with working on Low End Mac and accommodate the reality of being a one-car family, so I started working third-shift at a local Kohl's store unloading freight and prepping it for the sales floor 2-3 nights a week on average.
This does cut into the amount of time I can invest in Low End Mac. Very significantly, in fact, as I sleep away the morning and only have afternoons to work on LEM. I debate whether the loss of site traffic and income from this more than offsets the extra income, but bills have to be paid. I am very much looking forward to the day I can quit Kohl's and go back to doing LEM full-time
How Low End Mac Works
The most common question people ask me when I tell them what I do for a living is, "How do you make money doing that?" The short answer is that it works sort of like TV and radio – advertisers pay for ads on Low End Mac. But that really oversimplifies things.
While some site sponsors pay a flat fee to have their ads appear on LEM, for which we are extremely grateful, a huge portion of our website income is from affiliate programs, which is a kind of commission system for the Internet. Instead of being paid for simply showing an ad, we only receive payment when people buy a product or sign up for a service through a link on Low End Mac.
When you click on a link to Amazon.com, MacMall, PC Connection, or iTunes/App Store, to give a few examples, and then make a purchase, we earn a small fee. In most cases, that's a 2-3% commission, although Amazon.com and J&R are better than that. (Unfortunately, J&R tends to have slightly higher prices, and while Amazon.com's general affiliate rate is the best, when it comes to sales of computers, we earn a flat fee that's lower than commissions from MacMall or PC Connection on sales over $840 – which is the majority of Mac sales.)
When we update our price trackers, I add a bit of information on how you can help Low End Mac by choosing a specific vendor when two or more offer the same item at the same price. In general, we earn the highest percentage from Amazon.com (computers excluded), then J&R, followed by MacMall and PC Connection. At the low end is B&H.
The Apple Store
The online Apple Store was also at the low end, but after years of working with us, the Apple Store terminated its affiliate program with LEM. The stated reason: Having mac.com in our domain name infringes on Apple's mac.com trademark. A more likely reason: Apple doesn't want websites to push its refurbished items, and that's something we do very strongly at Low End Mac.
Low End Mac has been using the lowendmac.com domain since 1999, while Apple didn't begin to use mac.com until it launched iTools in January 2000. Apple didn't apply for a trademark on mac.com until August 2001, and Apple no longer uses the mac.com domain except as a redirect to apple.com.
We're frustrated by that decision. We spent some time in discussion with Apple's representative at Commission Junction, but in the end Apple was intractable. We had no option to keep the affiliate program, not even on other websites. We could move to a new domain, but there was no guarantee that Apple would approve the new domain.
We considered our options. We could have looked into lowendmac.net or .org or .us, lowendmacs.com, and even registered lowendmax.com, but in the final analysis we determined that we would lose search rankings for several months (Google.com is our primary source of traffic), more than offsetting the 7.5% of site income that Apple represented – especially since Apple might not have taken us back after such a change.
For us and for you, this means that Low End Mac no longer earns anything when linking to new and refurbished product at the Apple Store (some of which are Apple online exclusives, such as the iPad), a slap in the face for a business that sent Apple $225,000 worth of business in 2011. Apple has every right to run its affiliate program as it sees fit, but it's disappointing when they turn on a site that has been promoting Apple for 15 years and sending it customers for as long as the Apple Store has had an affiliate program.
How You Can Help Low End Mac
The biggest thing you can do to help Low End Mac survive and thrive is to order apps and items through affiliate links on the website, as well as clicking on ads. Serving up millions of pages per year at a fraction of a penny per page from ads does turn into real money, albeit not as much as it once did.
If you run a Mac-related business and want to run ads on Low End Mac (any type of business for that matter), contact BackBeat Media, which has been ably handling our advertising program for years and years.
And if you'd like to make a financial contribution as a way of saying thanks for what we consider a pretty useful website, you can do that clicking the PayPal button to the right. 
Whatever you do, thank you for your support of Low End Mac. We promise to keep supporting older Macs as long as you keep using them. The first 15 years were just the beginning.
* When I started at Baker Publishing in 1993, it was about a dozen Macs on PhoneNet. Ethernet was a big step forward.
Keywords: #lowendmac #lowendmacanniversary #lookingback
Short link: http://goo.gl/1Ml6Hk
searchword: lemat15