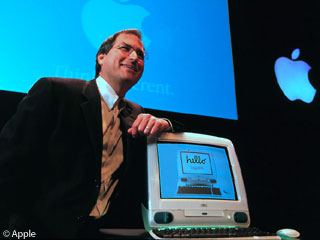 Steve Jobs unveils the iMac on May 6, 1998.
There is so much to say about the original iMac: Not only is it iconic in the Apple world, but in the whole computing world.
Apple was really struggling prior to the launch of the iMac, on the brink of going under. It had too many products, too many lines, and none of them were doing well enough – as well as the by-then failed Newton project (discontinued two months earlier).
Steve Jobs made a very bold move and decided to turn the computing world on its head. The iMac was everything the rest of the computing world wasn't – including previous Mac models. It was bright, fast, colourful, compact, and daring.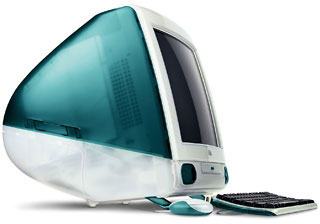 The original Bondi Blue iMac.
The first iMac was unveiled on Ma6 6, 1998 (it went on sale on August 15) in a stylish "Bondi Blue" and transluscent plastic. It featured a 233 MHz G3 processor, 4 GB hard drive, tray-loading CD-ROM drive, and built-in 15″ CRT display. Despite the size of the machine, it used 144-pin laptop memory.
The iMac was a huge move from the boring grey/beige square-shaped machines that had been on the PC market since the 1980s.
The hardware specifications were not fantastic. They were slower than the Power Mac G3 towers released the previous year, but it was the iMac's all-on-one design and fresh feel that made it appealing.
The lack of a built-in floppy drive and an ADB mouse/keyboard port in favour of the then-new USB was a major talking point at the time, many saying it was a wrong move – but it turned out one of the best decisions. The iMac brought with it the colour coordinated puck mouse, which in my opinion was brilliant. This too was something that you either hated or loved.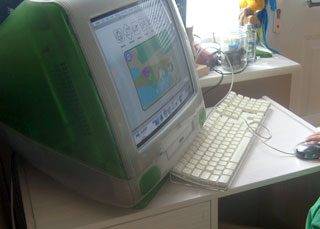 Lime green 266 MHz iMac from Early 1999.
I wasn't fortunate enough to own a Bondi Blue; the closest I got was when Apple bumped up the specs slightly and released the "five colours" range. Mine was the 266 MHz model. These were great machines for their time, and I was using one of these in 2008. Just for fun I ran Mac OS X 10.4 Tiger on my 266 MHz with only 96 MB of RAM. Not surprisingly, it didn't run too well, although better than you might think.
When Apple released the slot-loading models in 1999, it was a major turning point. The drives were better, the inclusion of AirPort and FireWire, and the minor case changes, as well as the increased processor speed, system bus speed, and maximum RAM, made these some of the fastest and most powerful G3s available.
They were also one of the most reliable and well-built machines ever to emerge from Apple. Despite being nearly 14 years old, you will still find them soldiering on, maxed to the hilt, and still capable of performing basic tasks. A lot of people fit them with bigger, faster hard drives and use them as media centres, running Mac OS X 10.3 Panther or 10.4 Tiger. Their colourful shells make them the perfect accessory.
I loved them. I have owned numerous models over the years, my first one being a 450 MHz Indigo slot load model (replacing a Beige G3 Gossamer tower). My son was given a 600 MHz Snow model. I then picked up the 233 MHz model. I even swapped the plastics on a few, given them pink casing with green speakers.
The iMac range turned Apple from a failing company on the brink of crumbling into a strong success almost overnight. It was Apple's saviour, and for this we have to be grateful.
---
Follow Simon Royal on Twitter or send him an Email.
Like what you have read? Send Simon a donation via Tip Jar.
---
keywords: #1998 #imac #revolution #steve #jobs #g3 #saviour #techspectrum #simonroyal
short link: http://goo.gl/GI6PB7

searchword: imacg3