Apple promoted the 4G iPad as having twice the performance, faster WiFi, and a new FaceTime HD camera. It was the first iPad with a Lightning connector, introduced with the iPhone 5 earlier in the year, and had improved 4G LTE support compared to the 3G iPad.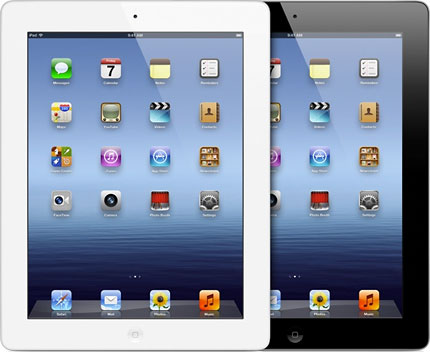 The 4G iPad is built around Apple's A6X processor with quad-core graphics, and it runs at an impressive 1.4 GHz – 40% faster than any previous iPad. Benchmarks supported Apple's claim that the 4G iPad has twice the processing power of the 3G iPad.
In fact, Geekbench results show the 4G iPad has nearly 3x the processing power of the iPad 2 and 3G iPad.
In February 2013, it became the first iPad with a 128 GB option.
The 4G iPad was the first to come back from the dead. It was discontinued with the introduction of the iPad Air on October 22, 2013 while the iPad 2 continued on as Apple's entry-level 9.7″ iPad. The 4G iPad returned on March 18, 2014, when the iPad 2 was phased out. It was again discontinued in October 2014, leaving the line with only iPad Air and iPad mini models.
Hardware Overview
Models
Announced: 2012.10.23, on sale 2011.11.02 at $499 (16 GB), $599 (32 GB), and $699 (64 GB). $130 additional for cellular version.
Included accessories: USB 2.0 Lightning connector, 10W 2A power adapter
Code name: P101
Identifiers:

WiFi only: iPad3,4
GSM: iPad3,5
CDMA: iPad3,6

Model numbers:

WiFi only: A1458
GSM: A1459
CDMA: A1460

Product numbers:

WiFi only: MD510 (16 GB black), MD513 (16 GB white), MD511 (32 GB black), MD514 (32 GB white), MD512 (64 GB black), MD515 (64 GB white), ME392 (128 GB black), ME393 (128 GB white)
GSM version: MD516 (16 GB black), MD519 (16 GB white), MD517 (32 GB black), MD520 (32 GB white), MD518 (64 GB black), MD511 (64 GB black), ME400 (128 GB black), ME401 (128 GB white)
Sprint CDMA version: ME195 (16 GB black), ME198 (16 GB white), ME196 (32 GB black), ME199 (32 GB white), ME197 (64 GB black), ME200 (64 GB white), ME410 (128 GB black), ME411 (128 GB white)
Verizon CDMA version: MD522 (16 GB black), MD525 (16 GB white), MD523 (32 GB black), MD526 (32 GB white), MD524 (64 GB black), MD527 (64 GB white), ME406 (128 GB black), ME407 (128 GB white)
Technology
CPU: 1.4 GHz dual-core Apple A6X
RAM: 1 GB
Architecture: 32-bit
Audio chip: Cirrus Logic CS4398
Graphics engine: quad-core PowerVR SGX554MP4
Display: 9.7″ 2048 x 1536 pixel multitouch screen
Cameras

rear: 5 MP 1080p
front: 1.2 MP 720p FaceTime HD

Sensors: accelerometer, ambient light, compass, 3-axis gyroscope
Performance
Geekbench, single core: 768
Geekbench, multicore: 1399
Connectivity
I/O port: 30-pin dock connector
WiFi: 802.11a/b/g/n
Bluetooth: 4.0
Wireless data:

GSM: 4G LTE (Bands 4 and 17), UTMS/HSPA+/DC-HSDPA (850, 1900, 2100 MHz), GSM/EDGE (850, 900, 1800, 1900 MHz)
CDMA: 4G LTE (Bands 1, 3, 5, 13, and 25), CDMA EV-DO Rev. A/B (800, 1900, 2100 MHz), UTMS/HSPA/HSPA+/DC-HSDPA (850, 900, 1900, 2100 MHz), GSM/EDGE (850, 900, 1800, 1900 MHz)

GPS: WiFi-assisted GPS
Power
Battery: 42.5 Watt-hour lithium polymer
Charge time: not specified
Battery life: up to 10 hours
Compatibility
Original OS: iOS 6.0.1
Maximum OS: current
iTunes Versions: iTunes 10.6 and later.
Mac OS Required: OS X 10.6.8 or later
Windows Versions Supported: 7, Vista, XP Home or Professional SP 3 or later
Dimensions and Weight
Dimensions: 9.5″ x 7.31″ x 0.37″
Weight: 1.44 lb. (1.46 lb. for cellular versions)
Further Reading
Keywords: #4gipad #ipad4
Short link: http://goo.gl/iw1CxQ
searchwords: 4gipad, ipad4