I had some video files I needed burning to a DVD-video yesterday, so started looking around for something free, and I stumbled across a superb little application called Burn.
There is no denying it, Roxio's Toast is a great piece of kit with recent versions adding more and more fancy features especially in the DVD video creation area. However, not everyone has the funds to spend nearly £100 on it or perhaps you think you might not use all the features.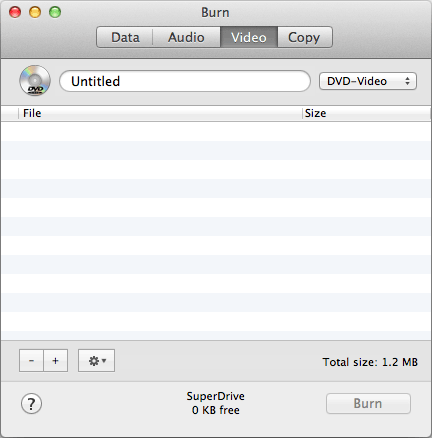 Burn is a no frills app. It isn't as fancy as Toast, but it does pretty much the same. The main screen is simple, with just four buttons/tabs across the top to set the type of disc you want to burn.
Data
It can burn data CDs and DVDs for use on both Mac and Windows, in HFS+, Joilet, Mac & PC and UDF.
Audio
It can burn audio disc in audio CD, audio DVD and MP3 discs. You simple drop on the audio files you want, in varying or mixed formats and create the disc of your choice.
Copy
It can burn images and copy disc to disc. I am not sure if it creates bootable discs, that I haven't had a chance to try out yet.
There are plenty of apps online to do the above, but the last feature is the one that turned my head and puts this app in a league of its own.
Video
Want to create a video DVD with titles and menus? Don't want the hassle of having to tweak and edit it all? Then this is for you.
Grab your video files, drop them on – I threw on some MP4 files – and hit the Burn button. It will then ask you to convert them to MPG files and asks you where to save the converted files. It encoded 1.3 GB of files within 20 minutes on my 2.0 GHz MacBook running OS X 10.7 Lion. Once the conversion was completed, it continued to sort them and then burned them to disc.
It creates a simple black background with the disc title and each clip as a clickable item. Nothing fancy, but they work. There is an "extras" section on the website where you can edit some themes/menus, so if the default one isn't to your taste, that is an option.
This is a great example of a free tool that really is worth a look. Burn earns a 4.5 rating (out of a possible 5) because the DVD menu is very basic.
I certainly will be using it again.
Burn requires Mac OS X 10.3.9 or higher and an optical drive that can burn discs. It is a universal binary program that supports PowerPC and Intel Macs. There are also G3 and 64-bit versions.
---
Follow Simon Royal on Twitter or send him an Email.
Like what you have read? Send Simon a donation via Tip Jar.
---
keywords: #macosx #burn #toast #techspectrum #simonroyal
short link: http://goo.gl/u1z6Qu

searchword: burn