Last week I was able to cross something off my bucket list that had never really been on it – the purchase of a brand new vehicle.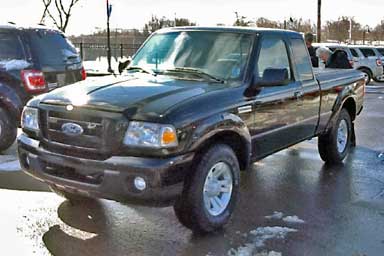 I've always been a used car advocate. Over the past 44 years, I've owned some 60-odd cars and trucks – all of them purchased used, the newest of which was three years old when I bought it. However, last Wednesday, my wife and I took delivery of a brand new 2011 Ford Ranger Sport 4×4 pickup, which is sitting the driveway with some 250 kilometers on the clock. (My "unboxing" photos were taken with my iPad 2.)
So what enticed me to do something that I've always considered a poor value, given the realities of depreciation, and, in recent years, what I regard as the absurd prices of new automobiles? Can the acquisition of any not preowned vehicle be justified or even rationalized as consistent with a low-end, value-oriented philosophy?
It depends.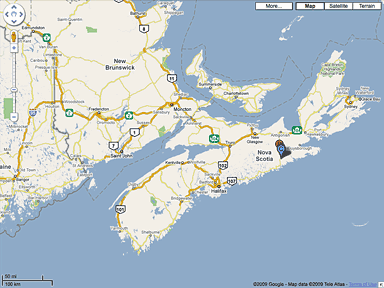 For the past six and a bit years, our (mostly) winter vehicle has been a 1994 Mazda B4000 4×4 pickup, which we bought reasonably well, and which has been a good, useful workhorse. The problems we've had with it have been mostly rust-related, but it's 18 years old, and this is coastal Nova Scotia, with salt-laden roads in winter and salt air year-round.
In that context, the old Mazda – which is actually a badge-engineered Ford Ranger from the days of Ford's corporate collaboration with Mazda, built in Edison, New Jersey – hasn't done badly and owes us nothing. I've really liked it as a vehicle, hauled firewood for the wood stove, trash to the dump, and what-have-you in it, plowed snow with it, and even found it a good highway cruiser that handles a lot better than I had expected of a 4×4 pickup.
However, I'm now in my seventh decade, have some nontrivial health issues, and the friends who've been instrumental in helping keep the old Mazda on the road economically are older than me. Those factors, combined with living in an isolated rural location 50 miles from the nearest town on a dirt road with a steep driveway and Canadian winters have lately made the perceived dependability and hassle-free-ness of a new vehicle, plus a warranty, a lot more enticing than they once were.
We, of course, considered getting a late-model used truck, but the prices commanded by used 4×4 pickups seemed steep to us and made buying new seriously thinkable for me for the first time in my life. What finally roped us in was a combination of incentives. February is statistically the slowest car sales month in Canada, and this year Ford rolled out a constellation of particularly attractive incentives on leftover 2011 Rangers – a $5,500 price cut off list plus another $1,000 in free Ford truck accessories, and 3.9% financing.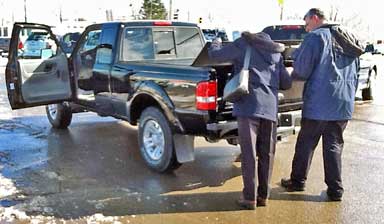 Our generally favorable experience with the Mazda made a Ranger appealing, and it is arguably relatively low-end as trucks go. The 2011 model year was the end of the line for the Ranger in North America. After several reprieves, production of Rangers finally ended in December at Ford's St. Paul, Minnesota plant, ending a model run that began in January 1982 for the 1983 model year.
Ford had originally planned to close the St. Paul plant in 2008 but ended up delaying the closure until late 2011. Ford has designed and is building an all-new Ranger for world markets, but it won't be sold in the US and Canada, presumably because it's not that much smaller than the F-150, and Ford doesn't want to cannibalize full size truck sales.
We also tried out a used 2010 Ford F-150 full-sized truck in immaculate condition. It was lovely, and with the 4.6 litre V8 gets about the same fuel mileage as Ford's 4 litre Cologne V6 in the Ranger. It probably would have made long-term good sense in terms of resale value, but it was a bigger vehicle than we prefer, and the bottom line was that it would have set us back about one-third more than the new Ranger at a finance rate of 5.9% instead of 3.9% – and the incentives didn't apply.
Buying new also let me order pretty much the equipment spec I wanted – without a lot of optional stuff I didn't. It wasn't exactly build-to-order, being as production of the model has stopped, but there was still enough of a selection in Ranger stock around Atlantic Canada that the salesman was able to find a truck at another dealer that pretty closely matched what I would have ordered anyway.
That was a pretty basic and lightly-optioned extended cab 4×4 in black with a manual gearbox. I'm not a big fan of automatics, although the one in the Mazda has been reliable. I prefer to shift for myself, and my wife doesn't mind doing so either. The truck also has tinted privacy glass, which I like, and a sliding rear window, that I probably wouldn't have ordered, but it is no hardship to have other than an extra $200 for the option. In the features category it's a practically well-equipped, still relatively low-end truck.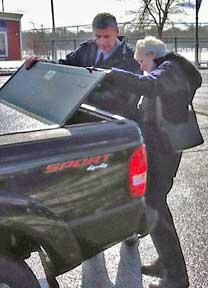 However, we really wanted a proper tonneau cover for the bed, which improves highway fuel mileage and provides a lot of undercover storage space, which is at a premium in the Ranger even with the extended cab. Ford offers a great high-end hard tonneau made of foam-cored, color-anodized black aluminum that is a lot more durable than a fabric one and also secure, if you get a $100 locking tailgate.
We also wanted a rubber bed mat, so the accessories total came to about $1,625 including sales tax, considerably more than the $1,000 offered by Ford's Custom Truck Event promotion, but the dealer agreed to eat the difference, so we had a deal.
It's a really nice little truck with excellent road manners. It looks great with the harmonizing black tonneau cover and dark tinted glass. The five-speed shifter is fun. Now to pay for it! This is only the third time I've ever financed a vehicle purchase, and the other two were for relatively small amounts, so getting my mind around that is quite an adjustment.
Keywords: #fordranger #lowendpickup #lowendtruck
Short link: http://goo.gl/WdvINR
searchword: 2011fordranger