News & Opinion
Services
Mac notebook and other portable computing is covered in The 'Book Review. iPad, iPod, iPhone, and Apple TV news is covered in iNews Review. Older Macs are covered in Vintage Mac News. All prices are in US dollars unless otherwise noted.
Purchases made through links to Amazon.com and Apple's iTunes/iBook/App/Mac App Store support Low End Mac.
News & Opinion
Confessions of an Apple Store Employee
Popular Mechanics has posted a tell-all about what it's really like to be an Apple Store genius by an anonymous Apple employee, noting:
"Apple is famous for its secrecy, with a code of silence that runs from top management all the way down to its retail employees. One Apple Store employee decided to throw protocol to the curb and tell us what it's really like working at the vaunted retail outlets."
Link: Confessions of an Apple Store Employee
Want an Apple Hardware Bargain? Go Refurb
The Canadian Press' Michael Oliveira advises Apple fans looking to save a few bucks on a Mac or mobile iDevice to consider getting a lightly used example without the risks inherent in buying through online classified ads or auction sites.
Apple itself offers Apple Certified Refurbished products, which are so-called "open box" or returned items that have been thoroughly checked out and had any necessary repairs done, plus new batteries where applicable, before being repackaged in distinct ACR boxes and sold with the same one-year warranty and AppleCare eligibility as new Apple machines.
Mr. Oliveira notes that Consumer Reports considers buying refurbished goods from trusted manufacturers and retailers to be only "a slightly higher risk" than buying new.
Editor's note: I have bought four Apple refurb units over the past few years, and all have been cosmetically flawless in appearance and reliable performers at substantial discounts from regular prices. cm
Publisher's note: I bought all three eMacs (the last "current" Macs we purchased) used at LEM headquarters as Apple refurbs and saw no difference between them an new-in-box hardware. dk
Link: Want a Cheap Apple iPad? Go Refurbished
Upgrading Memory? Save Your Old RAM and Packaging
MacFixIt's Topher Kessler says if you've installed new memory (RAM) in your system, you may be tempted to toss your old modules – bit it's not the wisest plan.
Kessler notes that upgrades from Apple tend to be insanely expensive, so his recommendation has always been to purchase only the base amount of RAM and upgrade it yourself later on, unless the RAM is soldered to the motherboard, as it is with the MacBook Air and Retina MacBook Pro.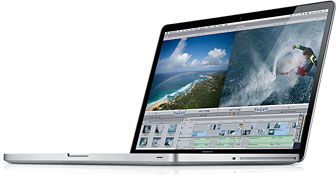 For his own 17″ 2011 MacBook Pro, Kessler says he purchased it with the base 4 GB of RAM and opted to purchase a third-party 16 GB memory upgrade for around $130.
The RAM arrived and installed without a hitch, and it passed Apple's Hardware Test suite and other RAM testing routines with flying colors. Nevertheless, while his upgrade worked fine – and most such upgrades do
– Kessler recommends keeping your old RAM modules, and preferably your new RAM's packaging and receipts as well.
He notes that after having the RAM in the big MacBook for nine months and often using it to its full capacity, he began experiencing serious instability problems, with diagnostics pointing toward a RAM issue.
Fortunately, instead of getting rid of the original RAM after the upgrade, Kessler had stored it in a safe place, and replacing the third-party RAM with the original RAM resulted in a solid boot and a stable system that has been running fine ever since.
The wisest plan is to hang on to those old memory modules as a backup just in case something goes awry, ideally storing them in the new RAM's packaging to help ensure they stay dust-free and are not subject to physical damage.
Link: Upgrading RAM? Save Your Old RAM and Your Packaging
Primate Labs Posts December 2012 Mac Geekbench Scores
Primate Labs' John Poole writes:
"Now that 2012 is almost over I thought it would be interesting to look at all of the Macs released this year and see how they perform compared to one another. I've collected Geekbench results from the Mac Benchmark chart for all of the Macs that are currently available from Apple."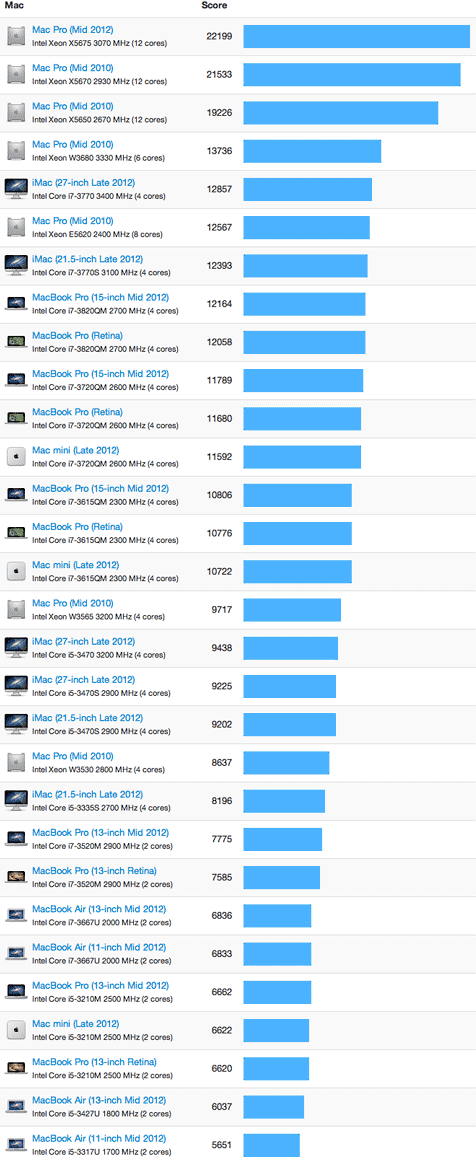 Link: Mac Benchmarks (December 2012)
Configure TextEdit for Basic HTML Coding
MacTuts+'s Robert Anthony notes that if you're starting to get into HTML and web design, there's no reason to spend money on a coding app early on, since OS X comes with with TextEdit, which is a great HTML editor, although that capability of Apple's bundled OS X text editor isn't immediately obvious.
Anthony's tutorial guides you through setting up TextEdit for use as a basic HTML editor with a couple of simple preference selections.
TextEdit preferences in Mac OS X 10.4 Tiger.
Publisher's note: TextEdit has been around since the NeXT era and has always been included with Mac OS X. It is also a great tool for creating RTF documents that can be used across multiple platforms and fully supports Unicode. If you want a more powerful free text editor, we heartily recommend TextWrangler, which we've been using since it first became freeware in 2005. dk
Link: Quick Tip:
Configure TextEdit for Coding HTML
Services
Dolly Drive Offers New Customers a Free 100 GB Account to Give as a Gift
PR: Cirrus Thinking, makers of the award-winning Dolly Drive cloud backup and storage for Mac, have launched a backup awareness campaign over the holidays in an effort to get people who backup their computer to encourage friends and family who don't, to finally get started. Individuals who purchase a Dolly Drive account will receive a free gift account to send to a friend or family member who isn't doing cloud backup. Individuals can also send traditional gift accounts to Mac users.
"Computer backup is so easy but if you don't start it, you are at risk of losing everything on your hard drive in an instant." says Anthony Palermo, Creator of Dolly Drive. "By giving people who want to use Dolly Drive cloud storage & backup a chance to 'regift' their purchase to a friend or family member, we figure we not only give Mac fans a chance to use Dolly, but more importantly, give them the chance to be a hero when their new-to-backup friend finally needs it."
Cloud storage is also becoming more important as more people get used to using multiple computers in their lives as well as smartphone devices. A recent Nielsen report revealed that over 55% of the mobile phone market is now penetrated by smartphones, meaning more and more picture and videos are being uploaded & synced, and more employees are expecting to have access to their work files every minute they are away from their office.
Mr. Palermo adds, "Computer backup isn't just for techies. It's for everyone who uses a computer and keeps accumulating more and more digital life. At one time, we had a single computer that held all of our stuff. Now people have 2 or 3 computers and multiple mobile devices. You not only need to be able to access your stuff regardless of which computer or device you have, but you need to ensure that those files are safely being archived throughout your day."
In addition to the buy one, get one promotion, Dolly now offers gift cards.
Dolly Drive is an all-in-one sync, store and backup service designed for Mac. In addition to providing Mac users offsite cloud storage and mobile access to expand hard drive space, the application allows users to create a bootable clone of their Mac on an external hard drive for local disaster recovery.
Sample Prices
Individual Plans
50 GB: $5 monthly, $42 annually
100 GB: $750 monthly, $72 annually
250 GB: $10 monthly, $96 annually
1 TB: $35 monthly, $288 annually
Family Plans
250 GB: $10 monthly, $96 annually
1 TB: $35 monthly, $288 annually
Dolly Drive requires Mac OS X
10.6 Snow Leopard or later. It is compatible with OS X Lion versions 10.7.2 and later but not earlier versions.
Link: Buy Dolly for Yourself and Give a 100 GB Account as a Gift for Free!
Free Faithlife Study Bible Makes It Simple to Make It Through the Bible in a Year
PR: Reading through the entire Bible in one year is a huge
investment in your faith – so get the free Faithlife Study Bible and a digital reading plan to keep you on track. Create or join a Faithlife group and embark on a resolution to read the Bible in a year.
"The Bible is a delicious feast, and reading it all the way through makes sure you aren't leaving anything on your plate. You'll miss some days, that's for sure, and that's fine – use Faithlife's Read the Bible in a Year plan to bring you closer to your maker and His Word" says Jefferson Bethke, leader at For the King Ministries, inspirational speaker and spoken-word artist.
Link: Faithlife Study Bible