Mac OS X 10.8 Mountain Lion was released yesterday, and within a few hours of its release I had purchased it, downloaded it, and installed it. This is the first time I have ever bought a copy of Mac OS on launch day.
For anyone wondering about Apple's latest offering, here are my initial thoughts.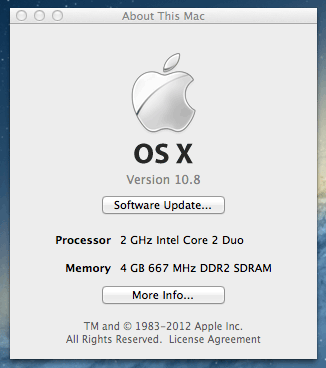 My machine is a 2009 White MacBook – 2.0 GHz Core 2 Duo with everything else stock except upgraded to 4 GB of RAM. It was previously running OS X 10.7 Lion. Mountain Lion will install over OS X 10.6 Snow Leopard and Lion and is available from the Mac App Store for £13.99 in the UK, $19.99 in the US.
Download was a little tricky. First it refused to download, then it failed to download three times, but I put this down to overloaded servers.
Once downloaded, it was the same procedure as Lion. A simple click of Continue and the install was underway. It took nearly 45 minutes to install, even though the initial count said 22 minutes. Install was painless, and after a reboot I was staring at a new desktop.
Let's not forget this is a £14 OS, not a major overhaul. Mountain Lion looks like Lion and behaves like Lion. First impressions are that it is fast (one Spotlight had finished indexing) – faster than Lion. Apps load very quickly, and everything is very slick.
Snow Leopard was faster, smoother, and slicker than OS X 10.5 Leopard. The same seems to be the same with Mountain Lion over Lion. It seems to have brought back that little extra speed that was lost when upgrading from Snow Leopard to Lion.
My dock is crammed with apps, and so far nothing has failed to work.
I am running Firefox 14, Chrome 20, Echofon 1.6, Skype 5.8, Bean 3.0.8, OpenOffice 3.4.0, TextWrangler 4.0, Cyberduck 4.2.1, SeaShore 0.5.1, iPhoto '09, iMovie '09, iDVD '09, GarageBand '09, iMovieHD 6.0.3, Burn 2.5.1, Audacity 2.0.0, MacTheRipper 3.0 R14, MacTracker, VirtualBox 4.1.18, TinyUmbrella 5.11, CoconutBattery 2.7.4, GeekBench 2.3.1, Google Earth 6.2, VLC 2.0.1, XBench 1.3, Dropbox 1.4.7, and HandBrake 0.9.8.
All of these worked, just as they did under Lion.
This is just a quick initial review of my experience of Mountain Lion. I am now off to play with it some more. I am looking forward to playing with Messages and the Notification Centre.
For anyone with a machine capable of running it, I would suggest going for it unless you have some software that you know will not run.
Well done Apple. Some will say Mountain Lion is what Lion should have been, and for £14 what do you expect. I am already happy with it.
---
Follow Simon Royal on Twitter or send him an Email.
Like what you have read? Send Simon a donation via Tip Jar.
---
keywords: #osx #macosx #mountainlion #firstimpressions #techspectrum #simonroyal
short link: http://goo.gl/fRrjxG

searchword: mountainlionfirstimpression