After the somewhat shocking announcement that the iPhone 3GS, introduced in 2009, would be getting the latest iOS offering from Apple – that is iOS 6 in 2012 – I have been eagerly awaiting that day.
Yesterday was that day. Just a week ago the iPhone 5 was unveiled and the release date of September 19th for iOS 6 was announced. Yesterday was a very tense day. Living in the UK, things from Apple either happen at 2 p.m. or 6 p.m., and the release was 6 p.m.
I sat there eagerly awaiting iOS 6 with my factory unlocked white 16 GB iPhone 3GS hooked to my Mac. Within minutes of the clock ticking 6 p.m., iTunes popped up saying that an update was available.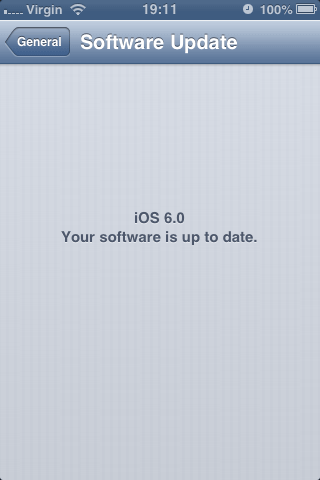 Normally launch day is crowded and updates fail the first few times. Not this time: iTunes pulled in the update in 7 minutes, and the install went smoothly. Within 10 minutes I was staring at a dialogue box saying there was an update to my carrier settings, which I updated, and within a couple more minutes my iPhone had a grey iOS 6 screen on it.
First impressions: It is faster than iOS 5. The general look is the same, with a few colour tweaks. The top bar in various menu has changed to grey.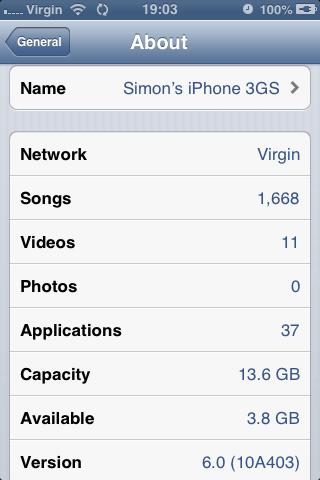 Slide the Notification Centre down, and you will see Tap to Tweet and Tap to Post (for Facebook) – Facebook integration is one of the big features, and a welcome one at that.
There is the Do Not Disturb feature, which stops notifications coming in at certain times so you don't get disturbed in the early hours of the morning.
Google Maps is gone in favour of Apple Maps, and the YouTube app has gone altogether, although it is available on the new look App Store.
The music app has a new silver brushed metal look.
The only thing I have noticed is that when I unlock my iPhone, it has taken a second for the light sensor to adjust properly, something I hadn't noticed in iOS 5.
In conclusion, it seems a good update. iOS 5 was a big speed improvement over iOS 4 – especially on the 3GS – and iOS 6 improves that even more. My phone screams along faster than it ever has.
It is sure nice to see a 2009 smartphone getting a 2012 update. You won't see that in the Android world.
iOS 6 feels more like a 5.2 update with a few nice touches and a speed improvement than a whole new version.
Publisher's note: I also updated my iPhone 3GS to iOS 6 on Wednesday, and although it took me a lot longer to download the update, my iPhone 3GS feels like a brand new phone now – very responsive, very smooth. dk
---
Follow Simon Royal on Twitter or send him an Email.
Like what you have read? Send Simon a donation via Tip Jar.
---
keywords: #ios6 #iphone3gs #iphone #techspectrum #simonroyal
short link: http://goo.gl/7uLI2X

searchword: iOS6iphone3GS