Let's get the gripes out of the way first: The iMac has always involved some compromises and forced some changes on Mac users. Back in 1998, it meant giving up ADB mice and keyboards and SCSI peripherals for something new called USB, and it meant no built-in floppy drive. But until now, every iMac has had a built-in optical drive.

No more. The Late 2012 iMac, coming soon, is the slimmest, lightest iMac ever, and that means there's no longer room for an internal SuperDrive. Apple seems to be going out of its way in not telling us how thin the new iMac really is, only that it's 5mm (1/5″) thick at the edges. And that obviously means there's no room for a SuperDrive.
But really, how thin does a desktop computer have to be? Apple has managed to fit a SuperDrive inside MacBook models that are 0.95″ thin including a keyboard and hinged display. Why couldn't it have made the new iMac thick enough to use the same slimline drives found in MacBook Pros? Now iMac buyers will have to consider spending an extra $79 for Apple's external SuperDrive, a bit of desktop clutter no previous iMac has required.
The ultraslim design also means the SDXC slot is no longer conveniently located on the side of the iMac. Now you have to reach around behind the iMac to use it, as well as all the USB 3, Thunderbolt, and other ports. Bluetooth 4.0 is standard on both models, as is 802.11n WiFi.
Lots of Progress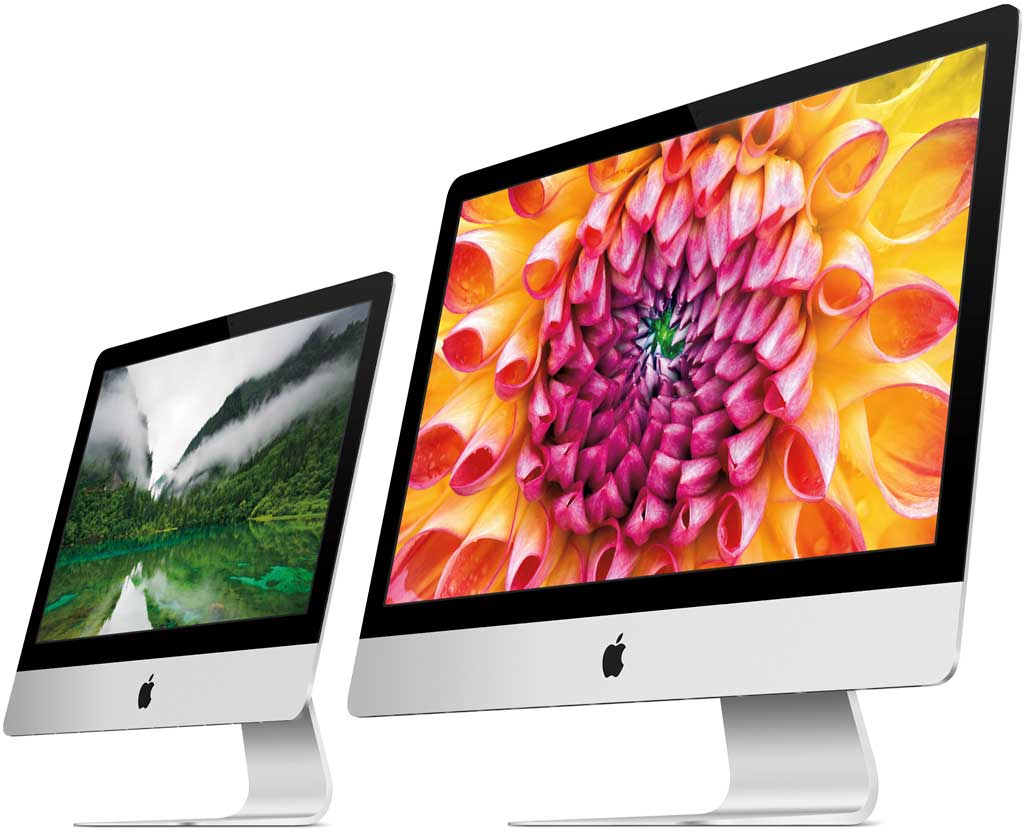 Okay, got that out of the way. With the exception of the G4 models, iMacs have always been about building the computer into the display. Those G3 iMacs looked like futuristic CRT displays, and since the iMac G5,the whole computer has looked like an LCD screen, albeit thicker. Well, it's no longer thicker, and by eliminating a second layer of glass covering the display, Apple has made the new iMac thinner, lighter, and 75% less reflective.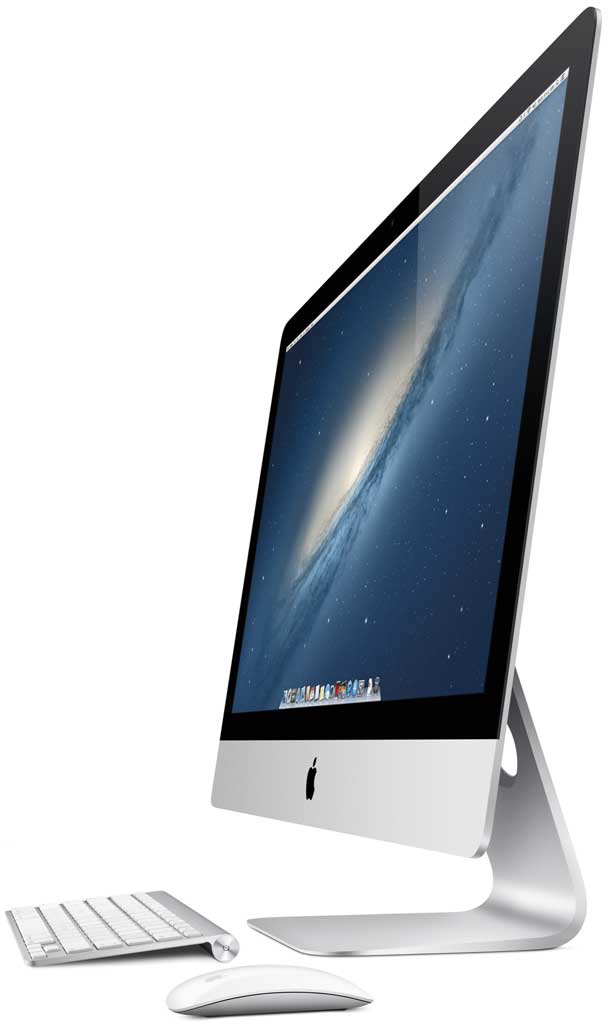 Since the display is our window into the computer, Apple has gone to great lengths to give these iMacs the best screens ever, and each is individually calibrated for color accuracy.
Combined with next generation Nvidia graphics, which offer 50-60% better performance for 3D gaming, it's the best graphics engine ever found in an iMac.
Of course, we have faster Ivy Bridge processors, and 8 GB of system memory is now standard across the board. The 21.5″ model can be configured with 16 GB, and the 27″ also has a 32 GB option. While it's easy to upgrade RAM in the 27″ iMac, the new 21.5″ model is another story. Early reports indicated that it can not be upgraded by users, but it now looks like that's because you have to take the computer apart to upgrade memory, not because it's soldered to the system board. We'll know more when it ships in November, and I'm pretty sure OWC will have unofficial, unsupported upgrades available within a day or two of the new iMacs shipping.
Fusion Drive
In addition to traditional hard drives (and SSDs on the 27″ iMac), Apple introduced something new to Macs last week. It's called Fusion Drive, and it combines a 128 GB SSD with a 1 TB or 3 TB (27″ only) hard drive to boost performance. Mac OS X 10.8.2 treats the two drives as a single virtual drive, installs the operating system and included apps on the SSD, reserves 4 GB of space on the SSD for hard drive caching, and uses the hard drive to store everything else – at first.
As you use Fusion Drive, it learns how you work. Which apps you use most often. Which files you access again and again. And sometimes it decides to move those apps and files from the hard drive to the SSD. It's completely transparent to the user, and it should speed things up far more than the 4 GB cache alone would.
Speaking of which, 4 GB is huge compared to the world of hybrid drives, which combine flash memory (up to 64 MB) and a hard drive in a single mechanism.
Unknowns
Because the new iMacs aren't shipping yet, we have no benchmark figures for the new processors, the new graphics engines, or the new Fusion Drive. And it looks like Apple has done a good job clearing out inventory of last year's iMacs – none of the usual dealers have old inventory to clear out.
The Value Equation
Newer isn't always better in every way. No more internal SuperDrive. No easily accessible SDXC slot. No easy access to RAM slots in the 21.5″ model. Three potential reasons to choose an older iMac.
Then there's the issue of OS X 10.6 Snow Leopard, the last version of Mac OS X to support PowerPC software using Rosetta. The 2011 iMacs support Snow Leopard; the 2012 models required Mountain Lion.
For color accuracy and raw power, the new iMacs are hands-down winners. For people who have old PowerPC software they don't want to pay to replace, the Late 2012 iMacs are the ones you don't want. You only get USB 2.0 instead of ten-times-as-fast USB 3, but otherwise it's a much more flexible choice – more OS options, no need to buy an external SuperDrive, and easy memory upgrades on the 21.5″ model.
Ultimately, it's whatever best fits your needs and budget. If you're not a longtime Mac user with old software, you won't care about Snow Leopard compatibility. And most people never upgrade system memory from what was installed when they bought their computer.
Look for online reviews of the 21.5″ iMac when it ships in November, and the 27″ model when it arrives in December. I'm sure they'll turn up some interesting tidbits that we just don't know about yet.
searchword: 2012imacvalue