Being a low-end Mac user gives you little experience of the shiny new world of Macs and essentially the Apple Store. I have peered through the window of the recently opened local store, drooling over all the latest Apple gear inside.
If you use an older Mac, chances are you are more than used to scratches, dents, and cracks. It is something we have to live with. In fact, for the financially constrained Mac users who don't mind a bit of wear and tear, it is an excellent way to grab a bargain machine.
I recently picked up an Early 2009 MacBook, low-end to most, but it is the fastest Mac I have ever owned. It was fully working, but it had some cracked plastics around the edges of the top casing. This brought the price down a little, as some people do not like cosmetically damaged machines.
After purchasing it and talking to a few Mac friends, they told me this was a known fault and should be covered by Apple's extended guarantee service. After booking an appointment at my local Genius Bar (Chapelfield Shopping Centre, Norwich, UK), I took it in. I wasn't very hopeful.
I walked in, in awe of all the latest Apple gadgets, the thousands of Apple locals, and just beamed at being in the presence of so many Mac fans.
I booked in and sat at the Genius Bar awaiting my Apple Genius to take a look. My appointment was at 10:40 a.m. Within a few minutes a very friendly chap named Andy took a look, knew exactly what the cause was, and confirmed this was a heat dissipation problem that was covered by an extended guarantee service – five years since it was released.
After taking a few details, my MacBook was booked in and taken away. I was told it could take five days, but as the parts were in and it was a fairly easy job, it should be quicker than that, and I would be contacted when ready.
I then had a few unrelated questions regarding 32-bit and 64-bit kernels, which he was more than happy to answer, even if he didn't have the exact answer to hand.
All sorted, I was out within half-an-hour (minus my MacBook) and on my way home. I received a call from Andy at around 4:30 p.m. on the same day to say it was all done and ready for collection. He had also done some further digging about Snow Leopard 32-bit/64-bit kernel issues and said he was fairly sure (although not 100%) that my MacBook being unable to boot a 64-bit kernel it is a Mac OS X 10.6 Snow Leopard limitation that should be overcome in OS X 10.7 Lion.
I was unable to pick it up until today, so I headed down there first thing this morning. I walked into the Apple Store, explained I was here to pick up my MacBook, and within a few minutes the gentleman (not Andy this time, as he was busy) brought it out, opened it up, and showed me the work they had performed. They had replaced the whole top casing, giving me a new keyboard and trackpad too, as well what looks like a new screen bezel.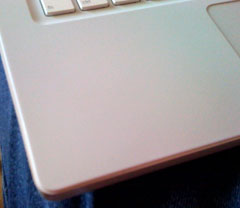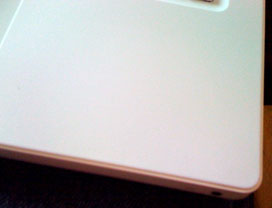 After Apple's repair, the MacBook has a new keyboard and trackpad too.
After feeling pretty screwed over by Apple in the past few years and watching their fast turnover and blatant disregard for those with older Macs, this has lifted my mood and respect for them.
A big heads up to the Apple Store in Norwich, UK, as well as the very friendly and patient service from Andy and the other gentleman who assisted me today (although I didn't catch his name).
---
Follow Simon Royal on Twitter or send him an Email.
Like what you have read? Send Simon a donation via Tip Jar.
---
keywords: #apple #store #local #experience #repair #macbook #techspectrum #simonroyal
short link: http://goo.gl/qdrvcq

searchword: localapplestore