A lot smaller and just half the weight of a full-sized iPad, the iPad mini squeezed the features of the iPad 2 into much more portable package with a 7.9″ screen.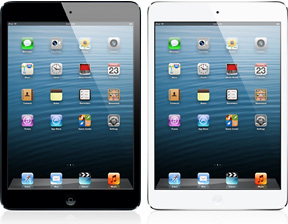 Unlike other iPads introduced after the iPad 2, the iPad mini used the same 1024 x 768 resolution as the first two generations of iPads, which helped keep the price down. Performance was virtually identical to the iPad 2.
The iPad mini was available in three color schemes: black and slate, white and silver, and space gray.
The 16 GB model was reduced to $299 upon introduction of the iPad mini 2 in October 2013, and further cut to $249 in October 2014, when the iPad mini 3 was introduced. This made it the least expensive iPad to date. It was discontinued in June 2015.
iOS 9.3.5 was the last version supported on the original iPad mini.
Hardware Overview
Models
Announced: 2012.10.23 at $329 (16 GB), $429 (32 GB), and $529 (64 GB). $130 additional for cellular version.
Included accessories: USB 2.0 Lightning cable, 10W 2A power adapter
Code name: P105
Identifiers:

WiFi only: iPad2,5
GSM: iPad2,6
CDMA: iPad2,7

Model numbers:

WiFi only: A1432
GSM: A1454
CDMA: A1455

Product numbers:

WiFi only: MD528, (16 GB black), MD531 (16 GB white), MF432 (16 GB gray), MD529 (32 GB black), MD532 (32 GB white), MD530 (64 GB black), MD533 (64 GB white)
GSM version: MD534 (16 GB black), MD537 (16 GB white), MF442 (16 GB gray), MD535 (32 GB black), MD538 (32 GB white), MD536 (64 GB black), MD539 (64 GB white)
Sprint CDMA version: ME215 (16 GB black), ME218 (16 GB white), MF453 (16 GB gray), ME216 (32 GB black), ME219 (32 GB white), ME217 (64 GB black), ME220 (64 GB white)
Verizon CDMA version: MD540 (16 GB black), MD543 (16 GB white), MF450 (16 GB gray), MD541 (32 GB black), MD544 (32 GB white), MD542 (64 GB black), MD545 (64 GB white)
Technology
CPU: 1 GHz dual-core Apple A5
RAM: 512 MB
Architecture: 32-bit
Audio chip: Cirrus Logic CS4398
Graphics engine: dual-core PowerVR SGX543MP2
Display: 7.9″ 1024 x 768 pixel multitouch screen
Cameras

rear: 5 MP
front: 1.2 MP 720p FaceTime HD

Sensors: accelerometer, ambient light, compass, 3-axis gyroscope
Performance
Geekbench, single core: 259
Geekbench, multicore: 489
Connectivity
I/O port: Lightning connector
WiFi: 802.11a/b/g/n
Bluetooth: 4.0
Wireless data:

GSM: UTMS/HSPA+/DC-HSDPA (850, 900, 1900, 2100 MHz), GSM/EDGE (850, 900, 1800, 1900 MHz), LTE (Bands 4 and 17)
CDMA: CDMA EV-DO Rev. A/B (800, 1900, 2100 MHz), GSM/EDGE (850, 900, 1800, 1900 MHz), LTE (Bands 1, 3, 5, 13, and 25)

GPS: WiFi-assisted GPS
Power
Battery: 16.3 Watt-hour lithium polymer
Charge time: about 4 hours (2 hour fast charge to 80% capacity)
Battery life: up to 10 hours
Compatibility
Original OS: iOS 6.0.1
Maximum OS: iOS 9.3.5
iTunes Versions: iTunes 10.2 and later.
Mac OS Required: OS X 10.6.8 or later
Windows Versions Supported: 7, Vista, XP Home or Professional SP 3 or later
Dimensions and Weight
Dimensions: 7.87″ x 5.3″ x 0.28″
Weight: 0.68 lb. (0.69 lb. for cellular version)
Further Reading
Keywords: #ipadmini
Short link: http://goo.gl/Bl7SYA
searchwords: ipadmini