Following up on from some articles I wrote about TenFourFox, a port of Firefox 10 for PowerPC Macs, it would appear that Cameron Kaiser and his team are not the only ones still developing browsers for PowerPC (PPC) Macs.
A reader pointed out another: SeaMonkey.
SeaMonkey has been around for a very long time, an offshoot of Mozilla offering a complete web package of a browser, email client, HTML editor, and IRC client.
The latest official SeaMonkey – released October 2012 – is version 2.14, and it requires Mac OS X 10.6 Snow Leopard as a minimum. The previous official version, 2.13, worked on OS X 10.5 Leopard but still required an Intel Mac.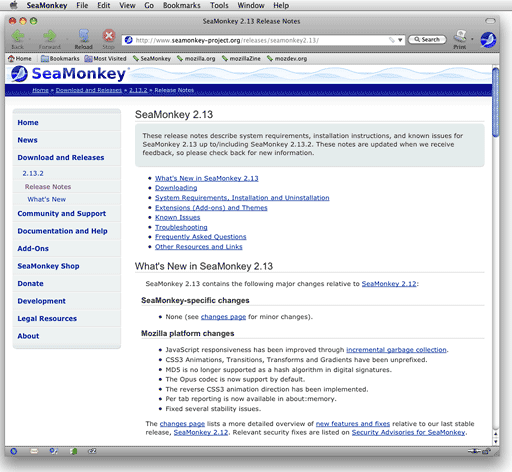 SeaMonkey PPC 2.13.2
The latest version of SeaMonkey PPC is version 2.13. It works in Leopard PPC and can be downloaded here.
Fingers crossed, there will be a PPC version of 2.14 – unofficial ports tend to be slightly behind.
Another longstanding browser developer, Opera (famed for its superfast Java-based mobile browser) used supported PowerPC Macs up until version 11, which dropped OS X 10.4 Tiger PPC support – and then 11.50 dropped all PPC support.
It is true that some developers and devoted programmers are still pushing the PowerPC platform, but six years on from the Intel switch, it is becoming harder and harder to find currently developed software.
---
Follow Simon Royal on Twitter or send him an Email.
Like what you have read? Send Simon a donation via Tip Jar.
---
keywords: #seamonkey #ppc #powerpc #browser #techspectrum #simonroyal
short link: http://goo.gl/272kaa

searchword: seamonkeyppc