Surprise! Apple didn't introduce a $249 or $299 iPad mini last week. Instead, the 7.9″ Mini starts at $329, a bit higher than anyone predicted.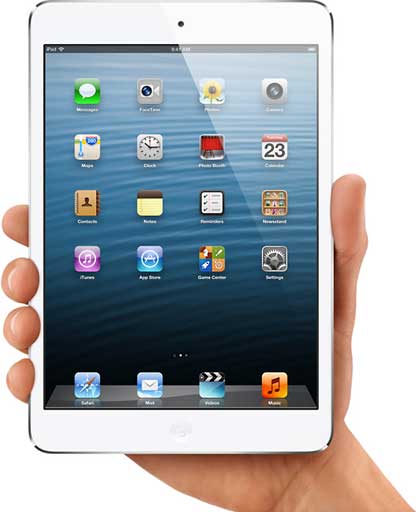 The 7.9″ iPad mini fits your hand.
Other than that, there really were no surprises. Everyone pretty much expected the iPad mini would match the iPad 2 spec for spec, except for being smaller, lighter, and less expensive.
It's smaller, lighter, less expensive, and has Apple's new Lightning connector.
There are a lot of ways you could spin this one, but you're essentially getting all the power of the iPad 2 in a smaller package while saving $70. Put another way, 100% of the capabilities, 80% as large a screen vertically and horizontally, and 83% of the price. Not as nice as $299, but not bad. I don't think Apple is going to lose any sales over that 10% price difference.
iPad 4
Apple also introduced an updated iPad with Retina Display last week, officially known as the 4th generation iPad and informally called the iPad 4. The price remains the same as the "New" iPad (a.k.a. iPad 3), and the only significant changes are the Lightning connector replacing the old 30-pin dock connector and Apple's new A6X CPU – essentially the same A6 found in the iPhone 5, but with four graphics cores instead of three.
Apple is pretty vague on some specifications, but testers have confirmed that the A6 runs at up to 1300 MHz in the iPhone 5, and there's no reason to expect anything less in the iPad 4. Maybe we'll even find it's a bit faster once it starts shipping.
Three iPads
We now have three different iPad models:
At the bottom, the 7.9″ iPad mini starts at $329 with 16 GB of memory.
In the middle, the 9.6″ iPad 2 starts at $399. It still uses the old dock connector and is the only current model without 4G LTE wireless support.
At the top is the Retina Display iPad 4, which is probably 30% more powerful than the discontinued iPad 3 with no change in price.
Let's call them small, full sized, and high resolution.
The Home Run
I believe the iPad mini is going to knock things out of the park for Apple. It's 7.9″ screen has 35% more surface area than the common 7.0″ Android tablets with their widescreen displays, and it has the same 1024 x 768 pixel resolution as the iPad 2, so every iPad app will run on it without modification.
As gorgeous as the larger iPad screen is, there's something that seems just so right about the iPad mini's size. And with the lowest price ever for an iPad, not hitting the $299 point isn't going to hurt it at all.
The Power Hitter
No benchmarks yet for the iPad 4, but it should be comparable to the iPhone 5, which is currently the most powerful iOS device on the market with roughly twice the processing power of the iPad 3. And buyers are not afraid of the $499 (starting) price, so it's pretty clear the iPad 4 is going to be a big success.
It's a Bunt
Just as the iPhone 3GS remained in the lineup until the iPhone 5 shipped, it looks like the iPad 2 is going to stick around a while longer. Sure, it's now two generations old, but that doesn't make it any less powerful. I suspect it's going to become something of a niche device for those who feel they need a full sized screen but don't need a Retina Display.
So Many Options
Choices are pretty easy with the iPad 2: black or white, WiFi only or with 3G cellular support. It only comes in a 16 GB configuration. $399 for the WiFi model, $529 with 3G cellular Internet.
The iPad mini and iPad 4 have a wealth of options. Same colors, three capacities (16, 32, and 64 GB), and WiFi only or with 4G LTE cellular. In the end, that's six price points for the iPad mini ($329, $429, and $529 for WiFi; $459, $559, and $659 with cellular) and six for the iPad 4 ($499, $599, and $699 for WiFi; $629, $729, and $829 with cellular).
I have to say that it surprises me that Apple can still get away with charging $100 more for 16 GB of additional flash memory. I'm betting you could buy a 16 GB SDXC card for under $20 and 32 GB for under $35. That's a rather huge markup that most people seem to accept as a matter of fact – and with no SDXC card slot, iPad buyers have no choice.
Likewise, adding another $100 to go to 64 GB seems a bit excessive. Maybe someday Apple will feel kind enough to give us a break on the additional memory – although as long as they can get away with this pricing scheme on the iPad, iPhone, and iPod touch, Apple has no incentive to change things.
Well, that's my little rant on pricing. I own an 8 GB iPhone 3GS, and while that's not quite enough for me (I plan to get a 16 GB iPhone 4S come January when my AT&T Wireless plan allows it), I suspect that 16 GB is going to be enough for the vast majority of iPad users, especially with iCloud, Dropbox, and other Internet storage options.
Getting Hooked
Using Apple products is something of an addiction. I cut my teeth on an Apple II+ in the late 1970s, first became a Mac user with a Mac Plus in 1986, got my first iPod circa 2005, and moved to an iPhone in June 2011. I've owned and used a lot of different Macs over the years, I've had a couple iPods (and still love my iPod photo – with 60 GB, it can hold my entire music library and lots of podcasts), and am already planning for my second iPhone.
I understand that the iPad with Retina Display is lustworthy and expensive. I've seen the bulky iPad 2 in use, and it's bigger than I'm interested in. But the iPad mini strikes me as just right, particularly the 4G LTE version that could be added to my AT&T Wireless plan pretty inexpensively….
Dreaming. I'm certainly not going there this year, but maybe next year things will take a turn for the better. And come January, I'll have a Retina Display iPhone to help tide me over.
Keywords: #ipadvalueequation
Short link: http://goo.gl/u5x6NV
searchword: ipadvalueequation