2012-12-30: General Apple and Mac desktop news is covered in Mac News Review. iPad, iPod, iPhone, and Apple TV news is covered in iNews Review. Older Macs are covered in Vintage Mac News. All prices are in US dollars unless otherwise noted.
News & Opinion
Tech Trends
Purchases made through links to Amazon.com and Apple's iTunes/iBook/App/Mac App Store support Low End Mac.
News & Opinion
Tips and Tweaks for New MacBook Users
Cnet's Dan Ackerman comments that as much as new MacBook owners love to rave about their systems, no laptop – even one with an Apple logo – comes right out of the box ready to perform optimally. Ackerman suggests several tweaks, tips, and fixes you should check out on day one that will make your MacBook easier to use. Included are:
Turn on tap-to-click – one of my first steps setting up any new laptop.
Reverse "natural" scrolling – I actually haven't done this since installing OS X 10.8 Mountain Lion on my MacBook. I find myself familiar enough with the reversed scrolling direction from using my iPad that it's not an issue for me on the Mac. What I wish could be fixed are the maddeningly anorexic scroll bars and lack of scroll arrows in Lion and Mountain Lion!
Get a new web browser – A no-brainer. Safari 6 is a better than decent Web browser, and I use it, but I typically have at least three Web browsers up and running, with Firefox, Chrome, Maxthon, and Opera being current favorites.
Comparison shop for apps – I've never warmed to the App Store concept. For example, I much preferred using physical media for installing OS software in particular, but also in general I think vendor independence for third-party application software was a better system. I second Ackerman's advice to shop around for better prices on third-party stuff.
Use Image Capture instead of iPhoto – Personally, I don't use iPhoto, and prefer Photoshop Elements or just the Finder for photo management. As Ackerman observes, Apple's iPhoto has its virtues, but is bloated, can be slow at times, and stores images by default in a hard-to-find library. I haven't tried using the Image Capture app, but I think I'll check out Ackerman's suggestion to use it as an alternative.
Link: First Day Tips and Tweaks for New MacBook Owners
When You Should (and Shouldn't) Buy AppleCare
Gizmodo's Kyle Wagner notes that if you're buying an Apple product, whether it's a new machine or Certified Refurbished, adding a few hundred dollars more to the upfront price for AppleCare extended warranty coverage can hurt – and you already get a year of AppleCare included in the price of the device.
Do you need to pay for the longer coverage? Wagner says it depends substantially on what device you're buying. Short answer: If you're buying an expensive professional machine, especially one that will be used away from an office or home workstation like a MacBook Pro with Retina Display, going with AppleCare is probably a no-brainer.
An option unique to iPhones called AppleCare+ also merits serious consideration. For optional $100 extra, Apple will cover two incidents of accidental damage with a $50 deductible apiece, which could pay off big time if, say, you drop your iPhone in a swamp (like your editor's daughter recently did hers).
On the other hand, for lower-priced Apple products, AppleCare coverage can represent a sizable percentage of the overall purchase cost, and especially if you upgrade to new systems frequently, the odds of benefiting from an extended warranty are not high.
Also note that you don't have to make up your mind at the time of purchase. You can upgrade to the extra two years of warranty coverage any time during the first year of ownership.
Link: When You Should (and Shouldn't) Buy AppleCare
Patent Filings Detail Retina MacBook Pro's Quiet Asymmetric Fans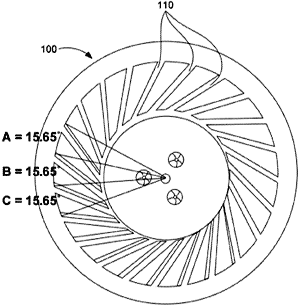 AppleInsider's Mikey Campbell reports that a trio of patent applications discovered on Thursday reveal how the asymmetric fan blade spacing used in the newest MacBook Pro with Retina display models quiet the spinning impeller without sacrificing performance.
The three patent applications, all titled "Centrifugal blower with asymmetric blade spacing" and numbered sequentially by the US Patent and Trademark Office cover separate fan designs that feature asymmetrically aligned fan blades, two with 31 blades and one with 61 blades.
Link: Patent Filings Detail Retina MacBook Pro's Quiet Asymmetric Fans
Tech Trends
Windows 8 Reduces Sales of Windows PCs
Wall Street Cheat Sheet's Emily Knapp notes that Microsoft and its loyal fans had high hopes for Windows 8, but research firm NPD's latest estimate indicates that sales of Windows PCs are actually lower now than they were a year ago, with US resellers moving 13% fewer Windows devices from late October, when Windows 8 debuted, through the first week in December, than in the same period last year.
Knapp cites Pacific Crest Securities analyst Brendan Barnicle predicting to the New York Times that tablets are doing to the laptop market what laptops did to the desktop market, and that laptop PC sales will continue to erode to a point where the PC market will only be a fraction of what it once was, and she notes that another problem for Microsoft is that Windows 8 for tablets, despite its strong touchscreen orientation, has not been as well-received as new Apple products usually are.
Link: Is Windows 8 D.O.A.?
If Ultrabooks Go Bust, Cache SSDs Could Fall by the Wayside
IHS iSuppli's Ryan Chien says that the immense popularity of tablet devices, as well as other rising or recent technologies on the horizon, could significantly cut into the overall prospects of flash memory in cache solid state drives (SSD) now used for superthin Ultrabooks and similarly built PCs, according to an IHS iSuppli Memory on the Move market brief from information and analytics provider IHS.
Chien reports that shipments of a type of low-power memory known as Embedded Multimedia Card (eMMC)* used in tablets are set to rise to 160 million units in 2016, up from 45 million units this year. In comparison, shipments of cache SSDs used in Ultrabooks are projected to grow from 15 million to 145 million units during the same five-year period based on current Ultrabook forecast assumptions that in every year during the forecast, tablet eMMC memory will outflank cache SSD prospects.
Working alongside a physical hard disk, cache SSDs – so-called because the flash memory is used as a cache – help to boost speed and performance in Ultrabooks and other PCs. The new hybrid Fusion Drives optionally available with Apple's latest iMacs and Mac minis are an example.
The report says that overall, media tablets remain the biggest threat to Ultrabooks a year after the Intel Corp. launched its superthin PC laptop specification, and that forecasts for consumer SSDs rely on Intel's fast-storage specification, which will eventually push cache SSD beyond just mainstream Ultrabooks and expanded its use to PCs as a whole.
However, Chien notes that the concurrent presence in the marketplace of tablets – whose status as a coveted item among consumers has only continued to grow with time – has altered the landscape for Ultrabooks, and, by extension, cache SSDs. Without Intel's strict standards specifying cache SSD as a necessary part of storage for computers wishing to join the Ultrabook bandwagon, PC manufacturers can leverage the optimizations of newer operating systems around hard drive storage. Such a development could then end up pushing flash memory, especially cache SSD, down the priority list for PC manufacturers focused on lowering bill-of-materials costs.
Another looming obstacle to cache SSD is Universal Flash Storage (UFS),* a faster-acting successor to eMMC, tailored specifically for mobile applications and computing systems requiring low power and high performance. UFS is expected to make its appearance in the next 18 months, and its energy efficiency is superior to already efficient Ball Grid Array (BGA) and mSATA – mini serial advanced technology attachment – SSDs.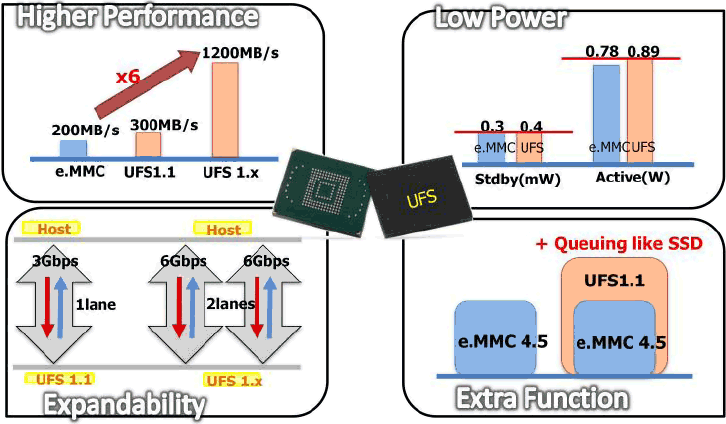 A third competitor to cache SSDs in Ultrabooks is Google's Chromebook, such as those made by Samsung Electronics, a category of machine that supports only limited onboard software capabilities and relies heavily on the Internet to perform its tasks. Chien notes that recent ChromeBook retooling includes eMMC and a dual-core ARM Cortex A15 processor to help lower costs, allowing the Chromebook to be offered with an attractive $250 price tag that can't be matched by the much more expensive Ultrabooks, which cost close to a thousand dollars for basic models, or even more for units with expanded specs. And because the laptops are able to tap into the resources of the cloud, the lack of physical storage on ChromeBooks becomes a less intractable obstacle.
Chien thinks Ultrabooks still have a good fighting chance in their bruising scuffle with tablets, especially if manufacturers find a way to lower pricing and consumers become excited, particularly as the just-launched Windows 8 software also finds traction among users. He contends that the appealing hardware form factor of a superthin mobile computing device, coupled with a newly minted operating software system, should ignite the market and revive prospects for the PC – and along with it, cache SSDs.
But he concedes that ultimately, failure of the Intel Ultrabook standard would be a painful setback to the budding cache SSD ecosystem. Higher average selling prices and higher-density SSDs might help make up for the big drop in cache SSD shipments, but the consumer SSD market overall will still shrink dramatically if Ultrabooks don't take off, leaving the nascent cache SSD environment acutely compromised as a result.
* Publisher's note: MMC/SD memory cards have maximum throughput ranges of 20 to 832 Mbps (2.5 to 104 MBps). UFS offers the possibility of higher speed (300 to 1200 MBps or 2400 to 9600 Mbps), ease of integration into embedded applications, and lower power capacity. dk