Here at Low End Mac, we not only use older Macs, but also older iDevices. Released in 2009, the iPhone 3GS is now Apple's low-end phone.
Apple's next version of its mobile operating system, iOS 6, was announced at this year's Worldwide Developer Conference (WWDC). A beta is already available to developers, and the user version is due for launch early fall. The last few versions of iOS have been more of a maturing, featuring tweaking, and optimisation process than major overhauls or massive new features.
When Apple released iOS 4 in June 2010, it ran terribly on the iPhone 3G but, more importantly, the 3G lacked a lot of the features that the 3GS had, like multitasking and home screen wallpapers (although that's hardly a feature). In fact, it ran so badly that most people believe this is why Apple stopped releasing updates for the iPhone 3G after 4.2.1.
When Apple released iOS 5 in October 2011, it ran brilliantly. I am running it currently on my iPhone 3GS, and it is brilliant. In fact, it runs better than iOS 4. Best of all, it didn't have a bunch of features missing – merely some photo editing options in the camera and tab bar in the browser.
I – like most people – wasa bit dubious as to whether the 3GS would see yet another version of iOS. iDevices usually only get three major versions, but it looks like the 3GS will be the first to break that (it shipped originally with iOS 3).
Apple is still selling the iPhone 3GS as its budget handset for many carriers; this is the reason it is included in the iOS 6 update – yet the original iPad, which has similar specs, won't be receiving it.
As someone who has only recently stepped up to an iPhone 3GS, this has made me very happy. It gives me at least another year of being a current iPhone user able to run the latest version of iOS.
There are supposedly 200 new features in iOS 6, although I think "feature" is a loose word. There are some nice additions – such as Facebook integration, tweaks to the Notification Centre, some additions to the calling screen, and a Do Not Disturb feature for nighttime.
One major change is Apple has replaced Google Maps with its own Apple Maps. The demo of it at the WWDC looked very impressive especially with the 3D view and the new turn-by-turn navigation.
Some Features Won't Work on the 3GS
Before you all start getting excited, this is where things get cloudy for the iPhone 3GS and the iPhone 4. It would appear that the 3D and turn-by-turn feature will be limited to the iPhone 4S only, along with Siri (which it currently is anyway). This has to be a technical limitation.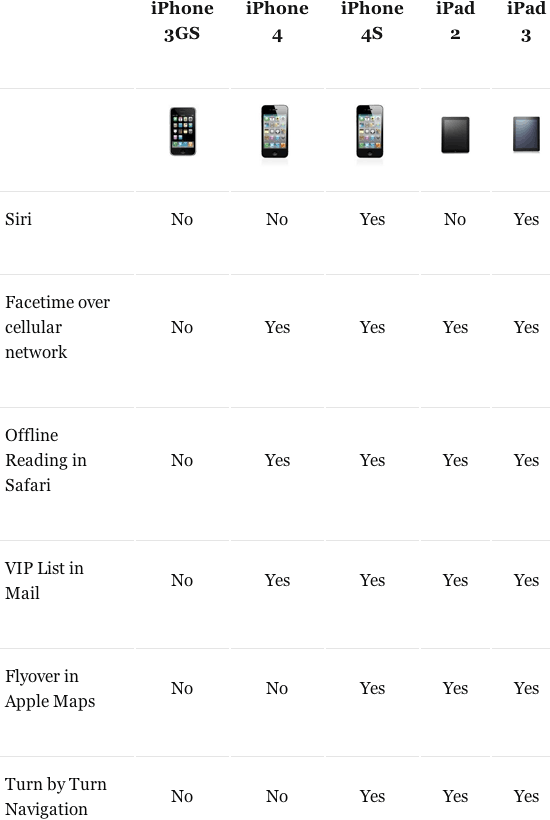 iOS 6 feature table from Will iOS 6
Work on Your Older iPhone and iPad?
The iPhone 3GS and 4 are fairly close in their specifications. 600 MHz vs. 800 MHz processor, 256 MB RAM vs. 512 MB RAM. And both share the same PowerVR SGX535 graphics chip. The iPhone 4S is a more powerful device with its 800 MHz dual-core A5 processor, 512 MB RAM, and better PowerVR SGX543 graphics chip, and it is no surprise that Apple wants to keep some of its newer features for its flagship device.
Early reports of the iOS 6 beta are that it runs very well and very fast on all supported iPhones. This is welcome news. Fears of a repeat of the iPhone 3G iOS 4 fiasco seem to have been quashed, and iOS 6 seems to run the same as – if not better than – iOS 5 even on the 3GS. With this in mind, I can see why Apple would limit some of the more graphics-intense processes to the 4S only.
The 3GS is a very capable device. Coming from a 2G and 3G, the 3GS is massive improvement, and its speed is incredible. I am not a gamer or a heavy app user, so the 3GS suits me fine and with the new tweaks of iOS 6, it will make this old iPhone even nicer to use.
The 3GS can still be bought on a two year contract (albiet only an 8 GB model) or you can buy them outright. I bought mine – a 16 GB white, factory unlocked model – for only £135 from an eBay retailer who specialises in refurbished iPhones, which is a very reasonable price.
Would I recommend you buy one in 2012? Yes. On a budget or don't need the power of a 4S? Grab a 3GS!
---
Follow Simon Royal on Twitter or send him an Email.
Like what you have read? Send Simon a donation via Tip Jar.
---
keywords: #ios6 #iphone #iphone3gs #techspectrum #simonroyal
short link: http://goo.gl/RJC5c1

searchword: ios6iphone3gs